Back to Latest News
July 21st, 2015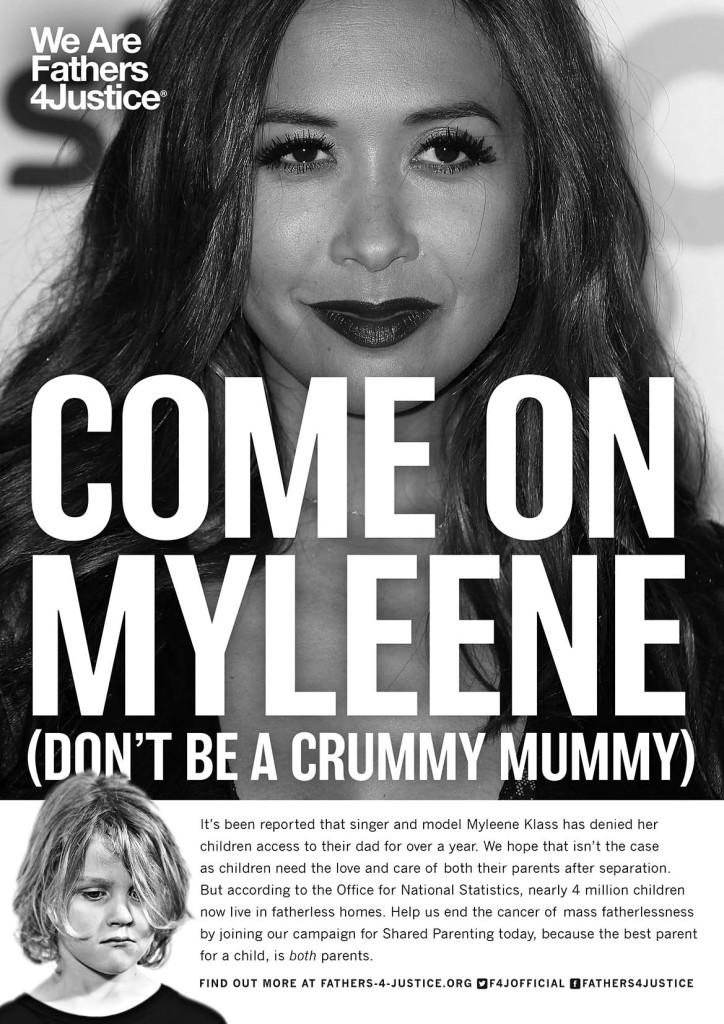 Fathers4Justice today launched an online advert and social media campaign called "Come on Myleene" in response to newspaper reports that singer and model Myleene Klass has denied her children access to dad Graham Quinn for over a year. The advert will run in the national press later this week.
The group say the advert forms part of their wider "Crummy Mummy" campaign highlighting celebrity mums who deny children access to their fathers or oppose Shared Parenting.
In December 2013, the group were threatened with legal action by actress Kate Winslet over an advert that read, "Kate, every child deserves their father this Christmas". The ad was published after the actress made comments attacking shared parenting in Vogue magazine.
Mr Quinn has accused the former Hear'Say star in the Daily Mirror and other media of not letting him see their two children, writing: "One day I hope you will put the interests of your children first and let them see their father". http://www.mirror.co.uk/3am/celebrity-news/myleene-klass-ex-husband-graham-quinn-6095772
Myleene Klass responded with a front page interview in the Sun Newspaper.
http://www.thesun.co.uk/sol/homepage/showbiz/tv/6552997/Myleene-on-divorce-agony.html
Said Fathers4Justice founder Matt O'Connor, "Fathers4Justice are running a national ad campaign, "Come on Myleene", in response to newspaper reports that Myleene Klass has denied her children access to their dad for over a year."
"Myleene is a role model for many women. If she is denying her children access to their dad for no valid legal reason, this sets a very bad example, especially when there are many celebrity couples that do support shared parenting like Gwyneth Paltrow and Chris Martin, and Jennifer Garner and Ben Affleck."
"Contact denial is a hate crime and an abuse of a child's fundamental human rights to both parents. It should be as socially unacceptable as drink driving. Fathers4Justice has a responsibility to highlight those celebrity mothers involved in contact denial and who oppose shared parenting, like Kate Winslet."
Posted in Contact Denial, Crummy Mummy, Family Breakdown, Fathers, Fathers 4 Justice, Fathers Rights, Fathers4Justice, Kate Winslet, Latest News, Matt O'Connor, Myleene Klass
No Comments
Back to top