Back to Latest News
December 19th, 2019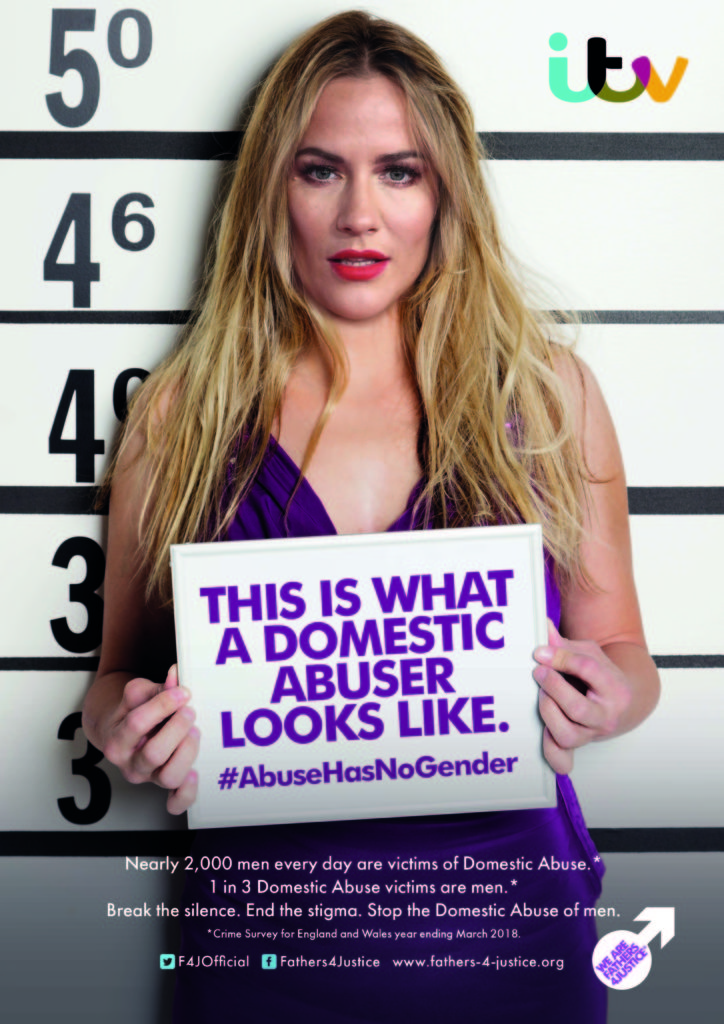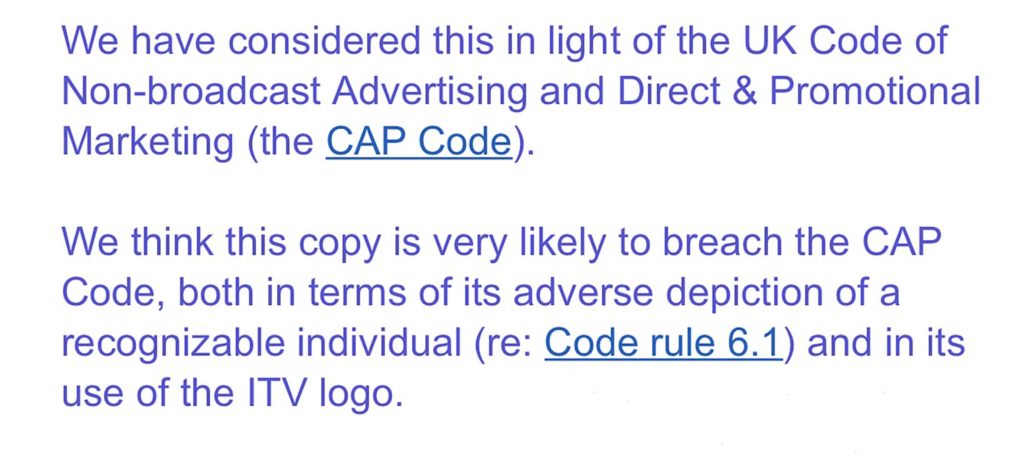 An advert by Fathers4Justice (F4J) as part of its #AbuseHasNoGender campaign, featuring ITV presenter Caroline Flack, has been rejected by the Committee of Advertising Practice (CAP) over concerns it breaches the CAP code.
Writing to the advertising agency for F4J, CAP wrote, "We think this copy is very likely to breach the CAP Code, both in terms of its adverse depiction of a recognizable individual (re: Code rule 6.1) and in its use of the ITV logo."
Fathers4Justice say they will defy the ruling, and use the advert online and in the media wherever possible to highlight the domestic abuse of men by women.
F4J say the ASA has previously acted in a sexist, misandrist way in banning previous Fathers4Justice adverts including its Mumsnet "Say It With Hate" advert in 2012.
Said a Fathers4Justice spokesperson: "We stand by our #AbuseHasNoGender campaign and the advert featuring Caroline Flack which is based on the available evidence."
"The victim, Lewis Burton, called 999 and the London Ambulance Service was notified at 5.28am on 13/12/19. Six police cars attended. One person was taken to hospital and blood was visible on the front door of the property. Ms Flack was subsequently charged by Police with "assault by beating"."
"Even if the criminal case does not proceed, this does not mean the incident did not happen and we believe Ms Flack should be made to attend a Domestic Abuse Perpetrators Programme if there is any evidence she engaged in abusive behaviour."
"Further, Mr Burton himself may be too frightened or ashamed to purse a case against Ms Flack – as many men are – or may be subject to ongoing coercive and controlling behaviour designed to prevent him from speaking out. Ms Flack has previously used Non Disclosure Agreements to try and silence previous partners."
"Should our advert be subject to any attempted ban or legal action, we will robustly defend our position and call Ms Flack and Mr Burton as witnesses, and seek disclosure of the 999 recording and transcript as evidence."
"It is important that the 2,000 male victims of domestic abuse every day are given a voice and we break the silence and stigma surrounding this important issue"
"For too long the MeToo movement has stereotyped women as victims and men as perpetrators, and incentivised the making of allegations without any evidence or due process. In doing so society is replacing the evidential burden of proof with finger-pointing as a form of justice that has more in common with the Salem witch hunts, than any form of due process."
"In fact, in the family courts, men are routinely denied access to their children on the basis on unproven allegations, and are named and shamed with impunity. Too many men are frequently subject to trial by social media, where lives are wrecked and careers destroyed."
"Yet when the same rules and assumptions are applied to female perpetrators of domestic abuse – and the genders are reversed – many people cry foul. This demonstrates the twisted hypocrisy at the heart of this issue, and why we cannot have one law for women, and another for men. Both genders must be treated equally in the eyes of the law."
Posted in #AbuseHasNoGender, Abuse, Assault, Caroline Flack, Domestic Violence, Equality, Fathers4Justice, Latest News, Lewis Burton, Men's Issues, Mens Rights
No Comments
Back to top