Back to Latest News
June 21st, 2015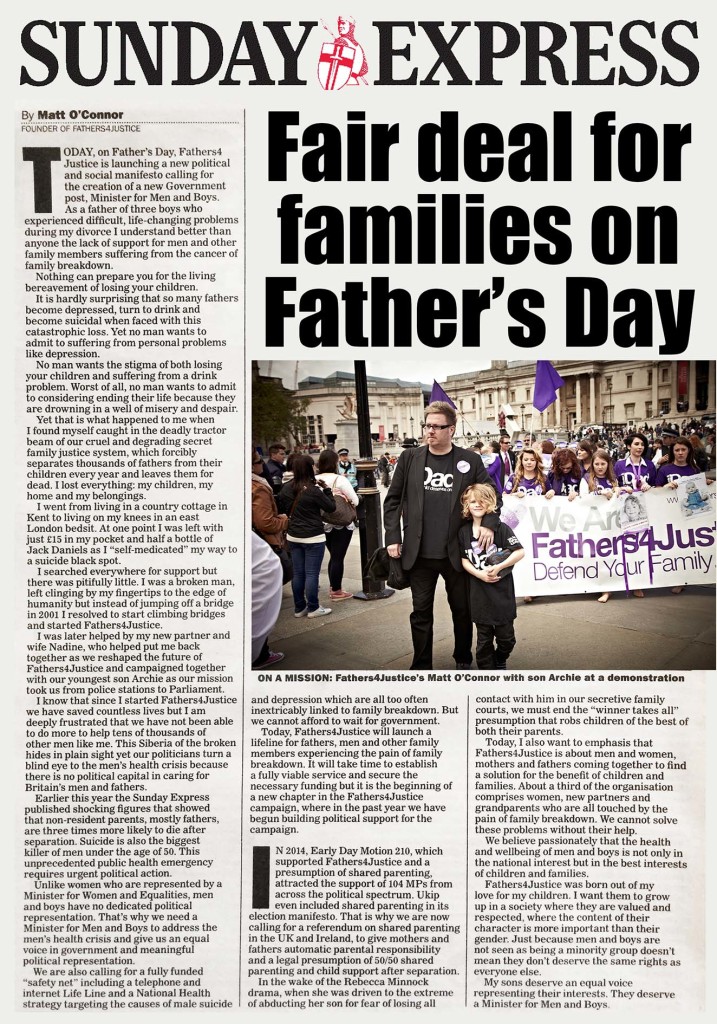 Today, on Father's Day, Fathers4Justice is launching a new political and social Manifesto, calling for the creation of a new government post, a Minister for Men and Boys.
As a father of three boys, who experienced difficult, life-changing problems during my divorce I understand better than anyone the lack of support for men and other family members suffering from the cancer of family breakdown.
Nothing can prepare you for the living bereavement of losing your children.
It is hardly surprising that so many fathers become depressed, turn to drink and become suicidal when faced with this catastrophic loss. Yet no man wants to admit to suffering from deeply personal problems like depression.
No man wants the stigma of both losing your children and suffering from a drink problem. Worst of all, no man wants to admit to considering ending their life because they are drowning in a well of misery and despair.
Yet that is what happened to me when I found myself caught in the deadly tractor beam of our cruel and degrading secret family justice system, which forcibly separates thousands of fathers from their children every year and leaves them for dead. I lost everything: my children, my home and my belongings.
I went from living in a country cottage in Kent to living on my knees in an east London bedsit. At one point, I was left with just £15 in my pocket and half a bottle of Jack Daniels, as I "self-medicated" my way to a suicide black spot.
I searched everywhere for support but there was pitifully little. I was a broken man, left clinging by my fingertips to the edge of humanity but instead of jumping off a bridge in 2001 I resolved to start climbing bridges and started Fathers4Justice.
I was later helped by my new partner and wife Nadine, who helped put me back together as we reshaped the future of Fathers4Justice and campaigned together with our youngest son Archie as our mission took us from police stations to Parliament.
I know that since I started Fathers4Justice, we have saved countless lives but I am deeply frustrated that we have not been able to do more to help tens of thousands of other men like me. This Siberia of the broken hides in plain sight yet our politicians turn a blind eye to the men's health crisis because there is no political capital in caring for Britain's men and fathers.
Earlier this year the Sunday Express published shocking figures that showed that non-resident parents, mostly fathers, are three times more likely to die after separation. Suicide is also the biggest killer of men under the age of 50. This unprecedented public health emergency requires urgent political action.
Unlike women who are represented by a Minister for Women & Equalities, men and boys have no dedicated political representation. That's why we need a Minister for Men and Boys to address the men's health crisis and give us an equal voice in government and meaningful political representation.
We are also calling for a fully funded "safety net" including a telephone and internet Life Line and a National Health strategy targeting the causes of male suicide and depression which are all too often inextricably linked to family breakdown. But we cannot afford to wait for government.
Today, Fathers4Justice will launch a Lifeline for fathers, men and other family members experiencing the pain of family breakdown. It will take time to establish a fully viable service and secure the necessary funding but it is the beginning of a new chapter in the Fathers4Justice campaign, where in the last year we have begun building political support for the campaign.
In 2014, Early Day Motion 210, which supported Fathers4Justice and a presumption of shared parenting, attracted the support of 104 MPs from across the political spectrum. UKIP even included shared parenting in its election manifesto. That is why we are now calling for a referendum on shared parenting in the UK and Ireland, to give mothers and fathers automatic parental responsibility and a legal presumption of 50/50 shared parenting and child support after separation.
In the wake of the Rebecca Minnock drama, when she was driven to the extreme of abducting her son for fear of losing all contact with him in our secretive family courts, we must end the "winner takes all" presumption that robs children of the best of both their parents.
Today, I also want to emphasis that Fathers4Justice is about men and women, mothers and fathers coming together to find a solution for the benefit of children and families. About a third of the organisation comprises women, new partners and grandparents who are all touched by the pain of family breakdown. We cannot solve these problems without their help.
We believe passionately that the health and wellbeing of men and boys is not only in the national interest but in the best interests of children and families.
Fathers4Justice was born out of my love for my children. I want them to grow up in a society where they are valued and respected, where the content of their character is more important than their gender. Just because men and boys are not seen as being a minority group doesn't mean they don't deserve the same rights as everyone else.
My sons deserve an equal voice representing their interests. They deserve a Minister for Men and Boys.
Posted in Broken Tory 2010 Election Promises, Cafcass, Child Abuse, Child Maintenance, Contact Arrangements, Contact Denial, CSA, Divorce, Equality, False Allegations, Family Law, Father's Day, Fathers, Fathers 4 Justice, Fathers Rights, Fathers4Justice, Judges, Latest News, Malicious Allegations, Matt O'Connor, Nadine O'Connor, Protests, Shared Parenting, Suicide, Sunday Express
No Comments
Back to top