Back to Latest News
February 14th, 2014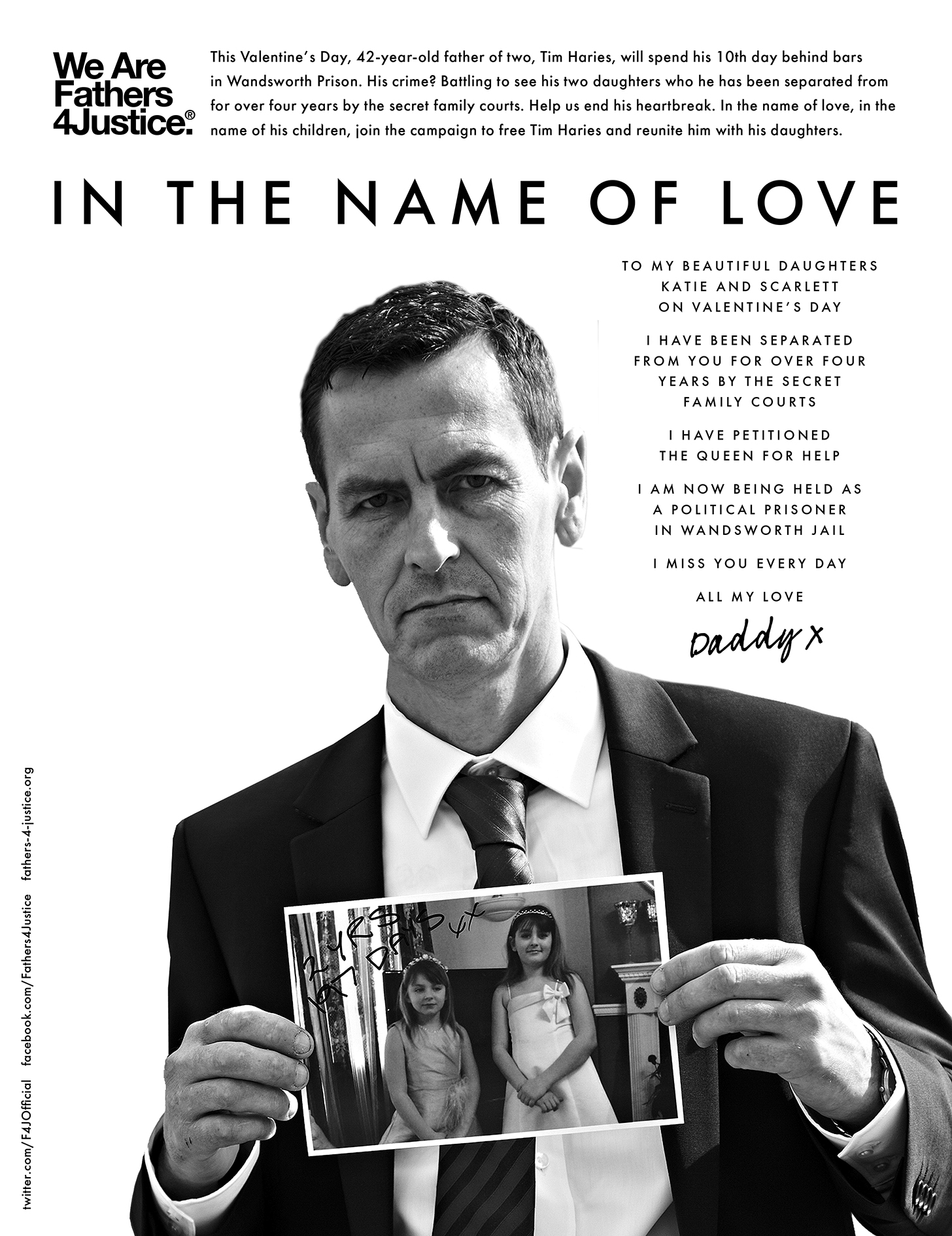 Three national newspapers have refused to run an advert by Fathers4Justice on behalf of political prisoner Tim Haries.
The advert which was due to run today (14th February 2014, see below), contained a Valentine's Day message to his daughters Katie and Scarlett from Doncaster. The refusal came despite the fact that the papers concerned had already covered Tim's trial and previous court hearings in detail.
Said F4J Campaign Director Nadine O'Connor, "We offered several design options to the newspapers this week through our media agency, but late on Thursday evening the final ad was rejected by The Independent BEFORE they had even seen the advert. This was after the Times had ACCEPTED the ad and then rejected it hours later."
"We are obviously disappointed that our adverts were rejected and that all the newspapers had coincidentally adopted the same position. There was no legal reason why our final adjusted ad could not have been run. No doubt people will draw their own conclusions as to why this has happened."
REFUSED BY THE TELEGRAPH
The Telegraph told our media agency, "To protect the girls they want their faces pixilated, and also their names removing. Also they want Tim's surname to be removed."
REFUSED BY THE TIMES
Date: 13 February 2014 17:45:35 GMT
Subject: Father 4 Justice Ad
Good evening,
First of all please apologise for the late withdrawal of the ad to the buying agency. While editorial had no editorial reason why this should not run the Times legal team have refused it based on the below points…
# News UK do not know the back-story to this case as to whether what is being claimed is true.
# Privacy issues in-relation to naming and using photos of hid daughters
# Breach of reporting restrictions which apply in the family courts
The next steps would be to either provide the above to gain access or for the creative to submit through the ASA for approval.
Any questions let me know.
CT
REFUSED BY THE INDENDENT
The Independent newspaper claim advert 'could cause' emotional harm to his children.
Sent: 12 February 2014 10:58
Subject: RE: Fathers4Justice Ad
Mate
Seemingly he can't use his image or the kids (we assume he doesn't have his ex's approval)
So we could run the letter, but he'd have to drop their names, and he'd have to drop the political bit.
Eventually it was shown to Amol the actual editor, and his issue is that its 'could cause' emotional harm to the kids.
The rationale being that either the kids or one of their friends could easily see the picture of their dad in the paper, which may create questions, and then the emotional harm.
Let me know
Cheers
J
Back to top