Back to Latest News
February 23rd, 2015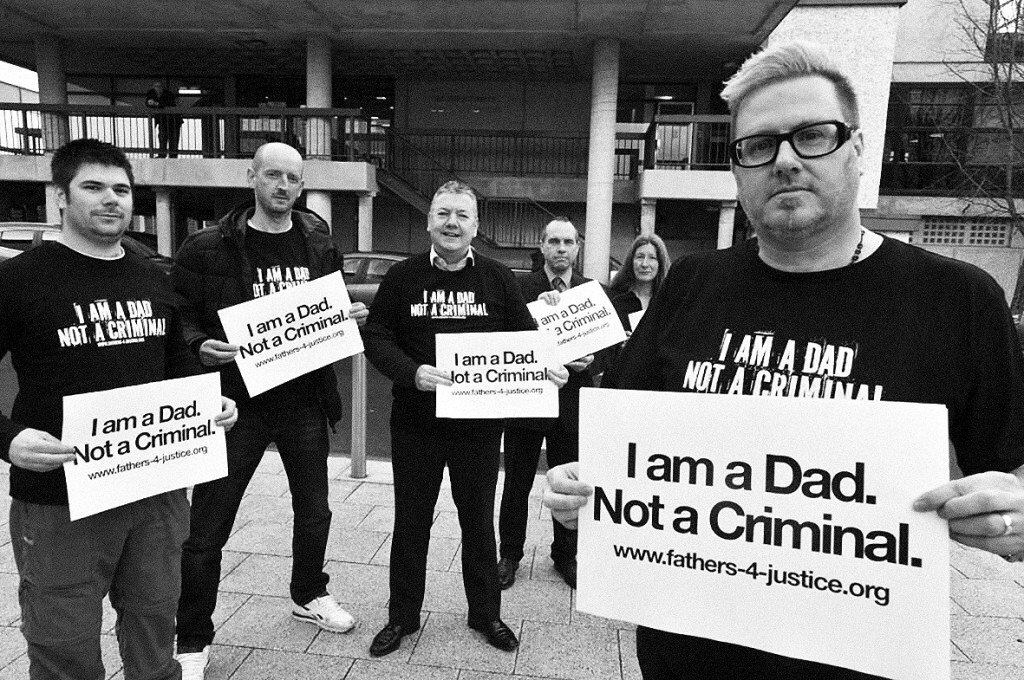 The trial of Fathers4Justice founder Matt O'Connor, for a Section 5 Public Order Offence linked to the Caroline Nokes MP dispute, was adjourned at a hearing on 20th February after Magistrates denied the public and defence witnesses access to the hearing.
Mr O'Connor objected to taking part in the trial saying: "Members of the public and defence witnesses have been prevented access to this court and a county councillor has been too.
"I must remind members of the bench of my human rights in the court.
"I would ask the bench to allow members of the public to hear my trial."
But chairman of the bench, David Perren and magistrates Phil Woodland and Louise Morton upheld the order.
After consulting with F4J legal advisor Dr Michael John Pelling, Mr O'Connor said that he would be launching a judicial review into the magistrates' decision.
He said: "I object in the strongest terms and I will not participate in a trial.
"There are no grounds whatsoever to block a county councillor from having entry to this building.
"I would ask an adjournment to seek a judicial review on this matter."
"I want to be judged in front of my peers."
Responding to his plea, Mr Perren said: "Earlier today we took a decision to decline entry to some members of the public.
"That decision was taken based on the advice given by our legal advisor in open court, whom in turn had been advised by those responsible for the health, safety and security issues in the court building.
"Mr O'Connor has requested an adjournment, in order that he can lodge a judicial review with regard to this decision.
"We consider that on the grounds of open justice we should allow the requested adjournment."
Afterwards O'Connor explained he was concerned about a 'conspiracy of silence' in Hampshire involving the Police, Press & Courts to cover up the involvement of Caroline Nokes MP in a campaign of intimidation that drove his family from the county.
He also expressed concerns about the presence of 'unknown security officials' from outside the area who were present in court. At one point, two police officers entered the court to warn him about his filming of the ejection of Hampshire County Councillor Tony Hooke, who had been earlier removed from the building after attempting to gain entry in his capacity as a witness in the case.
Said O'Connor, "A year to the day my family were subject to a violent incident involving Caroline Nokes MP, a court of law has denied me my right to a fair trial in public. The chilling powers the court has used today has serious implications for future hearings and my ability to receive a fair trial."
"I was on trial for a public order offence not terrorism. You'd have thought I was a member of ISIS."
"In wanting to try me in a secret court, one has to ask what they have to hide. The fact that I was arrested by a Hampshire Police officer after being stopped and challenged about my complaints about a police cover up over the involvement of Caroline Nokes MP in a 9-month campaign of intimidation targeting my family is bad enough."
"The fact that the main prosecution witness is the cleaner for the local Conservative Chairman for Caroline Nokes MP speaks volumes."
"At the last hearing two witnesses heard her being coached by the CPS, and that matter has yet to be dealt with by the court. No matter how hard they try though, they will not silence the truth."
Get Hampshire: Fathers 4 Justice founder Matthew O'Connor's trial postponed after supporter access row http://www.gethampshire.co.uk/news/local-news/fathers-4-justice-founder-matthew-8688771
Watch the video of supporters being blocked from entering Matt O'Connor's trial by officials from HM Courts & Tribunals Service and the Ministry of Justice on 20/2/15: 
Watch the video of Matt's arrest.
The chief prosecution witness is the cleaner for Robin Colenso – the local Conservative Party chairman for Caroline Nokes MP. She is seen taking several minutes to park her green car with the assistance of one police officer who is talking to her. Minutes earlier she was witnessed speaking to the same 2 officers further down the High Street. During the brief time she walks past Matt, she claims she was 'alarmed, harassed and distressed.' 
Posted in Broken Tory 2010 Election Promises, Caroline Nokes MP, Chief Constable Andy Marsh, Conservative Party, Fathers, Fathers 4 Justice, Fathers Rights, Fathers4Justice, General Election 2015, Hampshire, Hampshire and Isle of Wight Constabulary, Hampshire Constabulary, Hampshire County Council, Judges, Kings Somborne, Latest News, Malicious Allegations, Matt O'Connor, MP's, Pamela Bailey, Police, Robin Colenso, Romsey, Romsey & Southampton North, Stockbridge
No Comments
Back to top