Back to Latest News
July 25th, 2015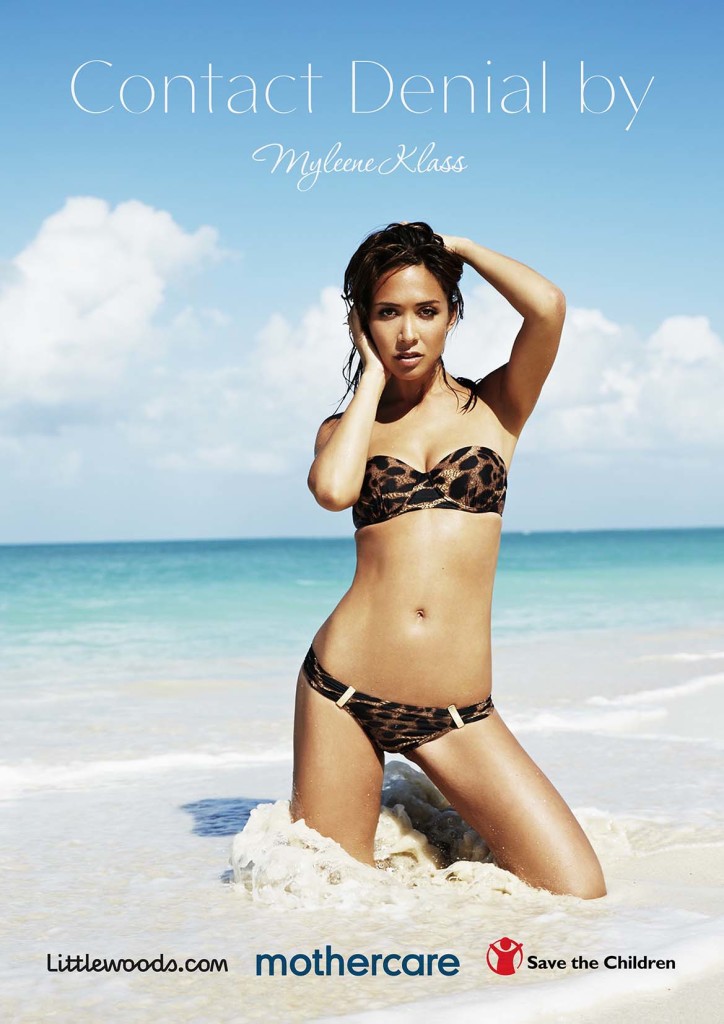 Fathers4Justice today released their latest Myleene Klass advert after the celebrity mother refused to publicly deny press reports she has denied her children access to their father for over a year.
"Contact Denial by Myleene Klass" features the Littlewood's model in a bikini on a beach with the brands who support her listed beneath.
The group say they hope to place the ad in the national press next week after lawyers for Ms Klass sent a notice before action to the media preventing publication of the original advert and story on Wednesday 22nd July.
Fathers4Justice have called on families to boycott the retailer Mothercare until they delist the Baby K range by Myleene Klass and to do the same with Littlewood's and Save The Children who Ms Klass represents.
Said F4J Campaign Director Nadine O'Connor, "We hope retailers and charities will listen to the views of the families we represent and disassociate themselves with Ms Klass until such time she makes a public statement denying these reports."
Fathers4Justice say that contact denial is profoundly damaging to children and a serious abuse of their human rights to family life with their father. According to the Office for National Statistics, nearly 4 million children now live in fatherless homes.
You can contact Myleene Klass and the brands she represents here:
On Twitter https://twitter.com/klassmyleene
On Facebook: https://www.facebook.com/myleeneklassofficial
On Instagram: https://instagram.com/myleeneklass/?hl=en
Her solicitors: zoemorris@leeandthompson.com / Tel: +44 (020) 3073 7600
Her Management Company, Roar Global: info@roarglobal.com
Companies and Organisations she represents:
Save The Children: https://twitter.com/savechildrenuk
Mothercare: https://twitter.com/mothercareuk?lang=en
Littlewoods: https://twitter.com/littlewoods
Posted in Contact Arrangements, Contact Denial, Crummy Mummy, Crummy Mummy Campaign, Divorce, False Allegations, Family Breakdown, Family Law, Fathers, Fathers 4 Justice, Fathers Rights, Fathers4Justice, Graham Quinn, Latest News, Malicious Allegations, Mothercare, Myleene Klass, Nadine O'Connor, Shared Parenting
No Comments
Back to top