Back to Latest News
March 22nd, 2016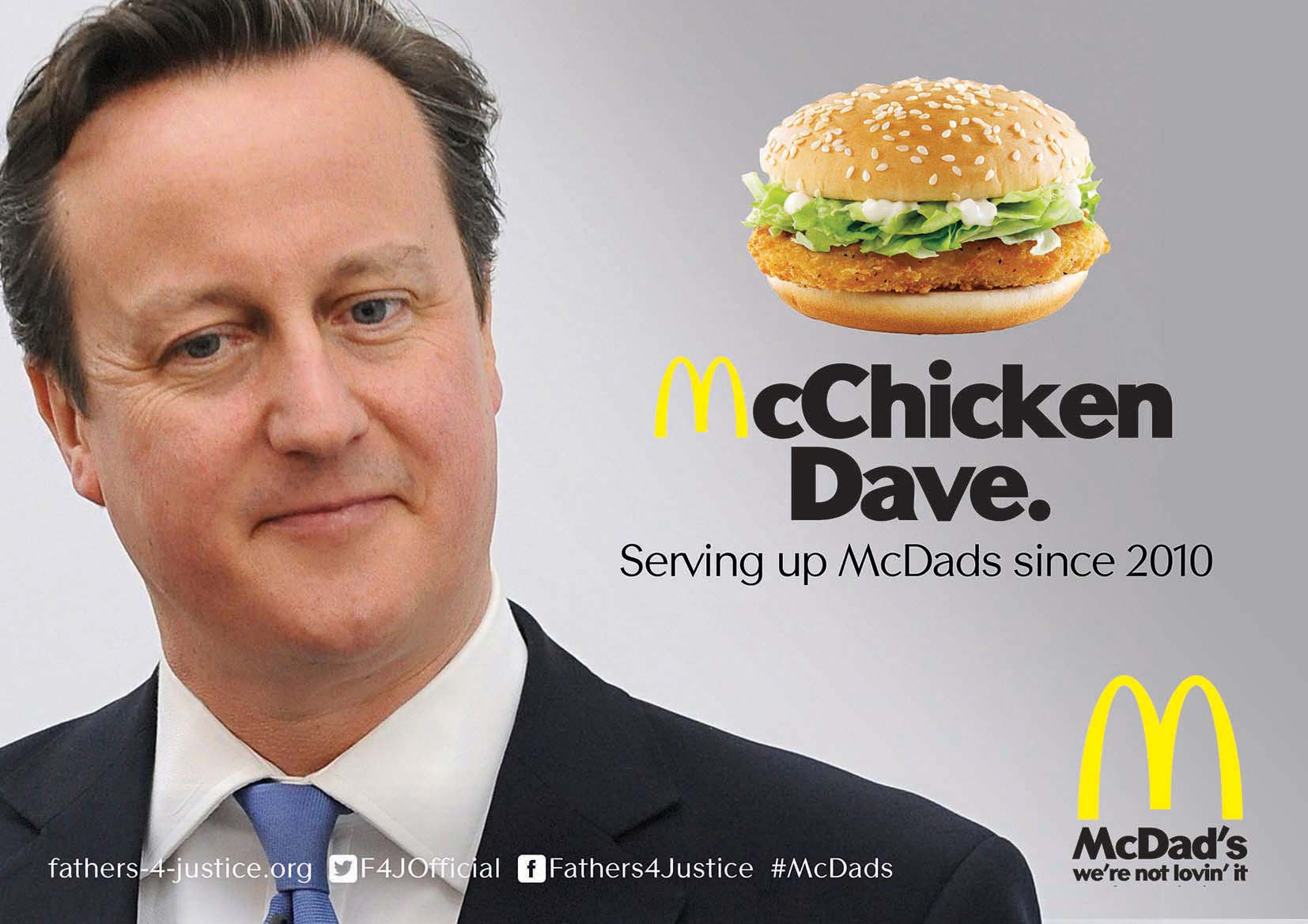 Dear Sirs,
We refer to your letter of 10th March 2015 where you stated you act for McDonald's.
You complained about the Fathers4Justice parody of your client's brand and the use of your clients "McChicken® Sandwich product" in a David Cameron parody advertisement.
We responded that this was plainly a parody, was not passing off, and the campaign was protected under the Human Rights Act, Article 10, Freedom of Expression.
There was no legal response from you and we assumed that you had rightly advised your client there were no legal grounds on which to pursue this matter. We regarded the matter as closed.
Over a year later, on 16/3/16, we received a letter from Barnet Council Trading Standards Office, making various threats to Fathers4Justice, at your clients instruction.
It is extraordinary that your client, a $25 billion US corporation, is using British taxpayers money in the pursuit of it's own customers, rather than use their own solicitors.
Can you confirm you still act for McDonalds in this matter?
If your client was confident there was a case to answer, they would pursue legal action through Shoosmiths and the courts to claim infringement of their trademarks, claim passing off, or pursue any one of a number of alternative legal remedies.
However, we believe that "McDads", "I'm Not Lovin' It", and "Home of The Unhappy Meal" do not constitute trademark infringements or can be pursued under Section 92(1)(a) of the Trade Marks Act 1994.
Further, neither your client, nor Barnet Council, has any evidence of any gain we have made, or loss incurred to McDonald's.
There is simply no case to answer, and your threats are plainly vexatious. It is also clear that your clients have learnt nothing from their previous legal excursions in the British courts.
Instead they maliciously seek to pursue an organisation, helping separated fathers struggling to see their children, simply because they are irked about our parody of your clients brand.
We remind your client that large numbers of our supporters are customers of McDonald's and use your client's restaurants for the drop off and collection of their children.
The actions of McDonald's in this matter are deliberately bullying, threatening and are meant to intimidate us into submission.
However, if your client is confident in their position, we invite them to pursue this matter through the appropriate legal channels.
They should not abuse taxpayer's money by using Barnet Council to surreptitiously pursue legal action on behalf of an obscenely wealthy US corporation, which itself has a history of tax-dodging in the UK and Europe.
If you or Barnet Council unwisely choose to take legal action against Fathers4Justice, we will not only vigorously defend our position, but respond appropriately through the McDads campaign.
Yours faithfully,
Fathers4Justice
Back to top