Back to Latest News
November 23rd, 2016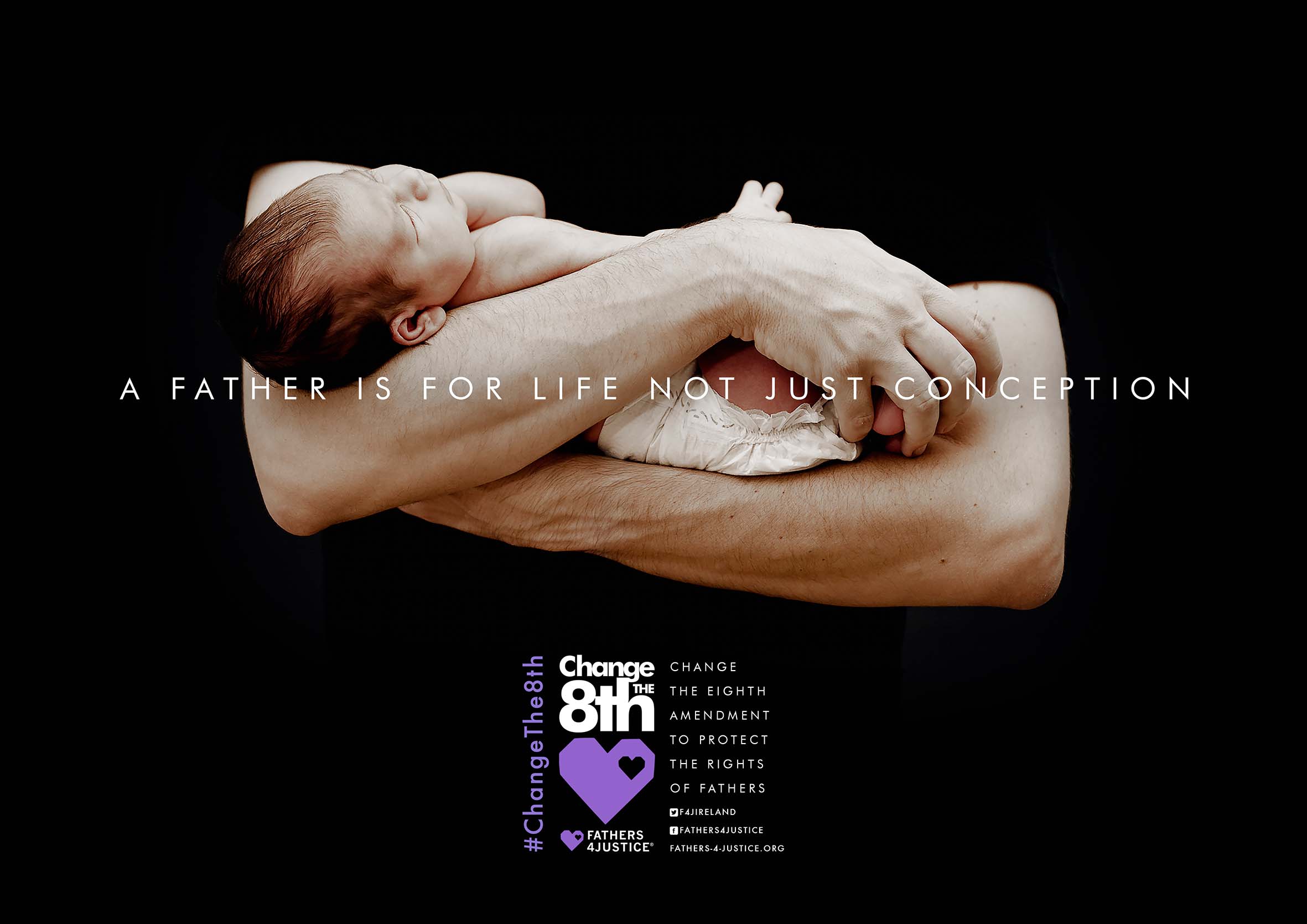 Fathers4Justice (F4J) are concerned that a number of individuals in the 'Repeal The 8th' campaign are aggressively opposed to democratic debate around the 8th Amendment.
In particular, the organisation Cork Pro Choice has made a serious allegation concerning our advert, 'A father is for life not just conception', which will run on Bus Eireann in Cork for six weeks from 5th December 2016. The advert features a picture of a father cradling an infant child and is part of our 'Change The 8th' campaign.
We believe the allegation by Cork Pro Choice is grossly defamatory.
For the record, our campaign promotes equal rights for fathers alongside men's health issues, including male suicide. F4J is staffed by women, and a third of our supporters are women. They find the allegations by Cork Pro Choice deeply offensive and upsetting.
The objective of our campaign is to promote democratic debate around the 8th Amendment. Instead F4J has been subject to vicious online abuse and bullying.
Our campaign and consultation will continue until early 2017, when F4J will publish it's policy and document and any proposed amendment to the 8th. In the event of a referendum, we expect this to include a question about fathers' right, and we would legally challenge (Judicially Review) it's exclusion.
In the meantime Brophy Solicitors in Dublin are instructed on this matter and we will not comment further until legal proceedings are resolved.
Posted in Abortion, False Allegations, Fathers 4 Justice, Fathers Rights, Fathers4Justice, Latest News, Libel, Matt O'Connor, Nadine O'Connor, Repeal the 8th, University College Cork
No Comments
Back to top