Back to Latest News
December 18th, 2016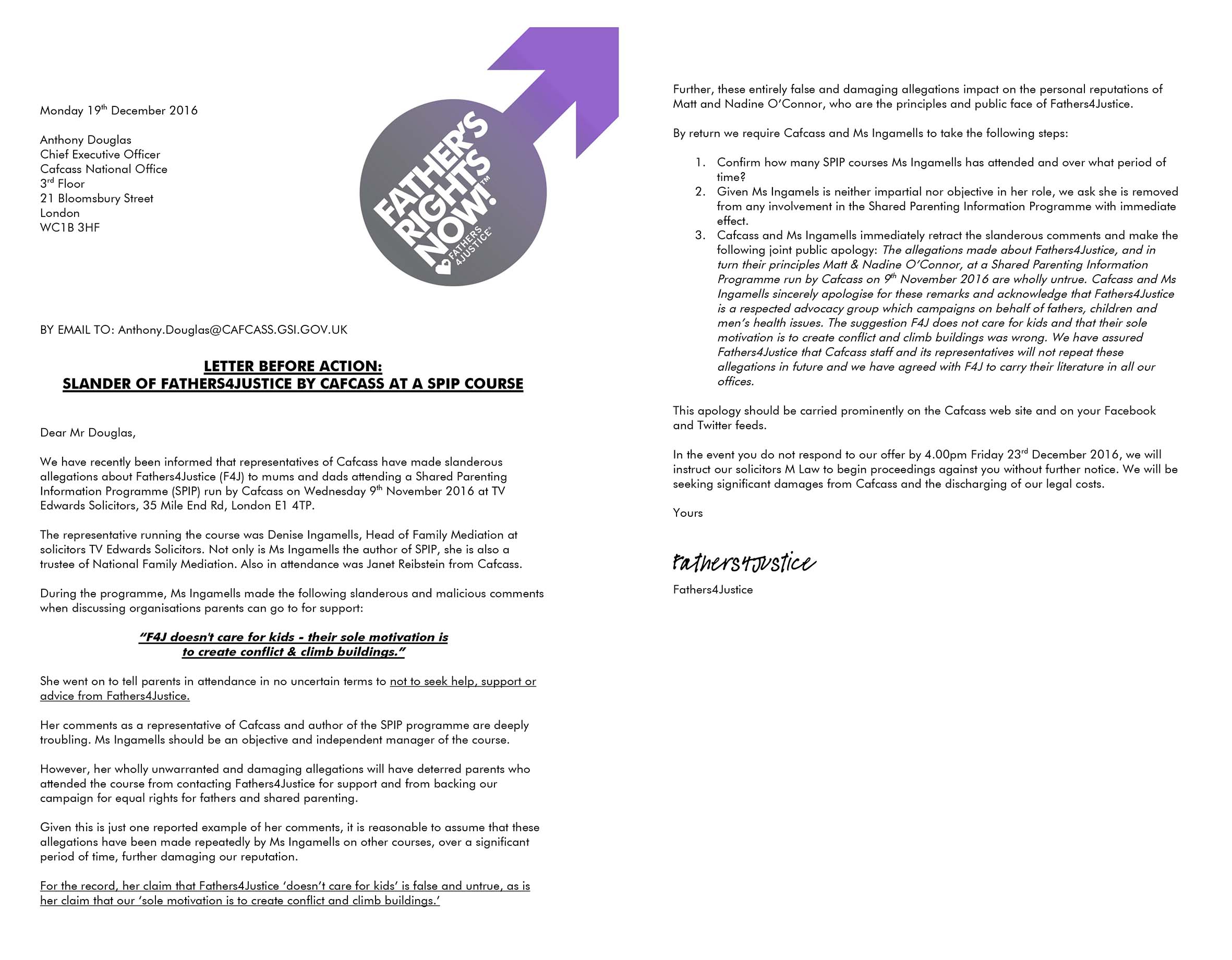 Monday 19th December 2016
Anthony Douglas
Chief Executive Officer
Cafcass National Office
3rd Floor
21 Bloomsbury Street
London
WC1B 3HF
BY EMAIL TO: Anthony.Douglas@CAFCASS.GSI.GOV.UK
LETTER BEFORE ACTION:
SLANDER OF FATHERS4JUSTICE BY CAFCASS AT A SPIP COURSE
Dear Mr Douglas,
We have recently been informed that representatives of Cafcass have made slanderous allegations about Fathers4Justice (F4J) to mums and dads attending a Shared Parenting Information Programme (SPIP) run by Cafcass on Wednesday 9th November 2016 at TV Edwards Solicitors, 35 Mile End Rd, London E1 4TP.
The representative running the course was Denise Ingamells, Head of Family Mediation at solicitors TV Edwards Solicitors. Not only is Ms Ingamells the author of SPIP, she is also a trustee of National Family Mediation. Also in attendance was Janet Reibstein from Cafcass.
During the programme, Ms Ingamells made the following slanderous and malicious comments when discussing organisations parents can go to for support:
"F4J doesn't care for kids – their sole motivation is
to create conflict & climb buildings." 
She went on to tell parents in attendance in no uncertain terms to not to seek help, support or advice from Fathers4Justice.

Her comments as a representative of Cafcass and author of the SPIP programme are deeply troubling. Ms Ingamells should be an objective and independent manager of the course.
However, her wholly unwarranted and damaging allegations will have deterred parents who attended the course from contacting Fathers4Justice for support and from backing our campaign for equal rights for fathers and shared parenting.
Given this is just one reported example of her comments, it is reasonable to assume that these allegations have been made repeatedly by Ms Ingamells on other courses, over a significant period of time, further damaging our reputation.
For the record, her claim that Fathers4Justice 'doesn't care for kids' is false and untrue, as is her claim that our 'sole motivation is to create conflict and climb buildings.'

Further, these entirely false and damaging allegations impact on the personal reputations of Matt and Nadine O'Connor, who are the principles and public face of Fathers4Justice.
By return we require Cafcass and Ms Ingamells to take the following steps:
1.    Confirm how many SPIP courses Ms Ingamells has attended and over what period of time?
2.    Given Ms Ingamels is neither impartial nor objective in her role, we ask she is removed from any involvement in the Shared Parenting Information Programme with immediate effect.
3.    Cafcass and Ms Ingamells immediately retract the slanderous comments and make the following joint public apology: The allegations made about Fathers4Justice, and in turn their principles Matt & Nadine O'Connor, at a Shared Parenting Information Programme run by Cafcass on 9th November 2016 are wholly untrue. Cafcass and Ms Ingamells sincerely apologise for these remarks and acknowledge that Fathers4Justice is a respected advocacy group which campaigns on behalf of fathers, children and men's health issues. The suggestion F4J does not care for kids and that their sole motivation is to create conflict and climb buildings was wrong. We have assured Fathers4Justice that Cafcass staff and its representatives will not repeat these allegations in future and we have agreed with F4J to carry their literature in all our offices.

This apology should be carried prominently on the Cafcass web site and on your Facebook and Twitter feeds.
In the event you do not respond to our offer by 4.00pm Friday 23rd December 2016, we will instruct our solicitors MLaw to begin proceedings against you without further notice. We will be seeking significant damages from Cafcass and the discharging of our legal costs.
Yours
Fathers4Justice
Back to top