Back to Latest News
January 2nd, 2017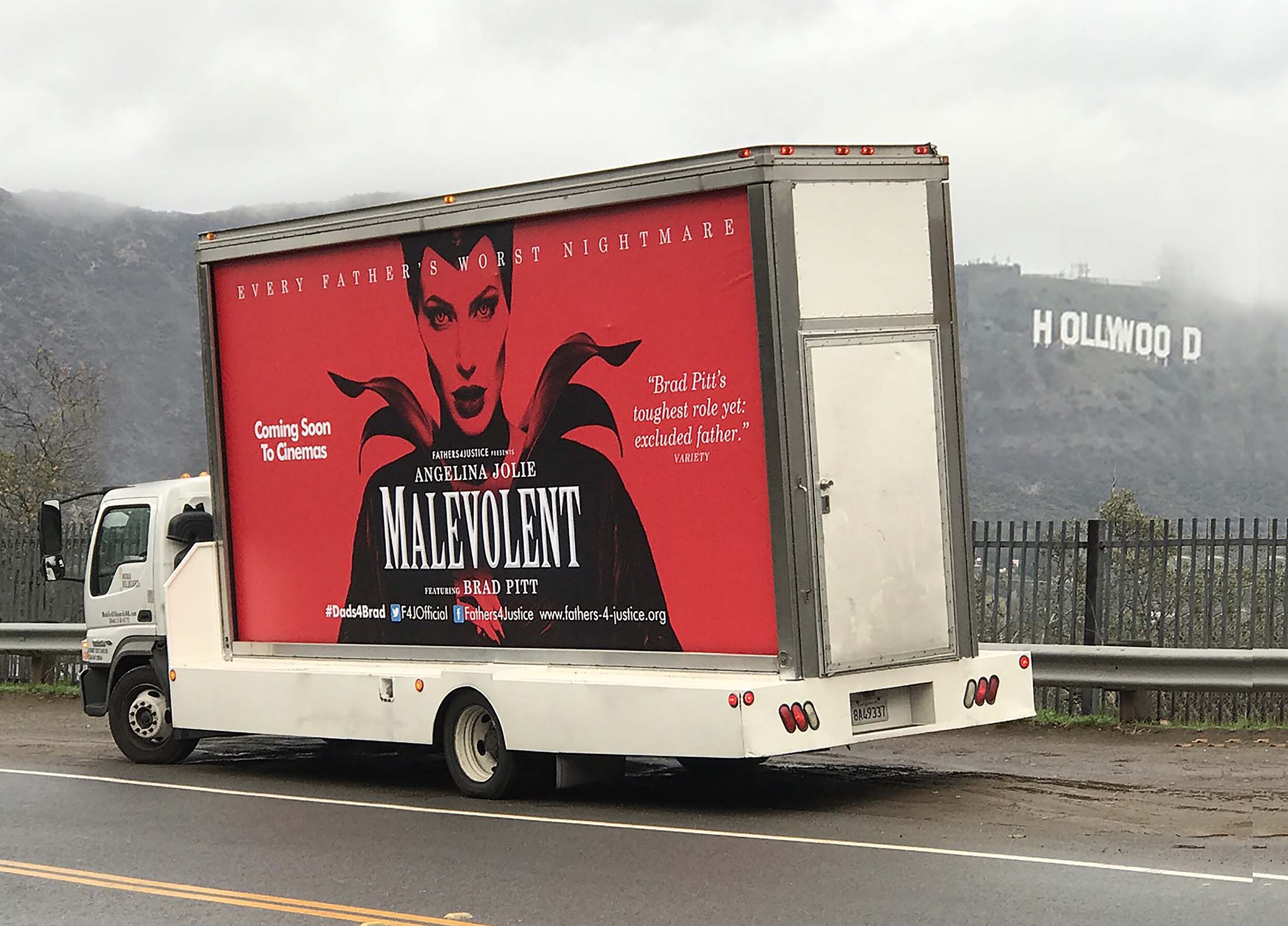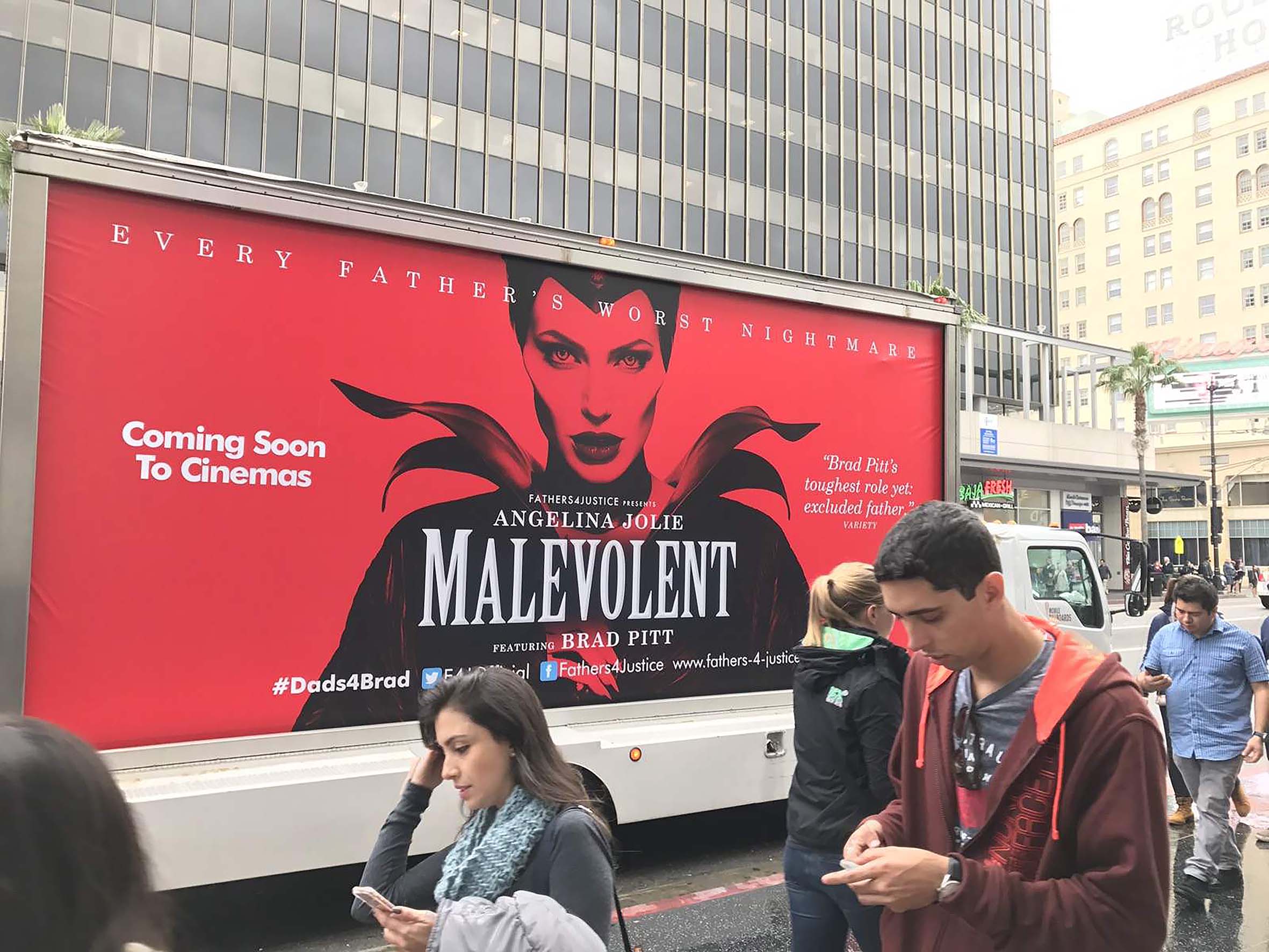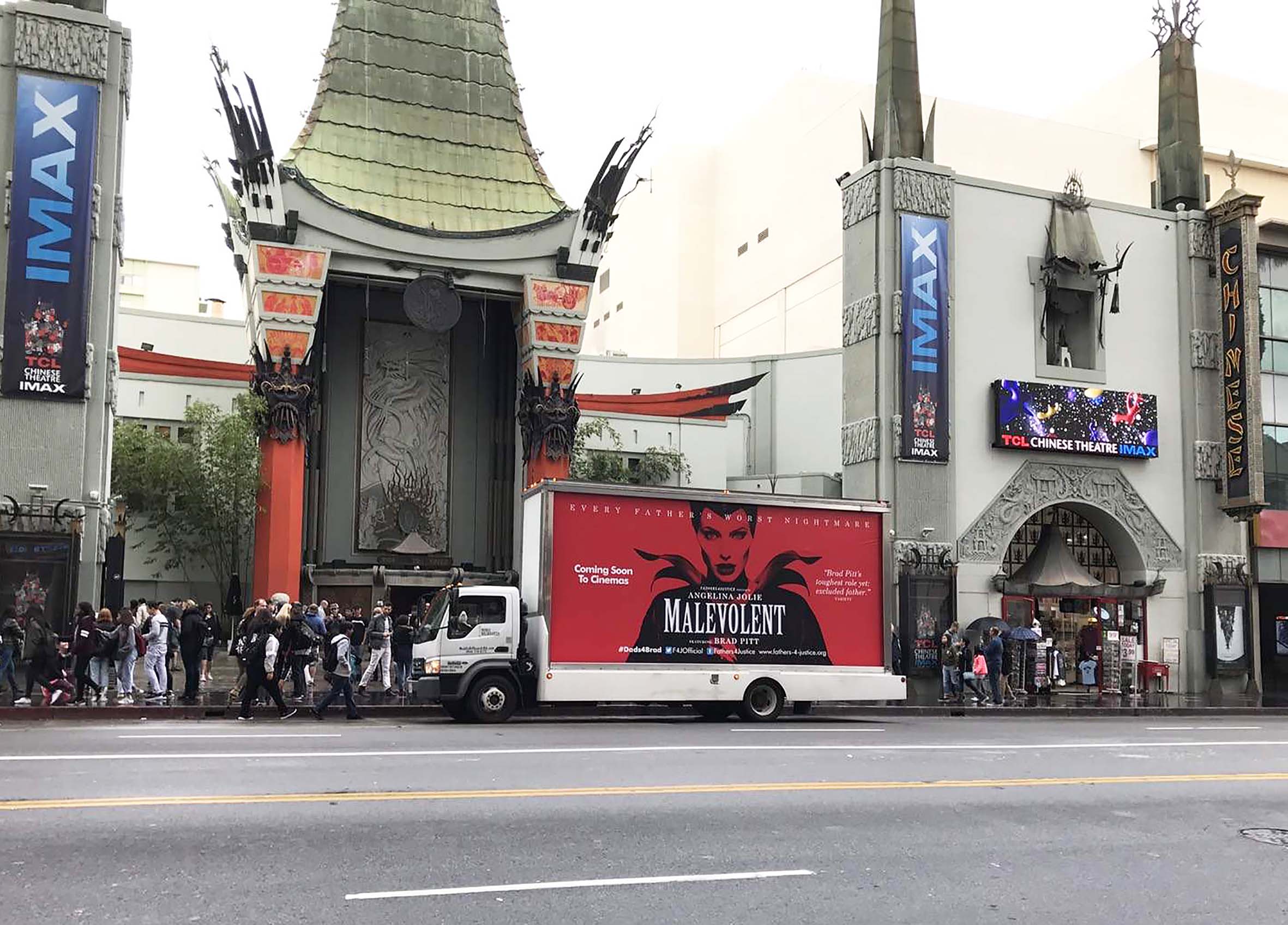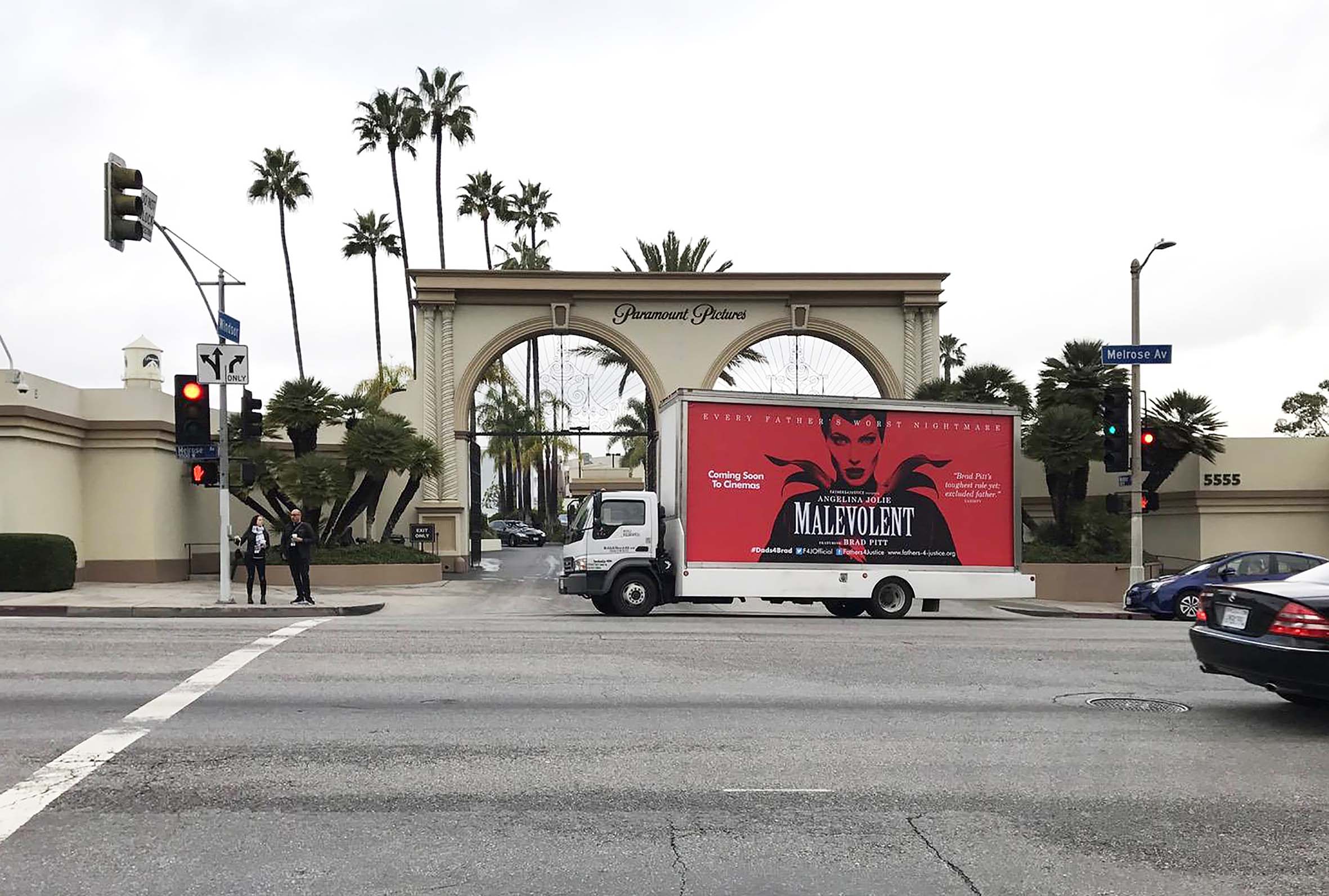 Fathers4Justice is launching a guerilla advertising campaign in Hollywood this week about Brad Pitt's access problems to his children.
The mobile billboard campaign parodies the Disney fantasy film 'Maleficent' which features Pitt's ex partner, Angelina Jolie, as a vengeful fairy.
The red and black ad replaces the film title with the word 'malevolent' and uses the hashtag #Dads4Brad.
The billboards will target famous Hollywood landmarks including the Walk of Fame, Sunset Strip, the Hollywood Sign and Hidden Hills, home to the stars.
The group, who became embroiled in an argument with actress Kate Winslet over shared parenting in 2013, say many celebrity dads have experienced issues seeing their children in the last year, including actor Jeremy Renner, director Guy Ritchie and One Direction star Louis Tomlinson.
Said F4J founder Matt O'Connor, "We hope the campaign will raise awareness about the plight of loving dads like Brad Pitt, who are being excluded from their children's lives and highlight the use of false allegations by some mothers to maliciously restrict dads access to their kids."
"It is disappointing that Angeline Jolie, a UNHCR Goodwill Ambassador and humanitarian with a proclaimed love of children, would set such a poor example to other mothers."
"Shared Parenting should be the default position in these circumstances. Children deserve the best of both their parents, not the worst."
Read more about the story at the Mail On Sunday http://www.dailymail.co.uk/femail/article-4078656/How-custody-battles-Angelina-meant-year-ended-agonising-Christmas-broken-tearful-Brad-Pitt.html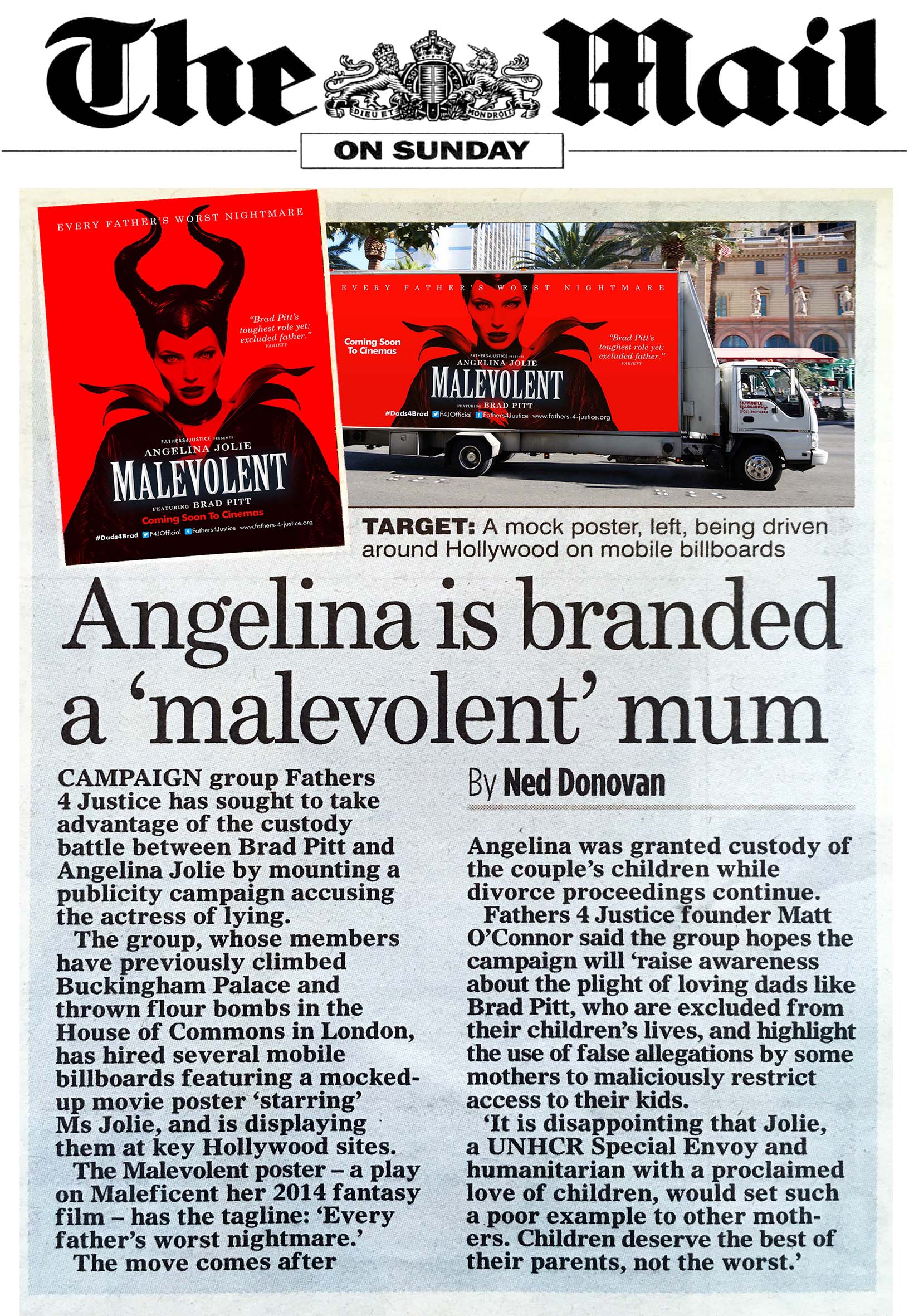 Posted in Angeline Jolie, Brad Pitt, Contact Arrangements, Contact Denial, Crummy Mummy, Crummy Mummy Campaign, Divorce, False Allegations, Family Breakdown, Family Courts, Fathers 4 Justice, Fathers 4 Justice International, Fathers Rights, Fathers4Justice, Guy Ritchie, Hollywood, Jeremy Renner, Kate Winslet, Latest News, Louis Tomlinson, Mail on Sunday, Malicious Allegations, Matt O'Connor, Shared Parenting
No Comments
Back to top