Back to Latest News
February 10th, 2017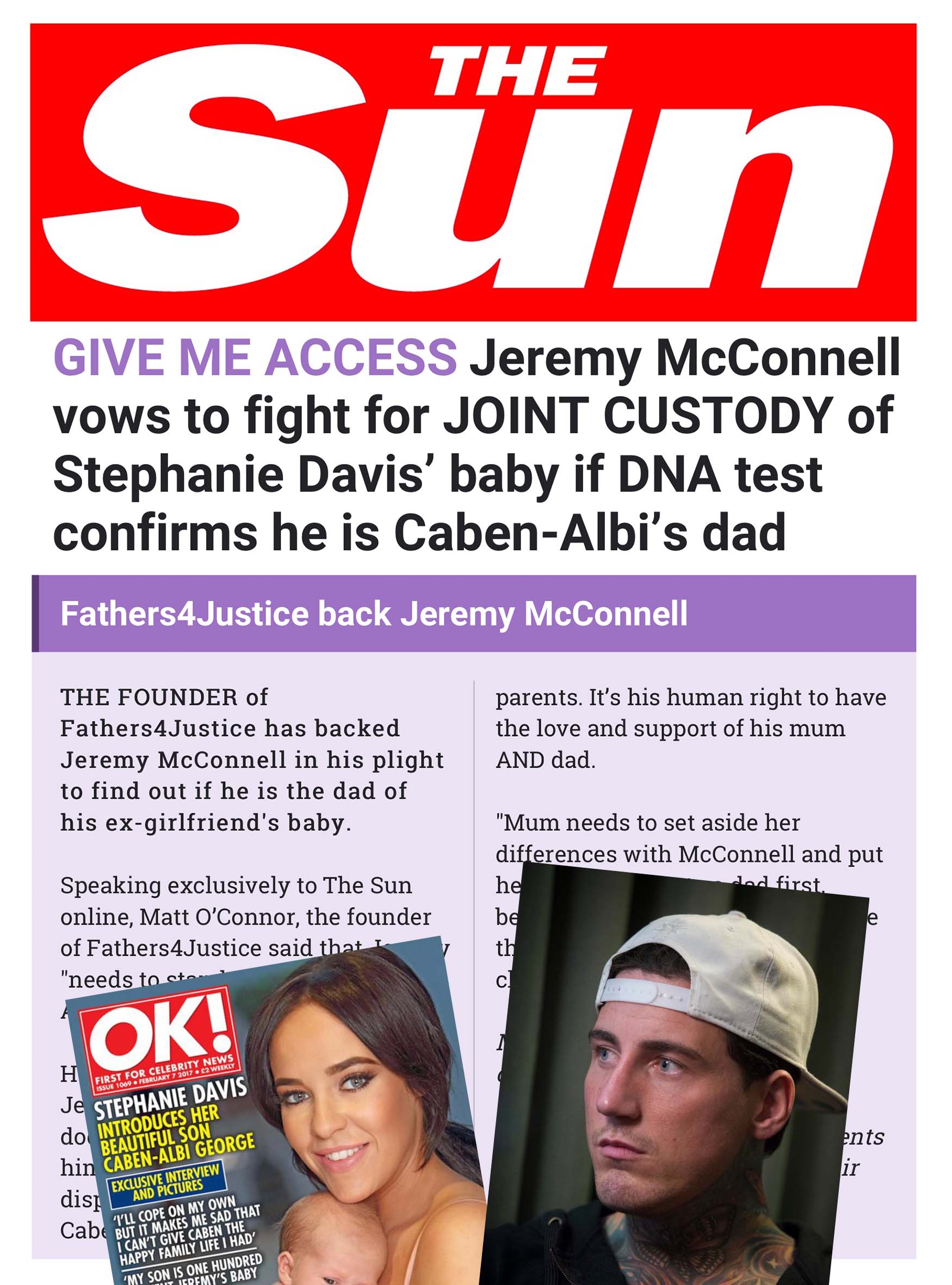 THE FOUNDER of Fathers4Justice has backed Jeremy McConnell in his plight to find out if he is the dad of his ex-girlfriend's baby.
Speaking exclusively to The Sun online, Matt O'Connor, the founder of Fathers4Justice said that Jeremy "needs to stand up for his rights AND the rights of the child."
He said: "Stephanie Davis has asked Jeremy McConnell to sign a legal document which would prevent him talking about a paternity dispute after she gave birth to son Caben-Albi last month.
"The extraordinary attempt to gag him comes after Davis has paraded the baby in the media and seemingly thinks it's acceptable for the child to be denied a relationship with its father – whoever that is."In fact, its reported the first time McConnell saw the child was on the cover of a magazine."
He has now rightly asked for a DNA test to establish whether he is the father or not, and should make an application to a Family Court to order Davis to comply with this."
Not only does he need to do this to establish whether he will be liable for child support, but he will almost certainly want to be a loving dad to his son if paternity is established."
Most importantly, Caben-Albi deserves the best of BOTH his parents. It's his human right to have the love and support of his mum AND dad."
Mum needs to set aside her differences with McConnell and put her child's rights to a dad first, because no parent should ever hate their ex more than they love their child."
Matt added that he has met countless dads who have been tricked in to paying for children who aren't theirs, as well as parents who have never been granted fair and legal access to their own children.
He explained: "The issue of paternity fraud is one we increasingly deal with at Fathers4Justice.
"Too many dads are being duped by mums into paying for children that are not theirs. To date not a single mother has been prosecuted for paternity fraud, which we believe should be treated as seriously as regular fraud."
In fact, a recent report by DNA Clinics said that nearly HALF of men who take paternity tests are NOT the real father."
Failure to establish paternity can have a devastating effect on children and their families at a later date."

https://www.thesun.co.uk/tvandshowbiz/2813449/jeremy-mcconnell-vows-to-fight-for-joint-custody-of-stephanie-davis-baby-if-dna-test-confirms-he-is-caben-albis-dad/
Back to top