Back to Latest News
March 5th, 2017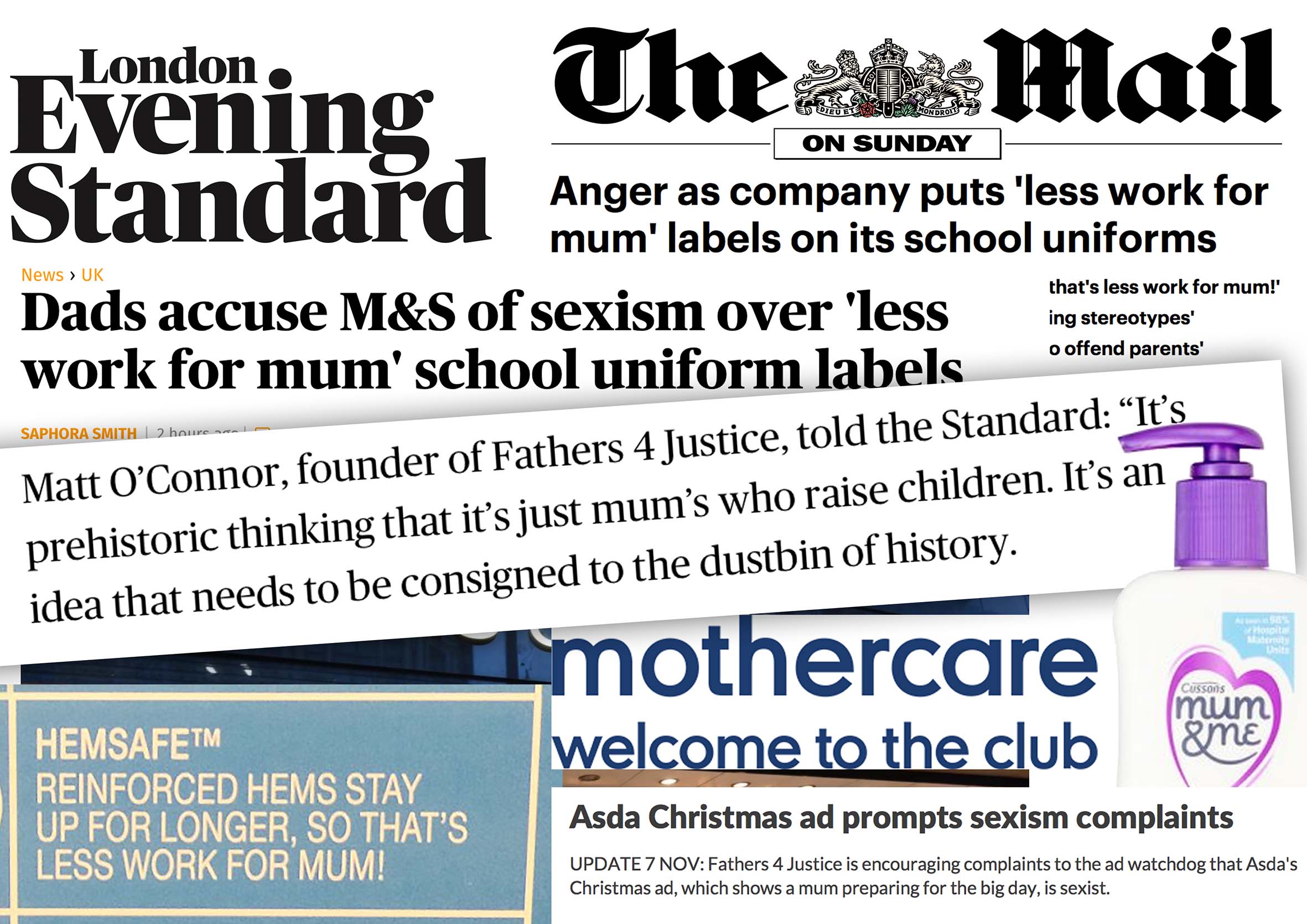 Marks & Spencer has become embroiled in a sexism row over school uniforms that are labelled 'less work for mum'.
Equal-rights campaigners accused the retailer of 'reinforcing stereotypes' and pointed out that fathers are also responsible for uniforms.
The labels are on a range of boys' and girls' trousers that promise 'reinforced hems'. Costing less than £15, they boast technology that ensure hems 'stay up for longer, so that's less work for mum!'
Last night, campaign group Fathers 4 Justice announced plans to lobby M&S to change its 'prehistoric' advertising.
Founder Matt O'Connor said: 'It is disappointing to see this from a flagship retailer.
'There is this mentality among high-street stores that it's only women who shop for children. It is an insult and we'll follow this with a campaign.
'It should say 'mums and dads' or 'parents'. It is like 'Mothercare' – where is 'Fathercare'?
'It really irritates fathers, but also instils children with bad lessons about stereotypes, which is irresponsible.
'It teaches girls 'this is your preserve' and boys 'you have nothing to do with this'. That is harmful.'
Speaking to the Evening Standard O'Connor added,
"A third of all child care is done by fathers but we're still faced with these continual issues of general casual sexism from retailers.
"We represent 80,000 families in the UK and these issues are constantly raised with us.
"It's certainly discriminatory and we are currently discussing direct action, pram protests, sit ins to challenge anti-father discrimination by retailers.
The labels also sparked discussion on social media, with one Mumsnet user writing: 'Well I won't be buying uniform from M&S this year!'
However, others sprang to M&S's defence, with one posting: 'Even in these supposed times of equality, most chores fall down to Mum.
'Even if she doesn't sew the hems herself, she's likely to take them to the tailor to have them adjusted.'
Last night M&S said its schoolwear packaging was being changed before the collection hit stores in May.
A spokesman added: 'It was never our intention to offend parents.'
This isn't the first time Fathers4Justice has criticised retailers over anti-father discrimination.
In 2012 F4J complained about Asda's Christmas ad. The complaint focused on the strapline, which is "Behind every great Christmas there's mum and behind mum there's Asda", claiming that this suggests that men, or fathers, do not have a role in contributing to Christmas.
At the time F4J the advert was "completely unacceptable" ad that was "grossly insulting" to fathers who won't be seeing their children at Christmas.
They have also criticised 'Mother & Baby' only changing rooms at Sainsburys and Tesco's 'Mum & Me' baby shampoo range.
READ MORE:
Daily Mail: Anger as M&S puts 'less work for mum' labels on school uniforms: http://www.dailymail.co.uk/news/article-4282264/Marks-Spencer-row-work-mum-labels.html
Evening Standard: Dads accuse M&S of sexism over 'less work for mum' school uniform labels http://www.standard.co.uk/news/uk/dads-accuse-ms-of-sexism-over-less-work-for-mum-school-uniform-labels-a3482251.html
Campaign: Sexist Asda Christmas Advert http://www.campaignlive.co.uk/article/asda-christmas-ad-prompts-sexism-complaints/1158470
Back to top