Back to Latest News
August 26th, 2017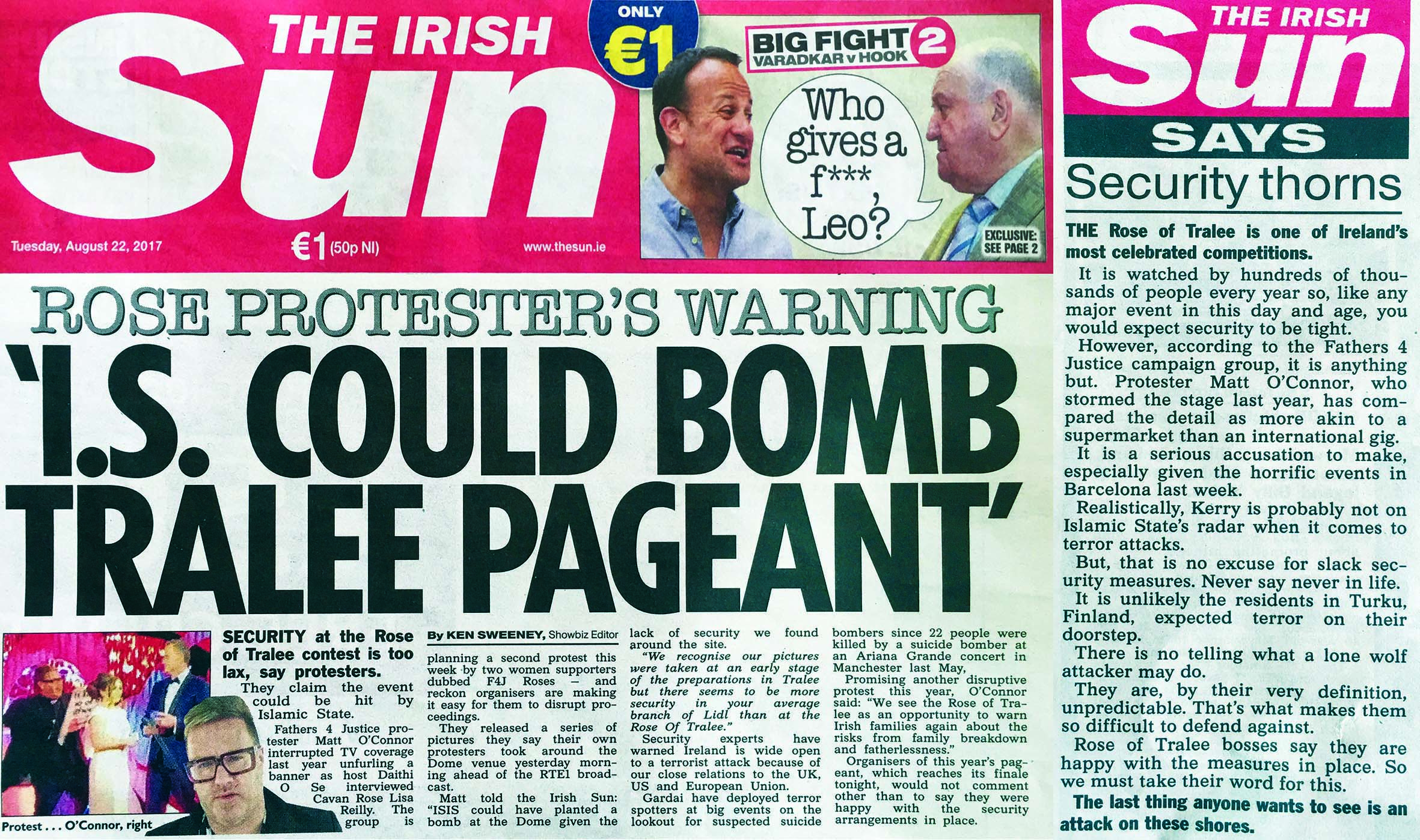 Fathers 4 Justice protester Matt O'Connor interrupted TV coverage last year unfurling a banner as host Daithi O Se interviewed Cavan Rose Lisa Reilly.
The group is planning a second protest this week by two women supporters dubbed F4J Roses — and reckon organisers are making it easy for them to disrupt proceedings.
They released a series of pictures they say their own protesters took around the Dome venue yesterday morning ahead of the RTE1 broadcast.
Matt told the Irish Sun: "ISIS could have planted a bomb at the Dome given the lack of security we found around the site.
"We recognise our pictures were taken at an early stage of the preparations in Tralee but there seems to be more security in your average branch of Lidl than at the Rose Of Tralee."
Security experts have warned Ireland is wide open to a terrorist attack because of our close relations to the UK, US and European Union.
Gardai have deployed terror spotters at big events on the lookout for suspected suicide bombers since 22 people were killed by a suicide bomber at an Ariana Grande concert in Manchester last May,
Promising another disruptive protest this year, O'Connor said: "We see the Rose of Tralee as an opportunity to warn Irish families again about the risks from family breakdown and fatherlessness."
Organisers of this year's pageant, which reaches its finale tonight, would not comment other than to say they were happy with the security arrangements in place.
Read More Here: https://www.thesun.ie/tvandshowbiz/tv/1428290/protesters-say-security-at-rose-of-tralee-contest-is-too-lax-and-claim-the-event-could-be-hit-by-isis/
Back to top