Back to Latest News
November 17th, 2017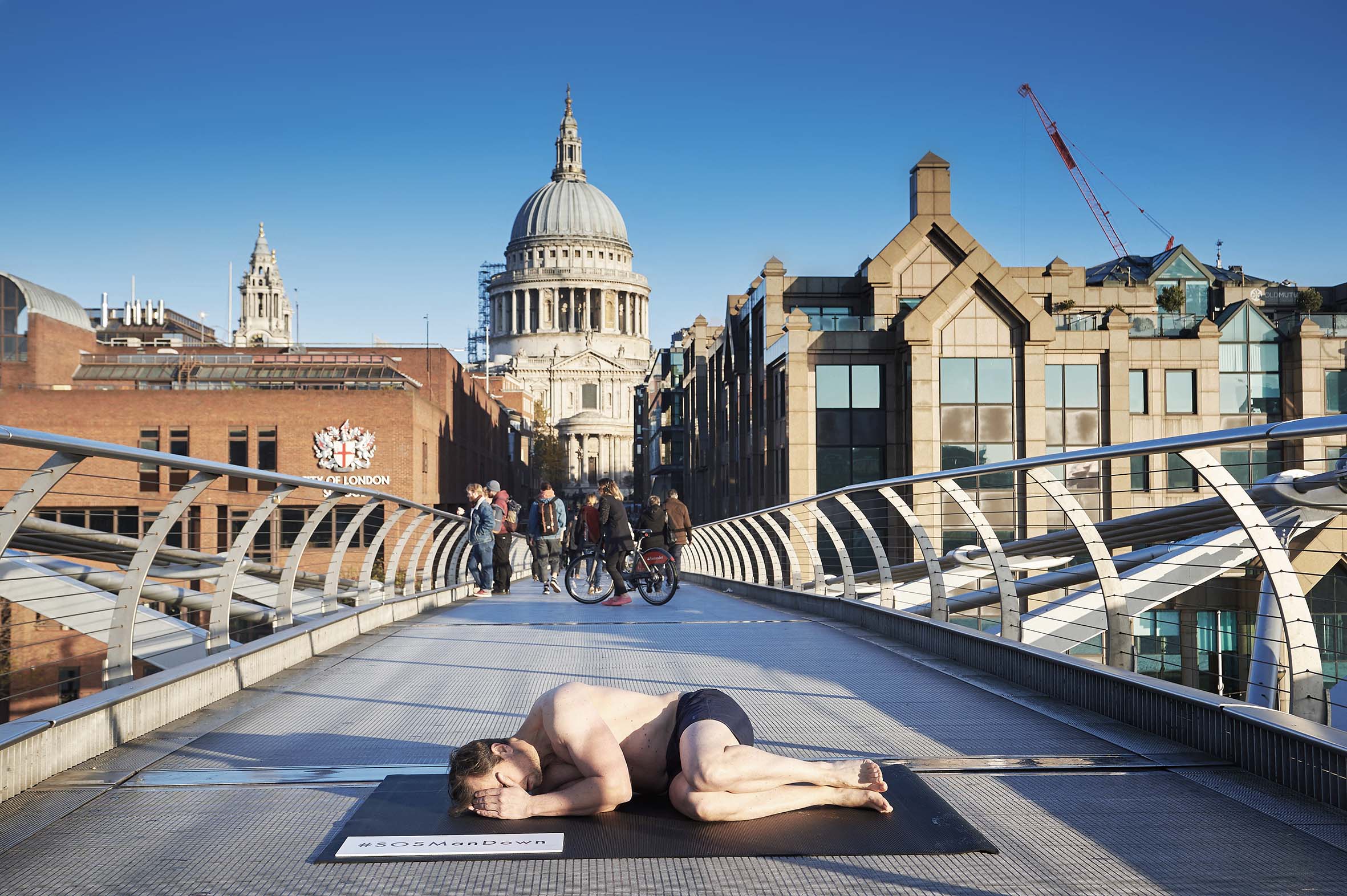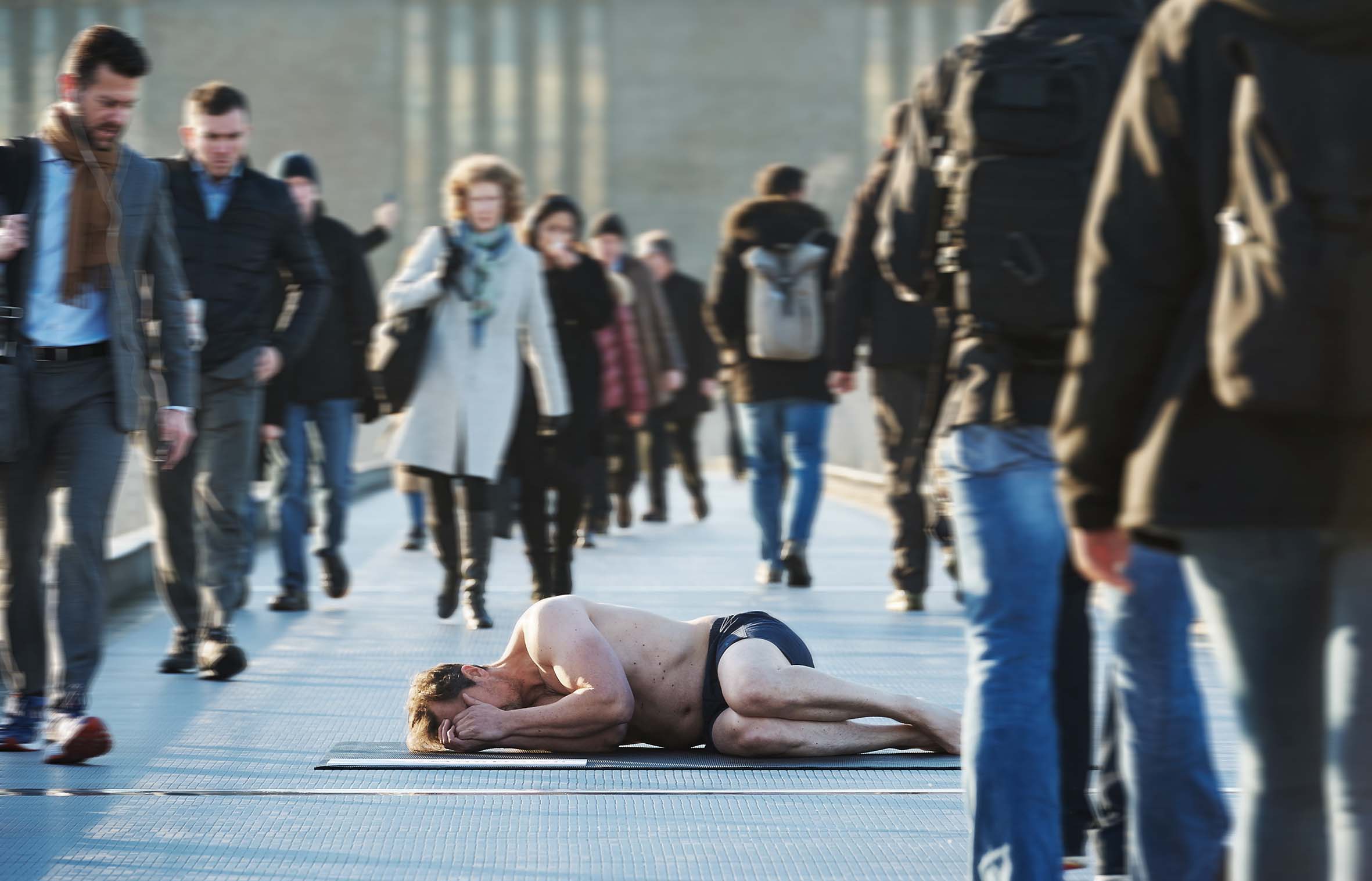 The UK's leading campaign group for separated dads has launched a new Christmas initiative aimed at women, which calls for their help in reducing casualties from the higher rates of suicide, alcoholism and fatherlessness suffered by men at this time of year.
The campaign, #SOSManDown, was launched by Fathers4Justice in London, Edinburgh, and Dublin this week, and involves semi-naked men lying in a foetal position in public spaces for long periods of time, often in the bitter cold. The only reference to the campaign are the words #SOSManDown.
F4J has described the campaign as a 'living art installation' involving ordinary fathers facing extraordinary circumstances and challenges, and they plan to roll out the initiative to towns and cities in the UK and Ireland before Christmas.
Fathers4Justice are calling for the following steps to be taken urgently to address what they say is a public health emergency facing men and separated dads:
1) MINISTER FOR MEN & BOYS: Just because many politicians are men, it does not mean they are addressing men's health issues.  In fact, male politicians, like men in society, are uncomfortable discussing men's health.  Men and boys urgently need a voice in government and political representation for men's issues, with a Minister focused on coordinating a strategy to deal with the men's health crisis.
2) NATIONAL SAFETY NET: A fully funded safety net for men and boys including a national Life Line and health strategy targeting the causes of male suicide, depression and other health issues, as well as supporting men in difficulty.
3) PARENTAL EQUALITY: Having a father is a human right. Dads should be treated equally and with dignity by the courts and the state, and their right to family life respected. That means automatic parental responsibility for all fathers and a legal presumption of shared parenting and child support.
4) A NATIONAL CONVERSATION: Let's break the political and social taboo around men's health and fatherlessness and bring men and women together in unity to make a difference to the lives of millions of men and boys.
Key findings from the campaign briefing also published today include:
** The excess of premature male deaths is the equivalent of a jumbo jet full of men crashing every week
** Nearly 4 times as many men die from suicide than in Road Traffic Collisions (RTCs)
** The biggest killer of men under 45 is suicide and 12 men take their own lives every day in the UK.
** Because of social stigma and religious taboos, male suicide is significantly underreported, or deaths wrongly attributed to other causes such as 'accidental' or 'undetermined intent' by coroners.
** Dads are 3 times more likely to die after separation than mothers.
** More boys aged 15 have a smartphone than live with their father.
** More than 1 in 3 children never see their father again after their parents separate.
Matt O'Connor, who founded Fathers4Justice in 2001, said: "To date we have received an overwhelming and emotional response from women who have witnessed the #SOSManDown initiative in the street. The campaign was born out of the stories of suffering and loss we have received from the thousands of broken men we have helped since our foundation in 2001.
"The campaign aims to break the wall of silence surrounding the men's health crisis and calls on respective governments across the British Isles to take urgent action."
"This Christmas we want women and men to join together to tackle this wall of silence.  In the same way that women's health issues should be relevant to men, men's health issues should also be tackled by everyone because they affect everyone.  Those suffering this Christmas will be someone's son, someone's nephew, someone's uncle or someone's father."
"We need a comprehensive package of measures to tackle long-term health issues which face men including a recognised voice in government to coordinate efforts and show that, whilst the majority of politicians might be male they have shied away from tackling this health crisis."
Locations used for the campaign so far have included:
** London: Buckingham Palace, St. Paul's Cathedral, Millennium Bridge, Oxford Street, Leicester Square, Liverpool Street Station, London Eye
** Edinburgh: Scottish Parliament, George IV Bridge, Princes Street, Edinburgh Castle
** Dublin: Heuston Station, Dáil Éireann (Irish Parliament), Grafton Street, The General Post Office and the offices of the Irish Human Rights & Equality Commission (IHREC).
Download the UK #SOSManDown Briefing Paper here: F4J #SOSManDown Briefing Paper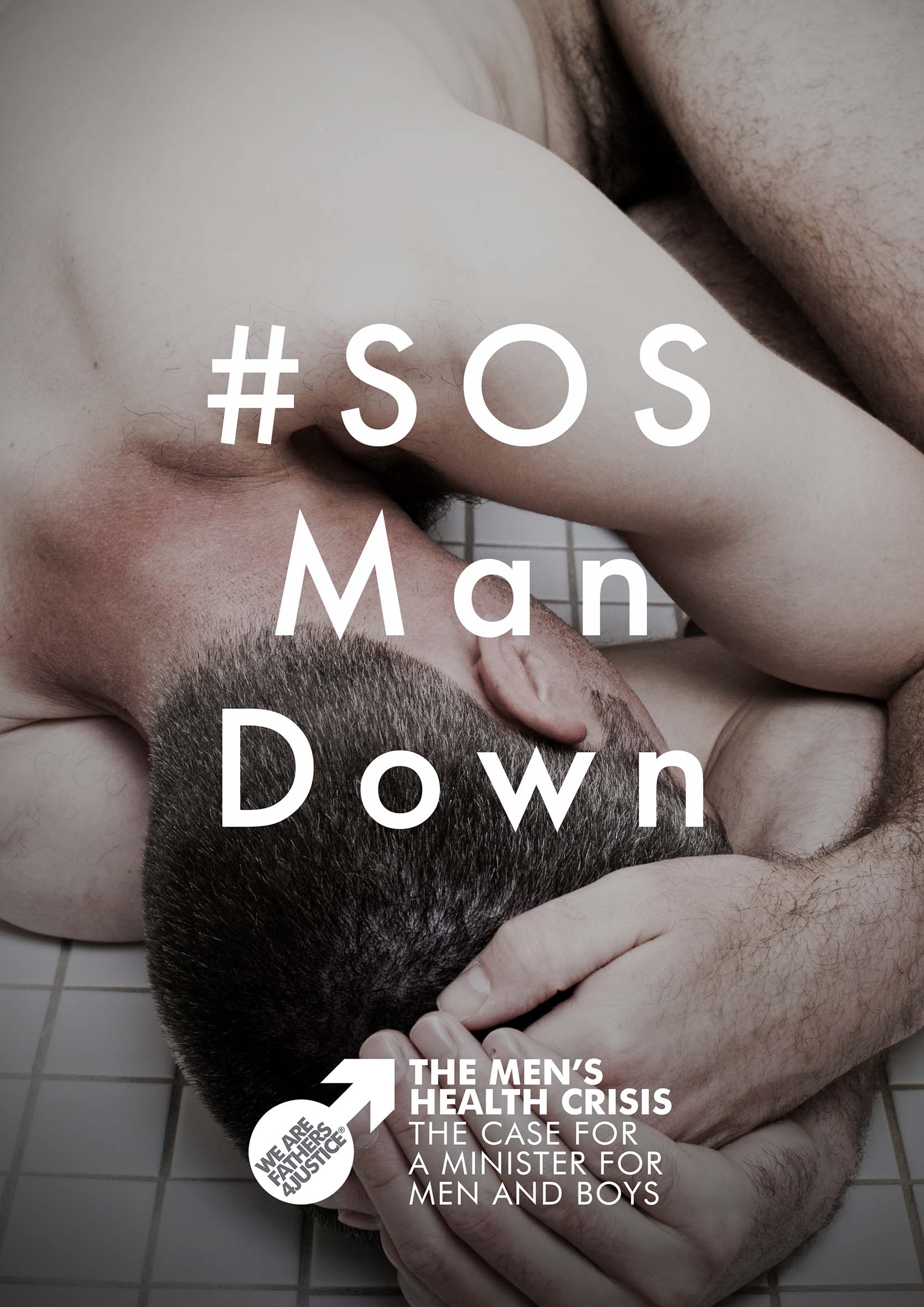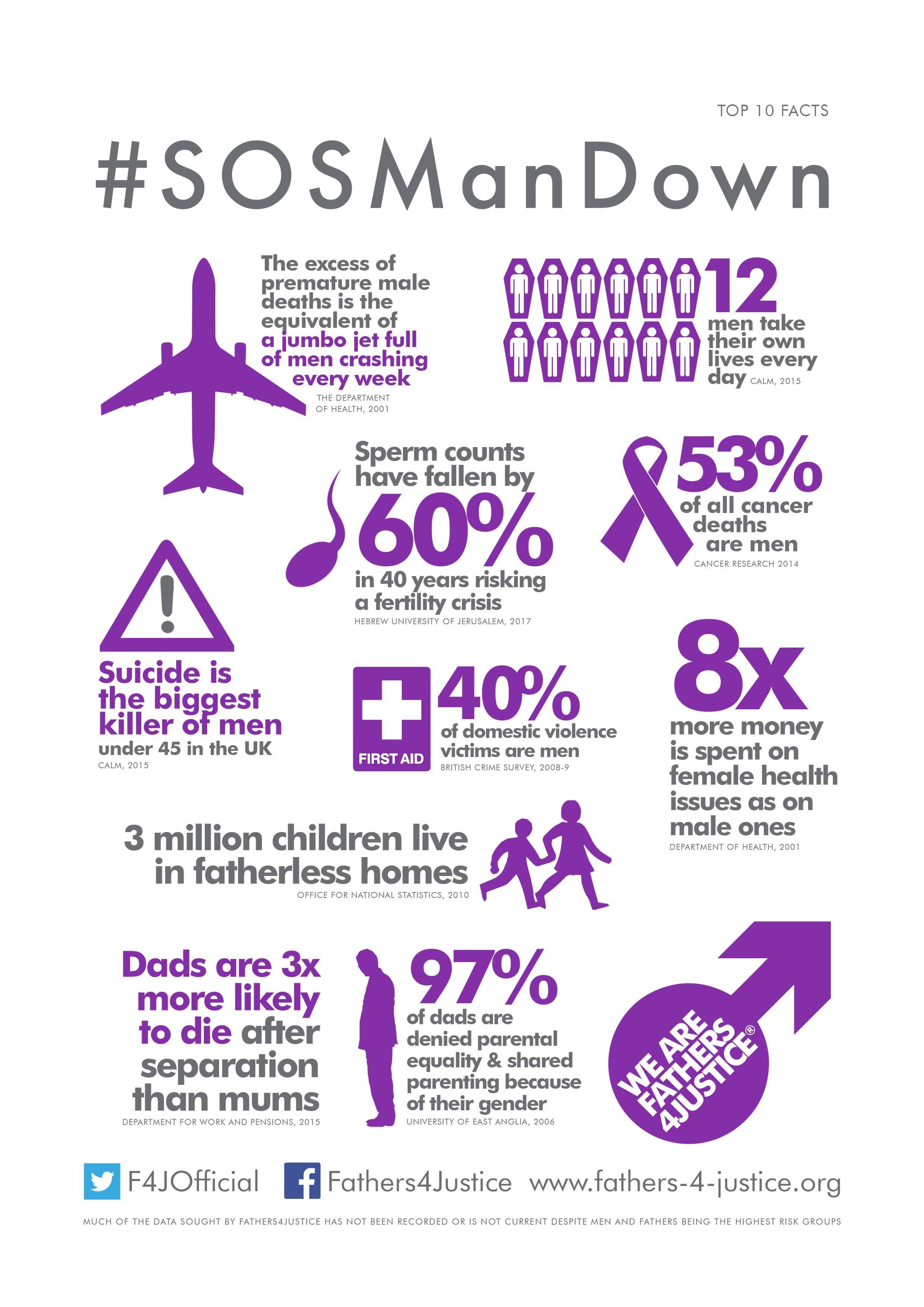 #SOSManDown Media Coverage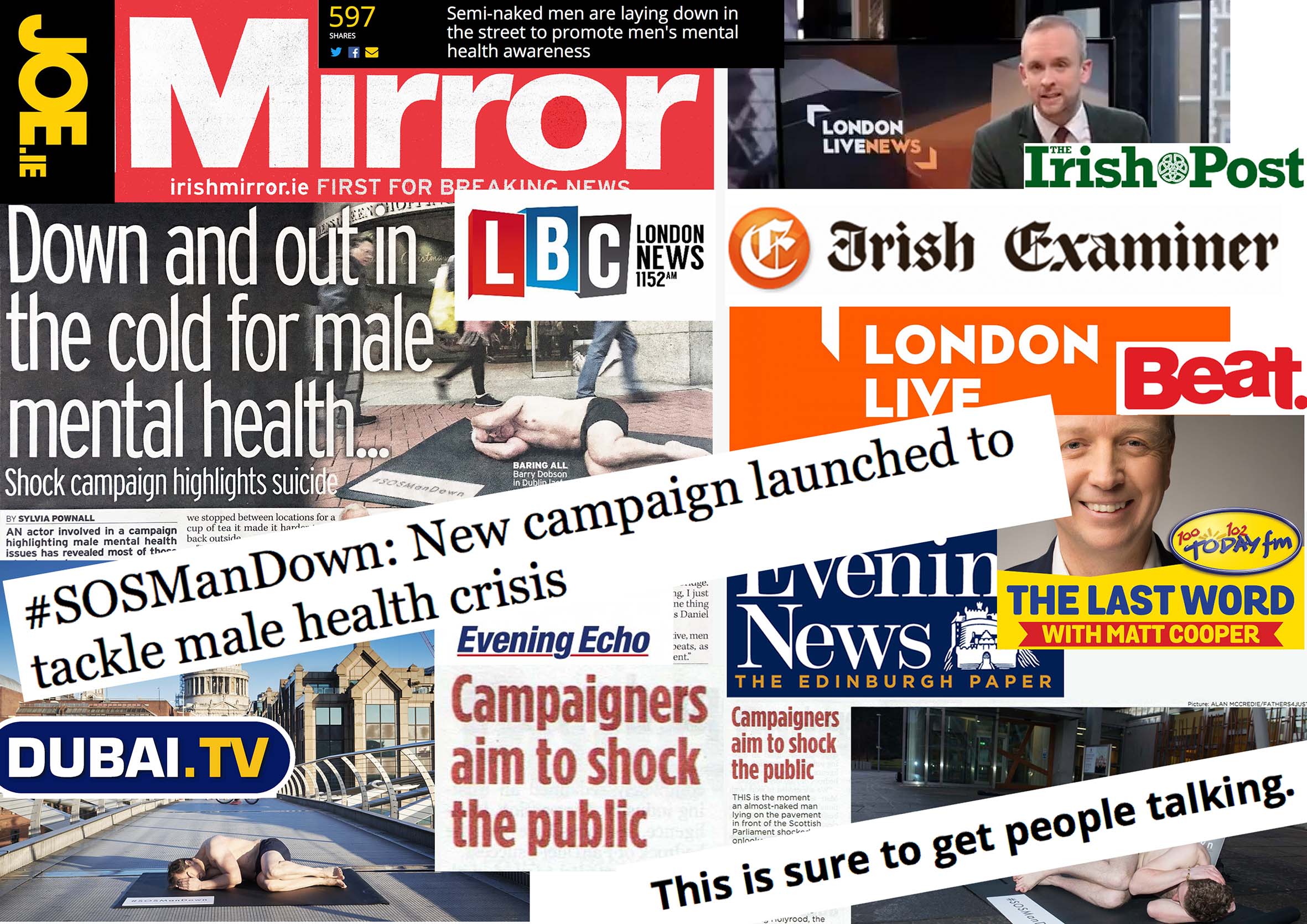 Watch the #SOSManDown Campaign Launch Video
Watch the London Live interview with Paul Browne from Fathers4Justice talking about the #SOSManDown campaign
Nadine O'Connor on The Last Word talking about the Fathers4Justice #SOSManDown campaign
Other press interviews included LBC Radio, Dubai TV, 98 FM News, Today FM News and Q102FM News.
The Sunday Mirror: Shocking 'SOSManDown' campaign highlights mental health issues in Ireland http://www.irishmirror.ie/news/irish-news/shocking-sosmandown-campaign-highlights-mental-11544705
The Irish Examiner: #SOSManDown: New campaign launched to tackle male health crisis http://www.irishexaminer.com/breakingnews/ireland/sosmandown-new-campaign-launched-to-tackle-male-health-crisis-814648.html
The Irish Post: Half-naked men are lying down on streets of Ireland in men's mental health protest http://irishpost.co.uk/half-naked-men-lying-streets-ireland-mens-mental-health-protest/
Joe.ie: Semi-naked men are lying down in the street to promote men's mental health awareness https://www.joe.ie/fitness-health/semi-naked-men-laying-street-promote-mens-mental-health-awareness-606828
The Beat: New campaign launched to tackle male health crisis http://www.beat102103.com/news/sosmandown-new-campaign-launched-tackle-male-health-crisis/#.Wg8HtZ6cleU.twitter
Dublin Live: Shocking 'SOSManDown' campaign highlights mental health issues in Ireland http://www.dublinlive.ie/news/health/shocking-sosmandown-campaign-highlights-mental-13922432
The Dublin Informer: Fathers4Justice launch #SOSManDown campaign in London, Edinburgh & Dublin https://dublininformer.com/27957/fathers4justice-launch-the-sosmandown-campaign-in-london-edinburgh-dublin-dublin-video/
The Cork Evening Echo: #SOSManDown: New campaign launched to tackle male health crisis http://www.eveningecho.ie/oneaday/SOSManDown-New-campaign-launched-to-tackle-male-health-crisis-b2d0087e-4915-4ef1-a6a9-01afed89a94e-ds
#SOSManDown Social Media Comment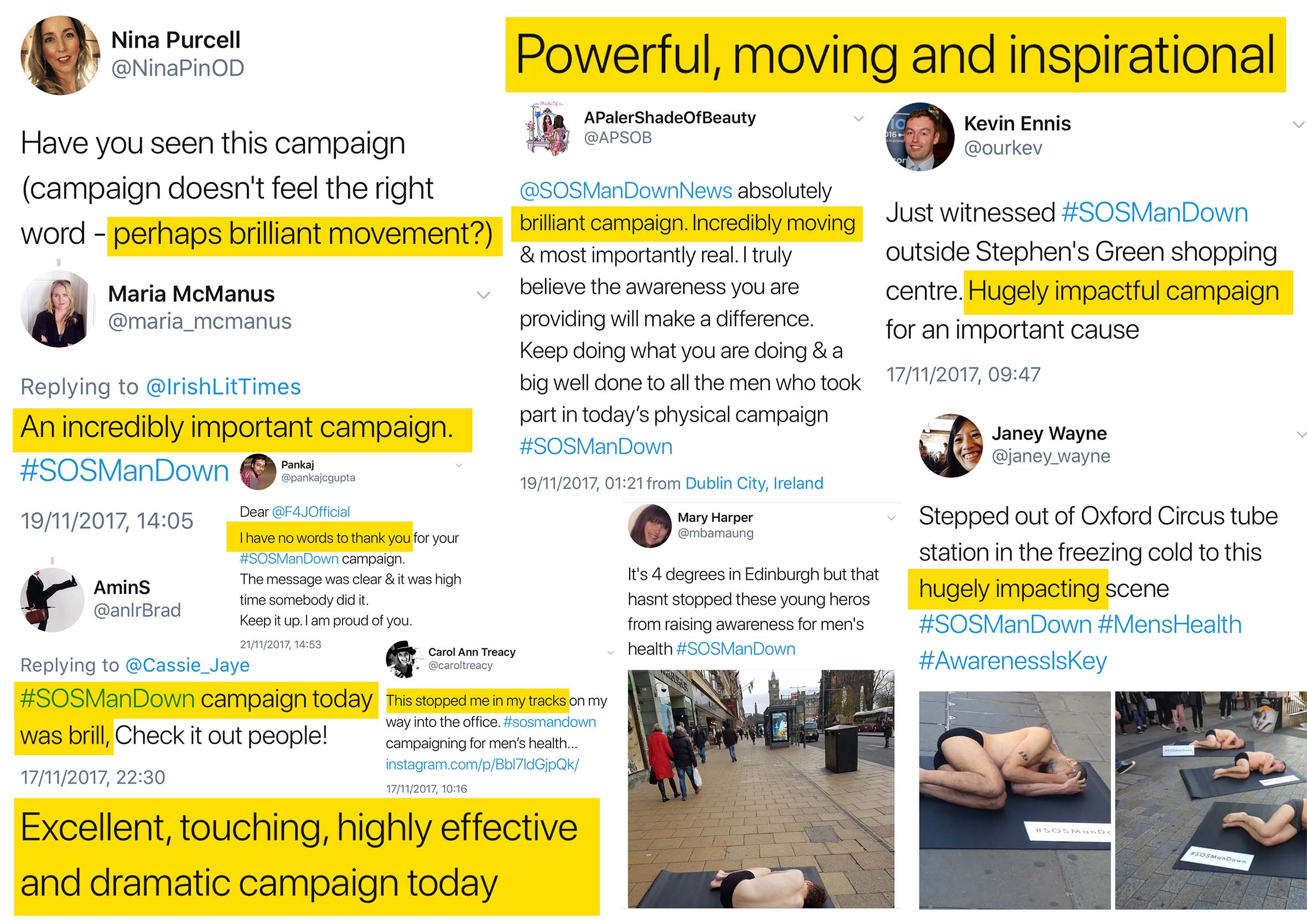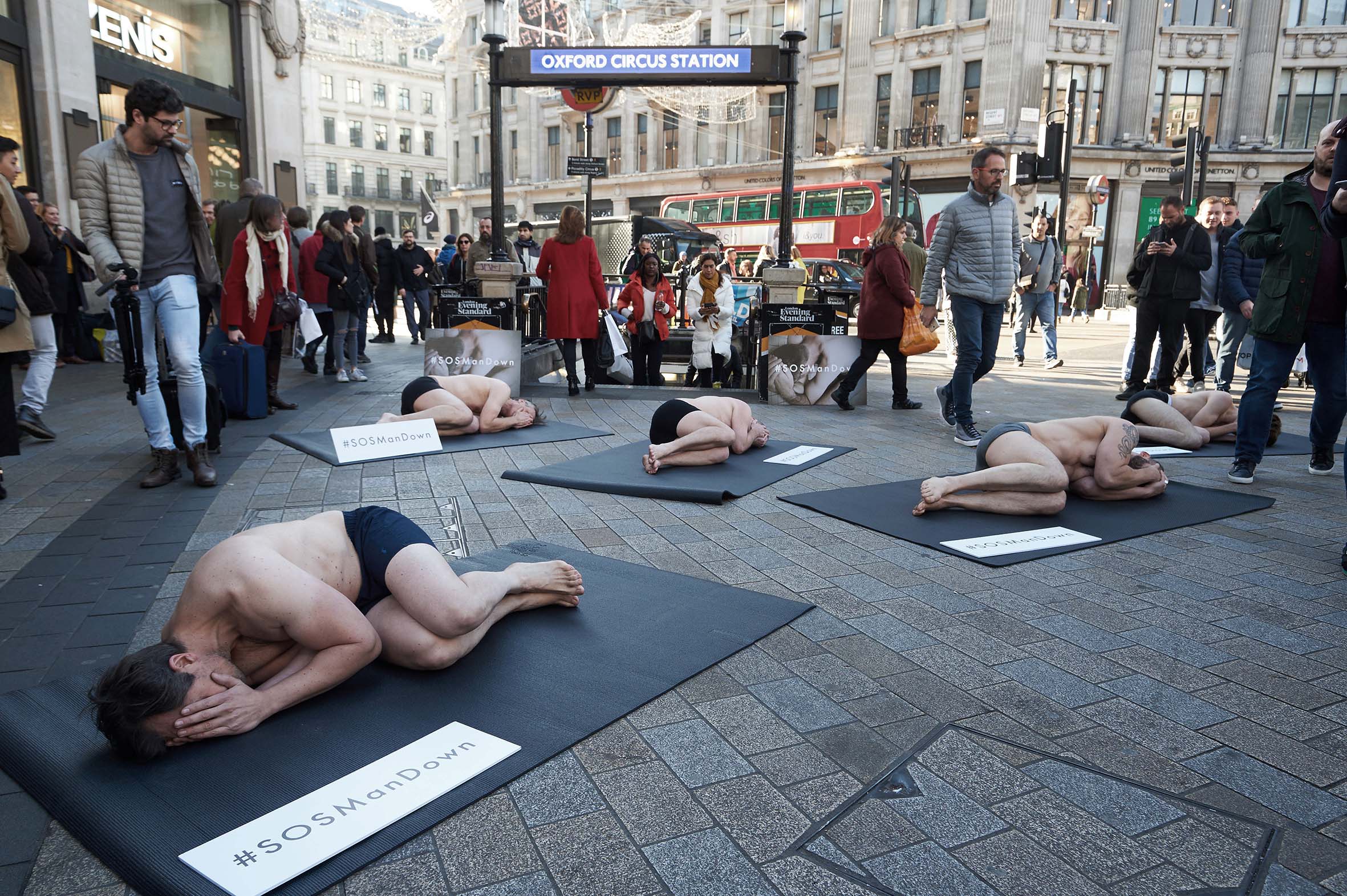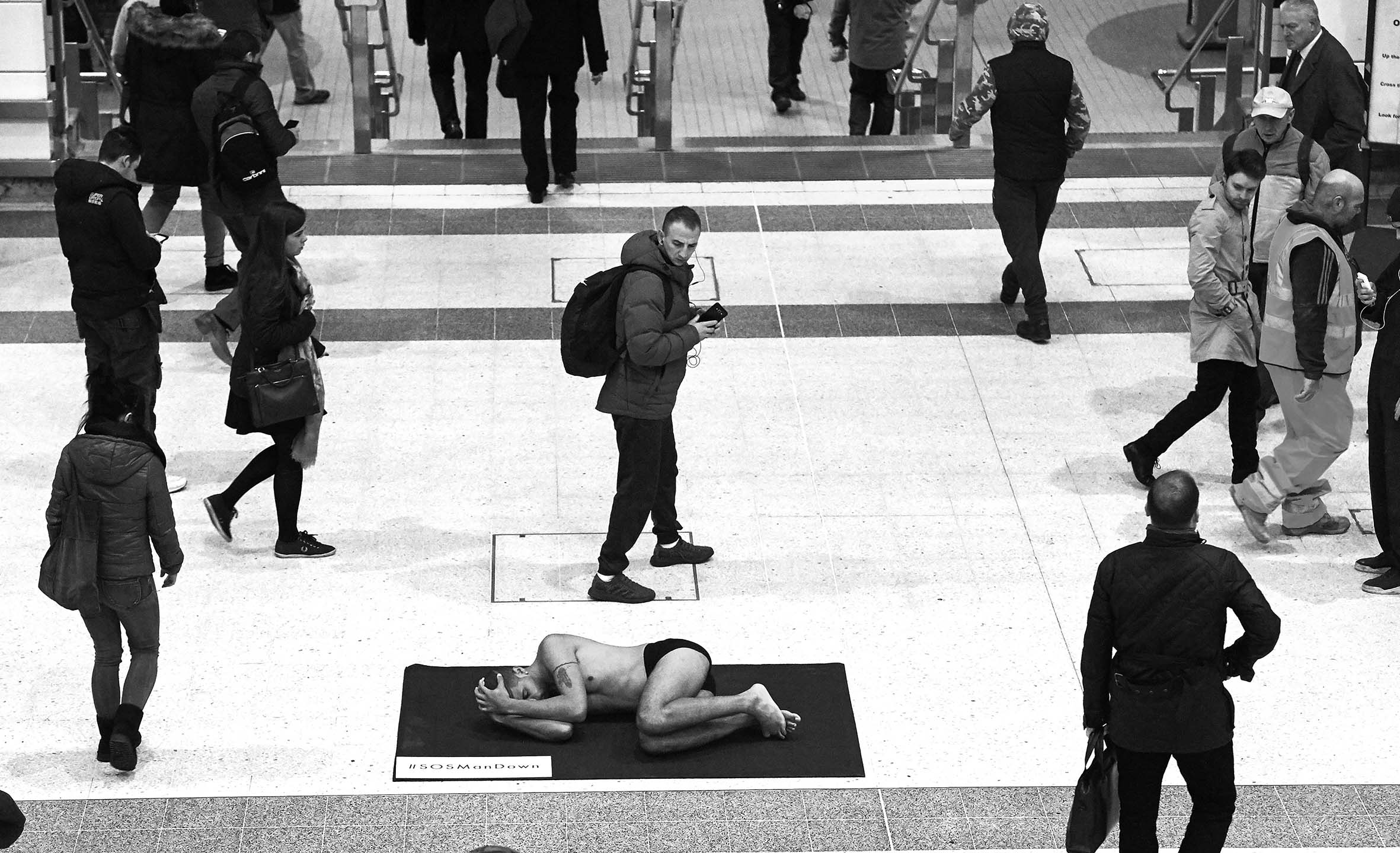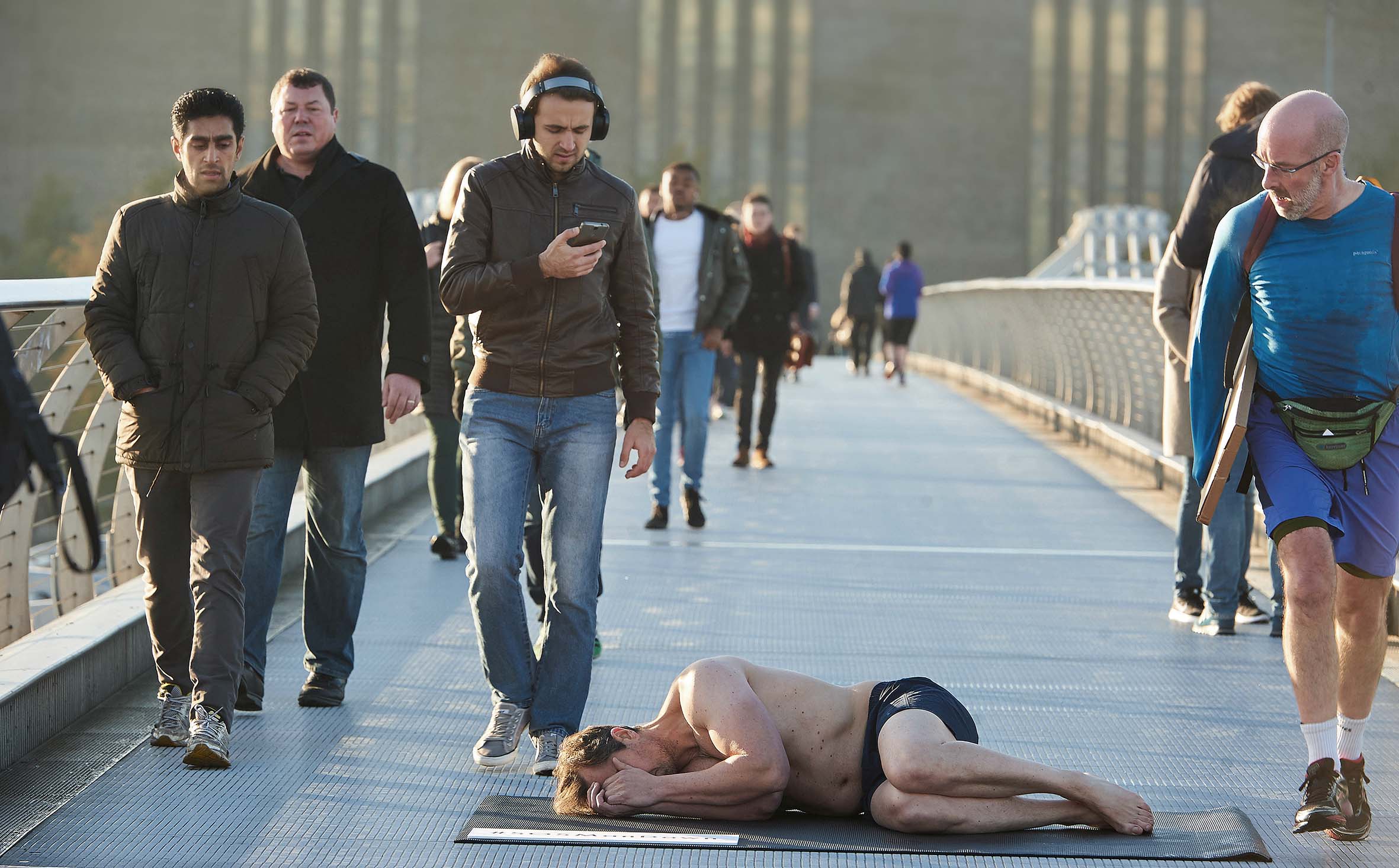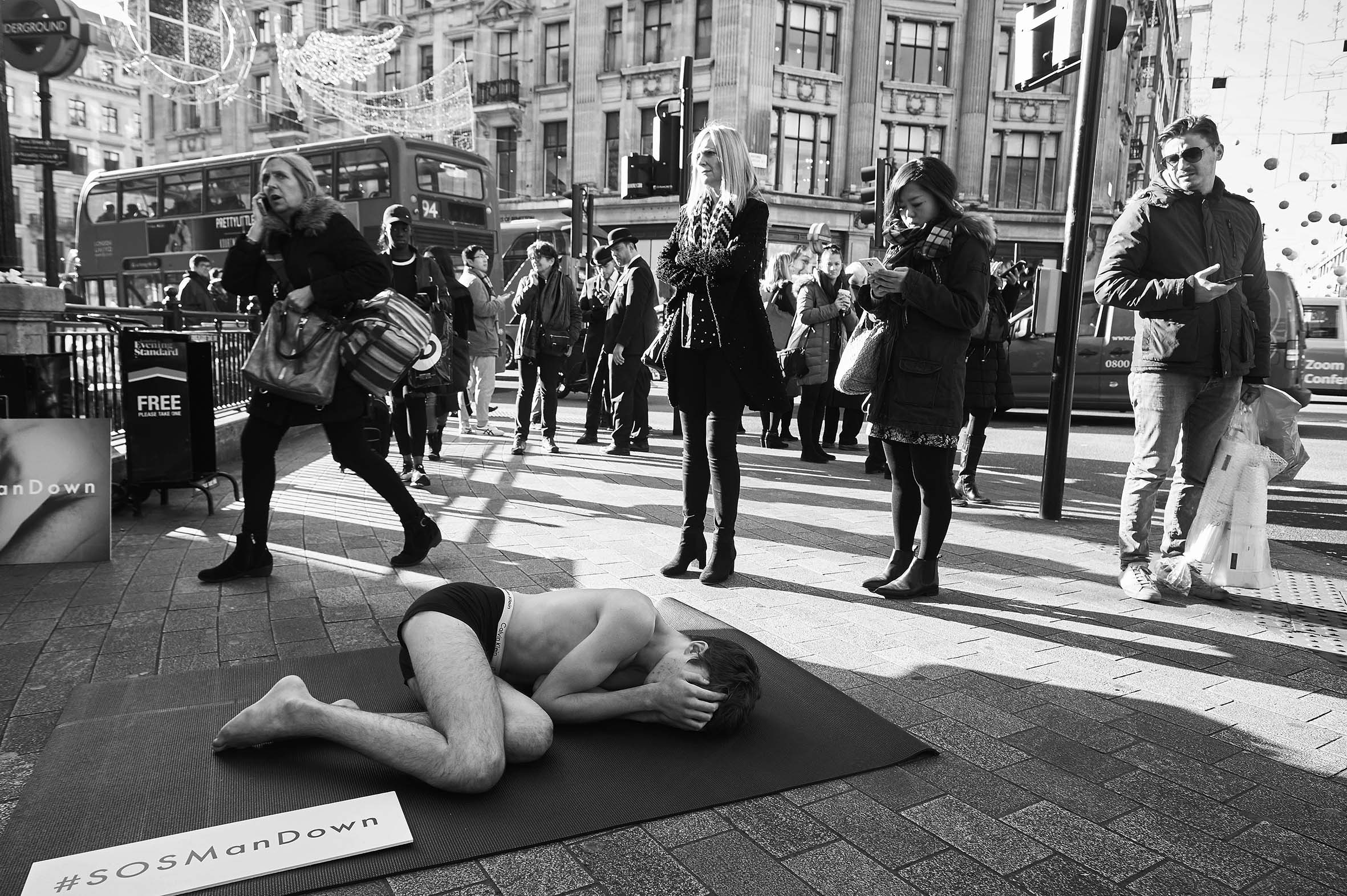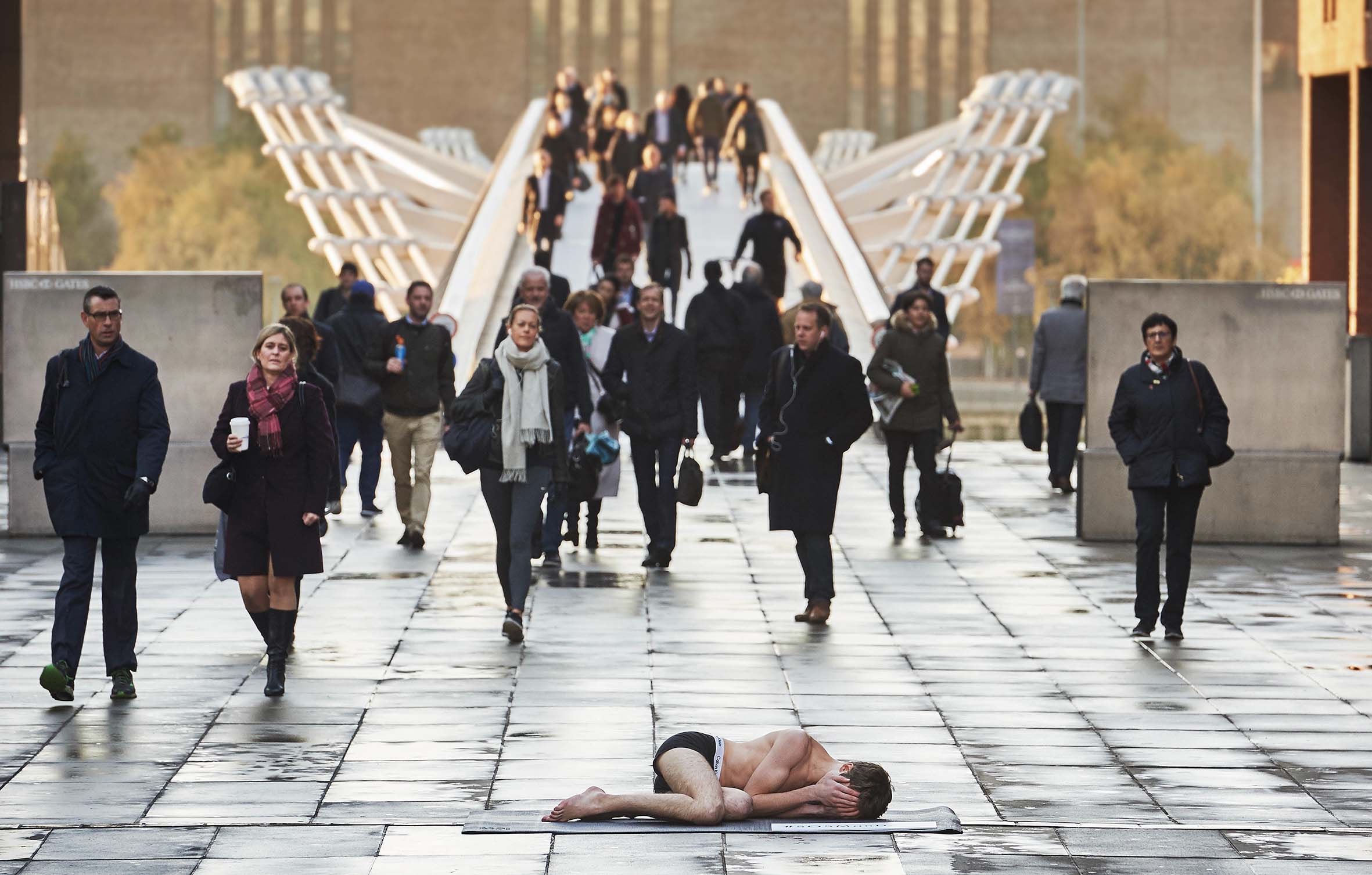 About Fathers4Justice
Fathers4Justice was founded in 2001 by father of three boys, Matt O'Connor.  F4J is the world's largest shared parenting campaign group with over 80,000 registered families in the UK and Ireland.  It is also the third highest supported campaign group in the UK behind Greenpeace & Amnesty International (Conservative Party Polling 2011) and their position on Shared Parenting enjoys 84% public support. (YouGov, 13/6/12)
In 2013 the Fathers4Justice Early Day Motion 210 won cross-party support from 104 MPs and in 2017 MSPs from all parties in the Scottish Parliament backed the F4J 'Forgotten Fathers' campaign.
F4J campaigns for 50/50 shared parenting and parental equality, family law reform, and on related men's health issues, including male suicide and depression.
Posted in #SOSManDown, Depression, Dublin, Edinburgh, Fathers4Justice, International Men's Day, Latest News, London, Matt O'Connor, Men's Health, Minister for Men & Boys, Nadine O'Connor, Suicide
No Comments
Back to top