Back to Latest News
January 18th, 2018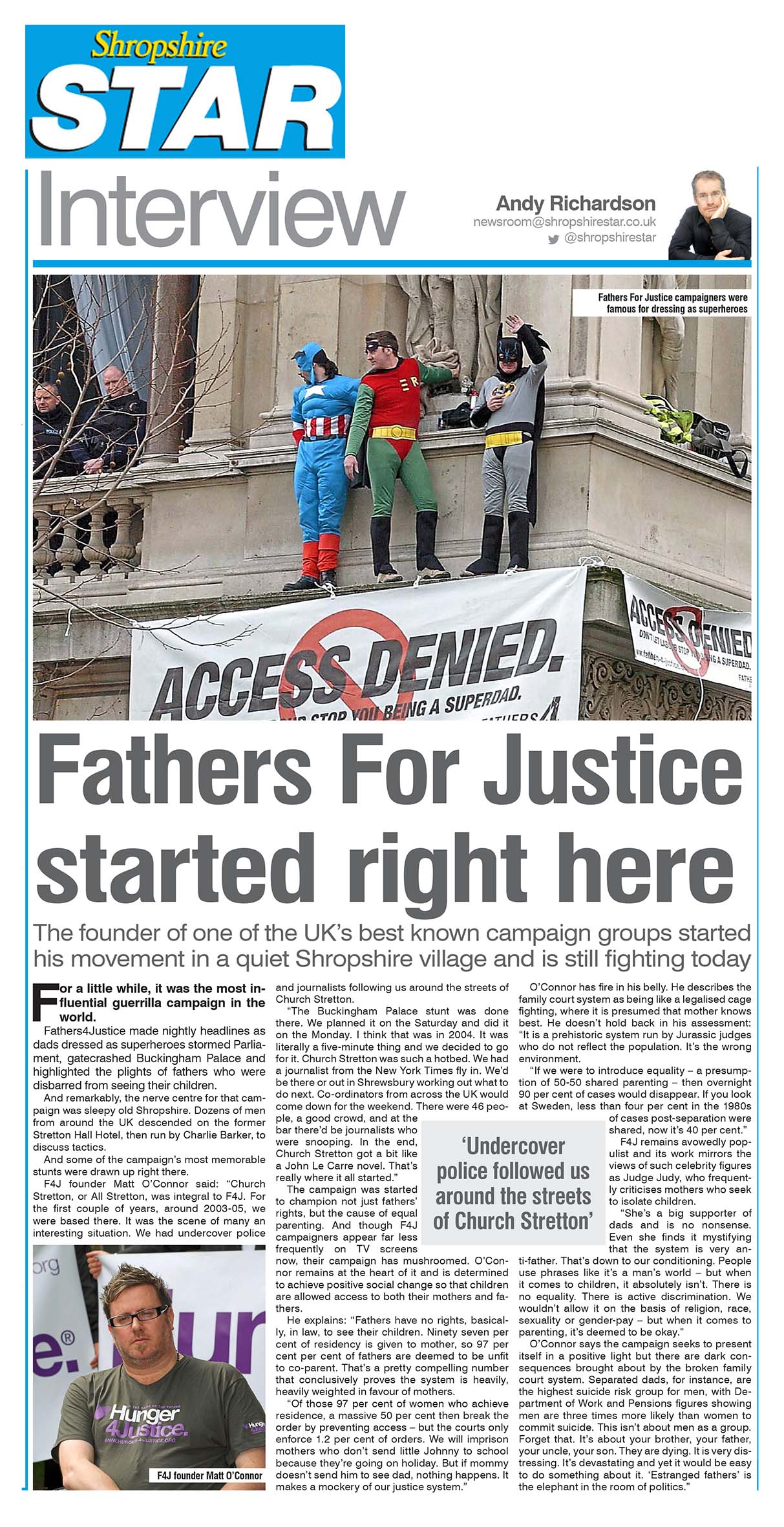 By Andy Richardson
For a little while, it was the most influential guerrilla campaign in the world.
Fathers 4 Justice made nightly headlines as dads dressed as superheroes stormed Parliament, gatecrashed Buckingham Palace and highlighted the plights of fathers who were banned from seeing their children.
And remarkably, the nerve centre for that campaign was sleepy old Shropshire.
Dozens of men from around the UK descended on the former Stretton Hall Hotel, then run by Charlie Barker, to discuss tactics.
And some of the campaign's most memorable stunts were drawn up right there.
F4J founder Matt O'Connor said: "Church Stretton, or All Stretton, was integral to F4J. For the first couple of years, around 2003-05, we were based there. It was the scene of many an interesting situation. We had undercover police and journalists following us around the streets of Church Stretton.
"The Buckingham Palace stunt was done there. We planned it on the Saturday and did it on the Monday. I think that was in 2004. It was literally a five-minute thing and we decided to go for it. Church Stretton was such a hotbed.
"We had a journalist from the New York Times fly in. We'd be there or out in Shrewsbury working out what to do next.
"Co-ordinators from across the UK would come down for the weekend. There were 46 people, a good crowd, and at the bar there'd be journalists who were snooping. In the end, Church Stretton got a bit like a John Le Carre novel. That's really where it all started."
The campaign was started to champion not just fathers' rights, but the cause of equal parenting. And though F4J campaigners appear far less frequently on TV screens now, their campaign has mushroomed. O'Connor remains at the heart of it and is determined to achieve positive social change so that children are allowed access to both their mothers and fathers.
He explains: "Fathers have no rights, basically, in law, to see their children. Ninety seven per cent of residency is given to mother, so 97 per cent per cent of fathers are deemed to be unfit to co-parent.
"That's a pretty compelling number that conclusively proves the system is heavily, heavily weighted in favour of mothers.
"Of those 97 per cent of women who achieve residence, a massive 50 per cent then break the order by preventing access – but the courts only enforce 1.2 per cent of orders.
"We will imprison mothers who don't send little Johnny to school because they're going on holiday. But if mommy doesn't send him to see dad, nothing happens. It makes a mockery of our justice system."
O'Connor has fire in his belly. He describes the family court system as being like a legalised cage fighting, where it is presumed that mother knows best.
He doesn't hold back in his assessment: "It is a prehistoric system run by Jurassic judges who do not reflect the population. It's the wrong environment.
"If we were to introduce equality – a presumption of 50-50 shared parenting – then overnight 90 per cent of cases would disappear.
"If you look at Sweden, less than four per cent in the 1980s of cases post-separation were shared, now it's 40 per cent."
F4J remains avowedly populist and its work mirrors the views of such celebrity figures as Judge Judy, who frequently criticises mothers who seek to isolate children.
"She's a big supporter of dads and is no nonsense. Even she finds it mystifying that the system is very anti-father. That's down to our conditioning. People use phrases like it's a man's world – but when it comes to children, it absolutely isn't. There is no equality. There is active discrimination. We wouldn't allow it on the basis of religion, race, sexuality or gender-pay – but when it comes to parenting, it's deemed to be okay."
O'Connor says the campaign seeks to present itself in a positive light but there are dark consequences brought about by the broken family court system.
Separated dads, for instance, are the highest suicide risk group for men, with Department of Work and Pensions figures showing men are three times more likely than women to commit suicide.
His own group deals with three or four suicides each and every month – deaths that could be prevented by parents taking an attitude that children should be entitled to both a mother and a father.
"This isn't about men as a group. Forget that. It's about your brother, your father, your uncle, your son. They are dying. It is very distressing. It's devastating and yet it would be easy to do something about it. 'Estranged fathers' is the elephant in the room of politics, dads are demonised for cheap political capital."
O'Connor could have hung up his Batman cape some years ago but is still campaigning hard.
Most recently, he caused headlines in Ireland when he walked on stage dressed as a priest during a live broadcast of a programme with host Daithi O Se on Rose of Tralee.
He'd like to campaign in a different way, but doing so would mean no headlines and no interest from the wider public.
The father of three cares passionately for his three boys and has been through the family court system himself. He was separated from his wife in 2000 and once solicitors became involved, relations deteriorated.
O'Connor, a former anti-apartheid and Amnesty International campaigner, was shocked at the inequality in the family courts.
"It was a complete bodyshock. I couldn't get my head round it. I became depressed and desperate. I was at the brink of suicide. I was not up to it. I was lucky to get through that experience in one piece. Then, I went to court and made a vow not to go back to court. At my last hearing, I told the judge I would put him out of a job if it was the last thing I did on earth. I was passed caring. I thought I'd get arrested, but two weeks later the kids ended up staying with me and things were sorted.
"The narrative is – and it's very toxic – is simply to demonise all men. There will be a backlash to that though and I'm hoping we'll lead on that.
"Everyone knows the difference between right and wrong. And the uncomfortable truth is that abuse usually involves mother manipulating and causing emotional harm to children. That's just a fact. All women aren't sugar and spice. It's absurd. The mother tries to erase the man or punish the man by using the kids. It's just wrong."
An estimated three million people around the UK, including a number of women, are victims of parental alienation and O'Connor is determined to do something about it.
Those efforts have, quite literally, saved lives and given children better outcomes as they've been allowed access to both their fathers and their mothers.
It all came about in the meeting rooms of a Church Stretton hotel. "We were just trying to think of a plan of action. We came up with superheroes – overweight guys in lyrca hanging off landmark buildings. It was cheap to run those campaigns. Grab a suit, find your building, grab a ladder – go. We can't do it these days because we'd end up being shot. But that's how it started.
"In my case, it's taken 10-15 years to get some inner peace on the whole thing and there are guys in much worse situations; men who've had £250,000 legal bills from venal solicitors who've achieved nothing. There's a lot of damage and a big burden.
"But the positive thing is that I know every day we make a difference to people's lives. We are recovering children, we are saving dads. We've faced every single smear campaign and we're still going strong."
In the final analysis, for O'Connor, it's personal. "F4J is about my love for my kids. When someone tries to kill you and take your boys away from you, that's personal. You can't run away. You have to fight back."
Read more at https://www.shropshirestar.com/news/2018/01/15/church-stretton-was-such-a-hotbed-how-fathers-4-justice-started-in-sleepy-shropshire/#vj0VEXXL4AHePyU8.99
Back to top