Back to Latest News
March 25th, 2018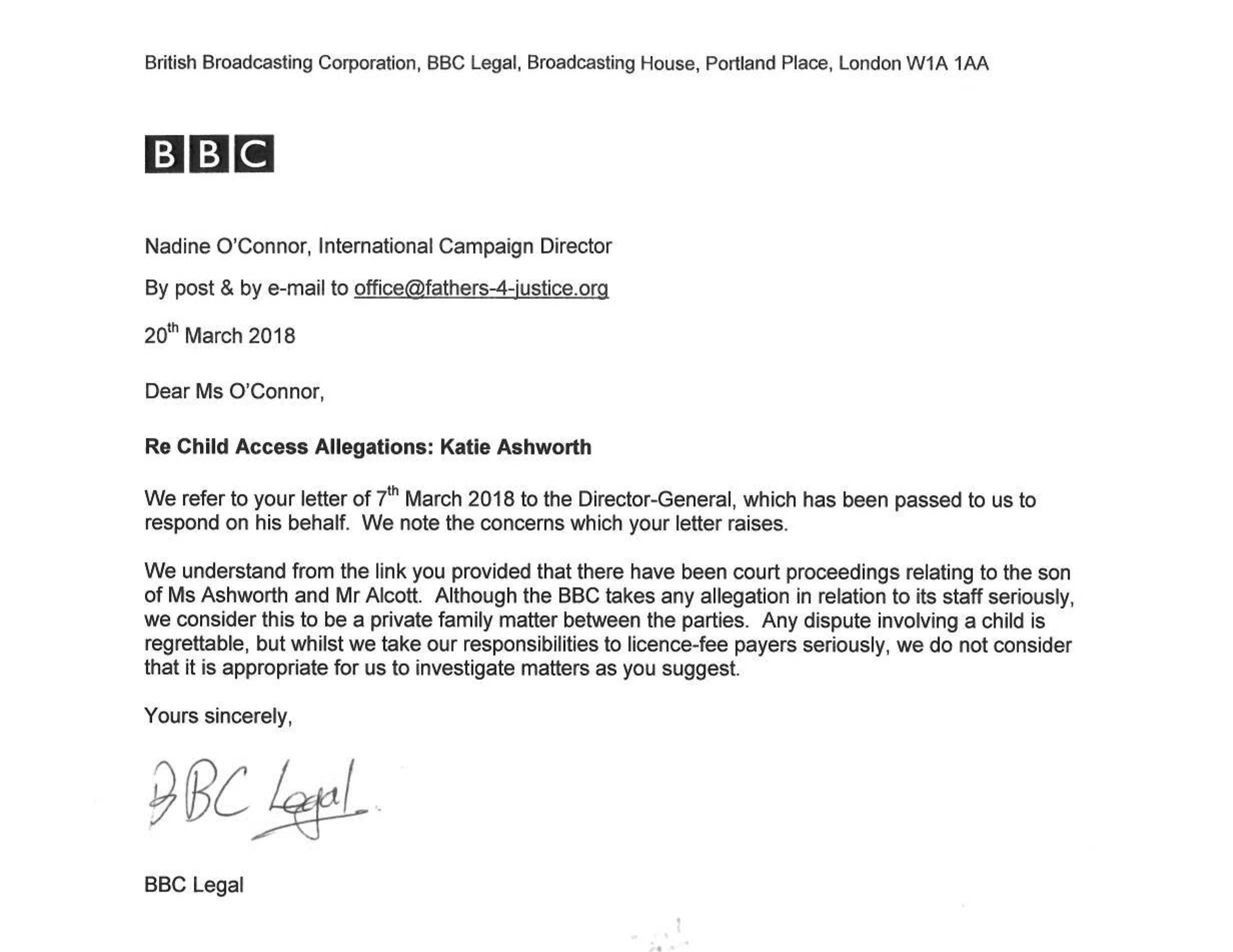 Yes, that's right, the BBC, home to child abusers like Jimmy Savile and others, are turning a blind-eye to the conduct of CBeebies TV star Katy Ashworth who has been accused of denying dad Ben Alcott access to his son Charlie for over four months.
Alcott was reunited with his son after approaching Fathers4Justice for help.
You can read the full story here.
In a letter to Fathers4Justice International Campaign Director, Nadine O'Connor, dated 20th March 2018, Claudia Giles, Head of Employment Law at the BBC, said the corporation claims the F4J allegations relate to a 'private family matter between the parties', and that, 'we do not consider that it is appropriate for us to investigate matters as you suggest.'
In her response, O'Connor challenges the position adopted by the corporation as 'contemptible…demonstrating a shocking lack of concern for the welfare of the child concerned.'
In addition to this, F4J raise a number of new allegations about the presenter which have been brought to their attention.
Read the Fathers4Justice response here: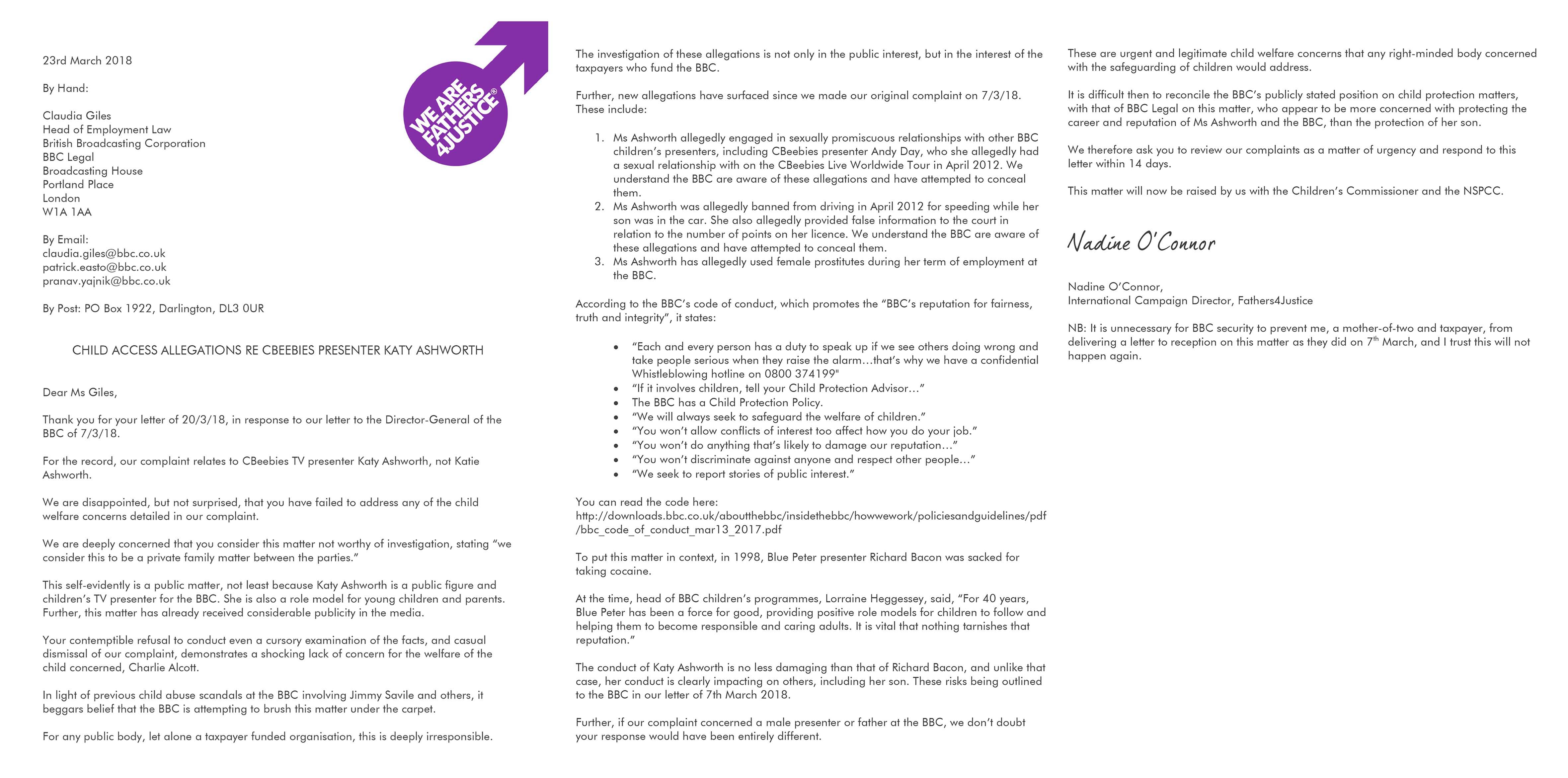 Dear Ms Giles,
Thank you for your letter of 20/3/18, in response to our letter to the Director-General of the BBC of 7/3/18.
For the record, our complaint relates to CBeebies TV presenter Katy Ashworth, not Katie Ashworth.
We are disappointed, but not surprised, that you have failed to address any of the child welfare concerns detailed in our complaint.
We are deeply concerned that you consider this matter not worthy of investigation, stating "we consider this to be a private family matter between the parties."
This self-evidently is a public matter, not least because Katy Ashworth is a public figure and children's TV presenter for the BBC. She is also a role model for young children and parents. Further, this matter has already received considerable publicity in the media.
Your contemptible refusal to conduct even a cursory examination of the facts, and casual dismissal of our complaint, demonstrates a shocking lack of concern for the welfare of the child concerned, Charlie Alcott.
In light of previous child abuse scandals at the BBC involving Jimmy Savile and others, it beggars belief that the BBC is attempting to brush this matter under the carpet.
For any public body, let alone a taxpayer funded organisation, this is deeply irresponsible.
The investigation of these allegations is not only in the public interest, but in the interest of the taxpayers who fund the BBC.
Further, new allegations have surfaced since we made our original complaint on 7/3/18. These include:
Ms Ashworth allegedly engaged in sexually promiscuous relationships with other BBC children's presenters, including CBeebies presenter Andy Day, who she allegedly had a sexual relationship with on the CBeebies Live Worldwide Tour in April 2012. We understand the BBC are aware of these allegations and have attempted to conceal them.
Ms Ashworth was allegedly banned from driving in April 2015 for speeding while her son was in the car. She also allegedly provided false information to the court in relation to the number of points on her licence. We understand the BBC are aware of these allegations and have attempted to conceal them.
Ms Ashworth has allegedly used female prostitutes during her term of employment at the BBC.
According to the BBC's code of conduct, which promotes the "BBC's reputation for fairness, truth and integrity", it states:
* "Each and every person has a duty to speak up if we see others doing wrong and take people serious when they raise the alarm…that's why we have a confidential Whistleblowing hotline on 0800 374199"
* "If it involves children, tell your Child Protection Advisor…"
* The BBC has a Child Protection Policy.
* "We will always seek to safeguard the welfare of children."
* "You won't allow conflicts of interest too affect how you do your job."
* "You won't do anything that's likely to damage our reputation…"
* "You won't discriminate against anyone and respect other people…"
* "We seek to report stories of public interest."
To put this matter in context, in 1998, Blue Peter presenter Richard Bacon was sacked for taking cocaine.
At the time, head of BBC children's programmes, Lorraine Heggessey, said, "For 40 years, Blue Peter has been a force for good, providing positive role models for children to follow and helping them to become responsible and caring adults. It is vital that nothing tarnishes that reputation."
The conduct of Katy Ashworth is no less damaging than that of Richard Bacon, and unlike that case, her conduct is clearly impacting on others, including her son. These risks being outlined to the BBC in our letter of 7th March 2018.
Further, if our complaint concerned a male presenter or father at the BBC, we don't doubt your response would have been entirely different.
These are urgent and legitimate child welfare concerns that any right-minded body concerned with the safeguarding of children would address.
It is difficult then to reconcile the BBC's publicly stated position on child protection matters, with that of BBC Legal on this matter, who appear to be more concerned with protecting the career and reputation of Ms Ashworth and the BBC, than the protection of her son.
We therefore ask you to review our complaints as a matter of urgency and respond to this letter within 14 days.
This matter will now be raised by us with the Children's Commissioner and the NSPCC.
Nadine O'Connor, International Campaign Director, Fathers4Justice. NB: It is unnecessary for BBC security to prevent me, a mother-of-two and taxpayer, from delivering a letter to reception on this matter as they did on 7th March, and I trust this will not happen again.
Want to complain to the BBC?
Complain By Phone: 03700 100 222
Complain Online: http://www.bbc.co.uk/complaints/complain-online/
Complain By Post: Tony Hall, Director-General, The BBC, Broadcasting House, Portland Place, London W1A 1AA
Back to top