Back to Latest News
May 10th, 2020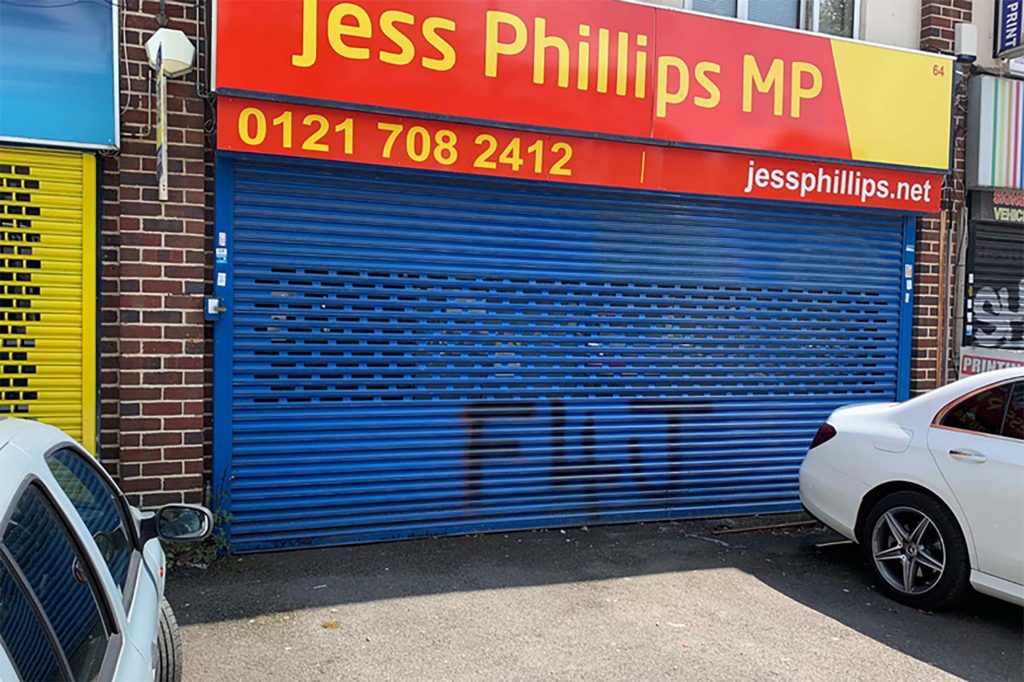 Fathers4Justice is aware of many frustrated fathers – many of whom are Muslim – who are constituents of Jess Phillips, but have been refused help and support by her when they sought assistance seeing their children.
It is unsurprising then that fathers who have been disenfranchised by the MP, will seek an outlet for their frustration and distress, which appears to have led to one dad spray painting her office with the letters "F4J".
The MP is lucky she can easily clean the metal shutters on her office. Fathers are not so fortunate, and cannot erase the pain caused by the living bereavement of losing their children.
Rather than supporting her constituents, or seeking to engage with them as their MP, she has chosen to smear the person responsible as an "aggressive criminal".
It is a matter of public record that Jess Phillips and the Labour Party oppose parental equality for separated fathers, and have sexist, misandrist and 'fatherphobic' views on men and dads. They promote inequality and institutional discrimination against fathers on the basis of their gender.
It has been planned for some time that Fathers4Justice will run a guerrilla marketing campaign about the MP in the Birmingham Yardley constituency ahead of Father's Day on Sunday 21st June. The campaign – which will be in both English and Urdu – will feature mobile billboards and leaflets, and will include fathers from across the community, including many Muslim dads and mosques in the area.
Said F4J founder Matt O'Connor; "We will not take lessons about aggression or vandalism from Jess Phillips, someone who said she 'would knife Jeremy Corbyn in the front, not the back' in 2015 and whose party has gender cleansed families of fathers as a matter of policy over the last 20 years."
"If she discriminated against blacks the way she discriminates against men, she'd be called a racist and would be in jail. Her extremist views divide families, destroy lives, and drive desperate dads to commit suicide when separated from their kids."
"As a campaign group we have a responsibility to call out MP's like Jess Phillips whose dangerous ideology threatens the well-being of children and fathers in her constituency."
BIRMINGHAM MAIL: Birmingham Yardley MP Jess Phillips blasts 'aggressive criminals' for office vandalism https://www.birminghammail.co.uk/news/midlands-news/birmingham-yardley-mp-jess-phillips-18226102
Back to top