Back to Latest News
March 24th, 2016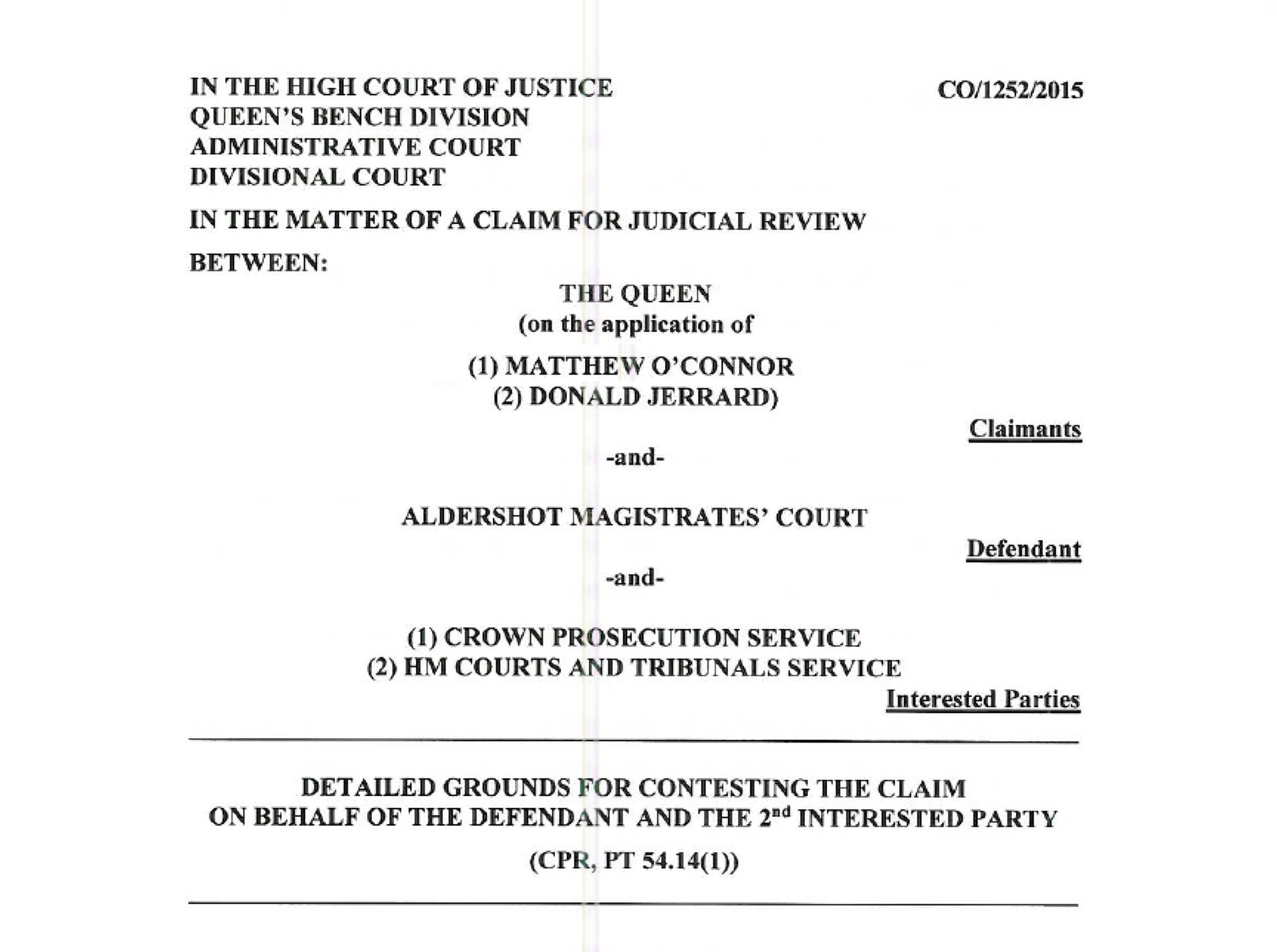 Fathers4Justice can today reveal evidence supplied by the Government Legal Department, acting for Aldershot Magistrates Court and Her Majesty's Courts and Tribunal Service (HMCTS), that they rely on to justify their decision to deny members of the public, trial witnesses, and an elected county councillor, entry to the trial of F4J founder Matt O'Connor on 20/2/15.
Footage of the incident was filmed by Fathers4Justice on the day.
It was also reported here.
HMCTS make various fabricated claims that are not supported with any evidence whatsoever. They appear more concerned with reputational damage and publicity, than the alleged threat to security. Worse still, the disproportionate, over-the-top response would be more appropriate for the trial of an individual who poses a threat to national security, rather than a shared parenting campaigner.
Summary of evidence supplied by the Government Legal Department:
1. It is claimed, "similar incidents have occurred elsewhere involving Mr O'Connor and supporters of Fathers4Justice". This claim is categorically false. Not one hearing or trial involving Matt O'Connor has been disrupted in 15 years of campaigning.
2. Hampshire Police repeatedly state there was categorically NO intelligence to suggest any disruption within the court building. They state there were no threats to scale the roof.
3. HMCTS accept the decision making process was flawed as there was no consultation with the judiciary.
4. However, HMCTS now claim to have a free-standing power to exclude individuals from court buildings without reference to the judiciary.
5. The court claim the following: "we need 2 extra security guards…there will be FULL searches of everyone looking for handcuffs, bag ties, paint cans that could be used to disrupt proceedings."
6. They state that the two CPS witnesses will be brought to a "secure witness area…with a guard to conduct a search…and they are to be escorted."
7. They go on to state, "I have put the County Court on warning in case Fathers for Justice should strike there…we can contact Sandy / Andrew Hounsome in the event of an emergency".
8. They falsely claim Matt O'Connor used his mobile phone to record his entrance to the building, when in fact it was used to record the assault and ejection of an elected County Councillor from the court.
9. They state, "Mr O'Connor arranged for supporters of his to attend as a protest against what he feels are unfair actions towards him and his family by Hampshire Police."
10. They claim, "The defendant has used his social media sites to allege that he is being refused the right to a trial in open court. This will feed into the perception of some minority groups paranoia of the subject and will damage the reputation of the department."
11. The HMCTS statement references again their concern with publicity stating, "Fathers4Justice cannot be prevented from becoming involved in Court proceedings and then using that window of opportunity to gain publicity."
12. They go on to state: "Other costs include a days work lost to the Delivery manager in the civil courts who covered the day the regional security officer who attended for the day / 2 extra guards requested from Mitie Security Services."
13. Richard Harvey, Security & Fire Safety Officer for Her Majesty's Courts & Tribunal service, South West Region, who made the decision to deny the public access, makes the following claims: He describes Fathers4Justice as an "agitating domestic group…F4J have caused mayhem while supposedly holding peaceful protests…climbing the gates and scaling walls at Buckingham Palace and the Royal Courts of Justice causing criminal damage." This allegation is entirely false. No one was convicted for causing criminal damage at these protests.
Fathers4Justice claim that HMCTS and the Government Legal Department are trying to silence Mr O'Connor from speaking out publicly about a Conservative MP, Caroline Nokes, and her role in the targeting of his family, and a child abuse scandal in Hampshire, which he says led directly to his arrest.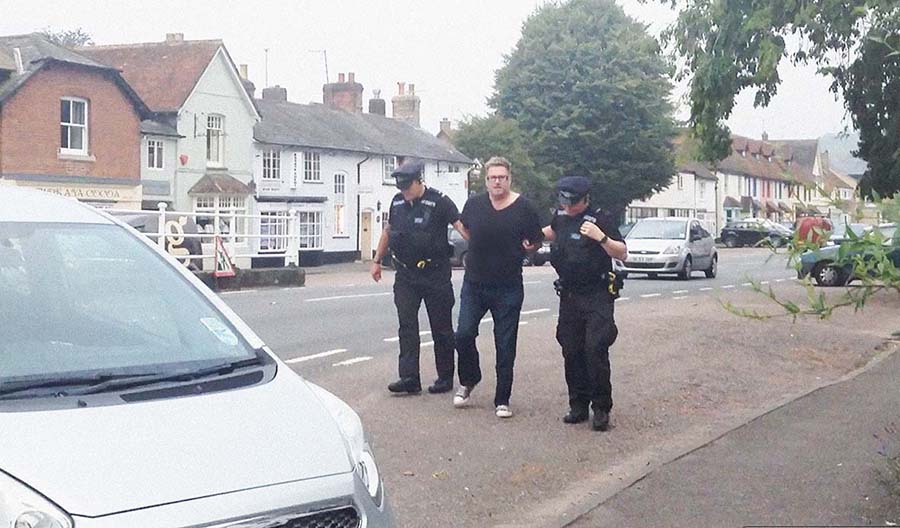 He was arrested for a Section 5 Pubic Order act offence, allegedly committed around 8.00am on 4/9/14 outside his home in Hampshire, when he was stopped and questioned by police officers about his complaint to the Professional Standards Department of Hampshire Police, over claims they covered up the involvement of Ms Nokes in a violent, bloody attack at his home on 20/2/14 where Mr O'Connor's landlord was savagely bitten. He also said that Hampshire Police had failed to take any action to prosecute those responsible or protect his family.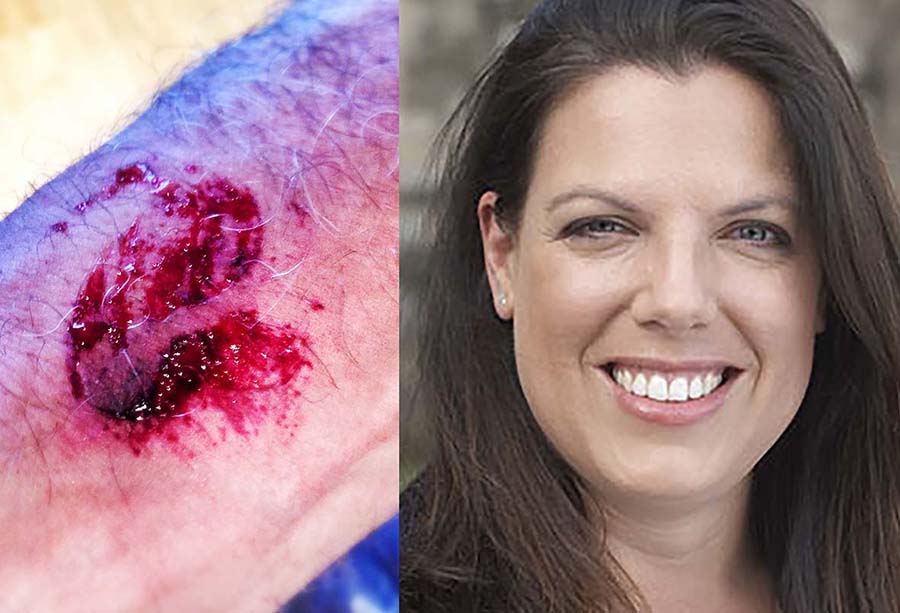 A public dispute between Ms Nokes and F4J began after the MP broke her 2010 election promises to Fathers4Justice to support the introduction of shared parenting.
The video Hampshire Police didn't want you to see: Matt O'Connor is stopped in the street outside his Hampshire home by officers, before being unlawfully arrested, assaulted, handcuffed and detained for over 11 hours on 4/9/14.
Fathers4Justice say that Matt O'Connor's arrest, a year and a half ago, was pre-meditated, meticulously planned and politically motivated, and was linked to a campaign of intimidation that targeted his children and family, and eventually forced them out of their Hampshire home.
They claim that there is a conspiracy of silence surrounding a child abuse scandal at Stanbridge Earls School which closed in 2014, which the MP defended, arguing that it should remain open. F4J said it should have closed immediately once it was clear children were at risk, and the group have called for a Public Inquiry into child abuse at the school. The Chief Constable of Hampshire Constabulary was investigated for leaking information about the investigation to Ms Nokes in 2014.
The case also has several other unusual features. The main prosecution witness in the case works for the MP's chairman, one Judge recused himself because of his political links and a CPS Prosecutor stood down after he was overheard coaching the main witness.
Solicitors for Caroline Nokes have also attempted to prejudice proceedings and discredit Mr O'Connor and a key witness, by writing to the court to say he fabricated claims that Ms Nokes was involved in a violent attack at his home, despite her belated admission in the media that she was present. It transpired Ms Nokes had driven to London from Romsey, to collect a friend, then bring him to Mr O'Connor's home where the attack took place – a trip she claimed Parliamentary expenses for.
Fathers4Justice believe, that in the absence of any meaningful evidence supplied by the Government Legal Department, this is the only legitimate reason the court attempted to hold Mr O'Connor's trial in secret, because of what he would say about the MP, her role in the attack at his home, and the child sex abuse scandal at Stanbridge Earls School.
F4J also point to the wholly disproportionate lengths the CPS and Crown have gone to in the pursuit of Mr O'Connor over the years including an attempt to ban him from the London 2012 Olympic Games and repeated attempts to ban him from entering London on the day of the State Opening of Parliament.
They contrast this with the violent attack at Mr O'Connor's home in 2014 where no charges were brought, despite graphic photographic and video evidence.
They point out that this case, for a minor offence and which is now at Judicial Review, has lasted nearly two years at considerable cost to public purse.
Said Matt O'Connor, "First they unlawfully arrested me. Then a judge recused himself for fear of the appearance of bias. Then it transpires the only prosecution witness works for the Chairman of the MP. Then they banned the public and defence witnesses attending court. Now we have government solicitors representing the Crown for a Section 5 Public Order Act Offence, which is a minor criminal offence."
"The state is going to extraordinary lengths to both prosecute me and try me in secret, in a case which threatens not only to expose the actions of a Conservative MP in the targeting of my family and children, but also relates to a cover up involving the MP and Andy Marsh, the Chief Constable of Hampshire Police in a child abuse scandal at Stanbridge Earls School in Hampshire."
"The cost of this action is wholly disproportionate to the alleged offence, but it is essential that my trial is heard in public so that all the evidence can be heard without restriction or censorship. I am of course deeply grateful to Dr Pelling for his support and work on this case."
"The insidious creep of secret justice, first through the family courts, and now in the criminal courts, is one which has chilling consequences for British law. Open justice is the founding principle of our legal system, and one we must defend at all costs."
ENDS
Posted in Aldershot Magistrates Court, Broken Tory 2010 Election Promises, Caroline Nokes MP, Chief Constable Andy Marsh, Child Abuse, Collyer Bristow, Conservative Party, False Allegations, Fathers 4 Justice, Fathers4Justice, General Election 2015, Hampshire, Hampshire and Isle of Wight Constabulary, Hampshire Constabulary, Hampshire County Council, HMCTS, Kings Somborne, Latest News, Malicious Allegations, Matt O'Connor, MP's, Open Courts, Open Justice, Pamela Bailey, Police, Political Policing, Rhory Robertson, Robin Colenso, Romsey, Romsey & Southampton North, Simon Hayes Police & crime Commissioner, Stanbridge Earls School, Stockbridge
No Comments
Back to top