Back to Latest News
June 22nd, 2016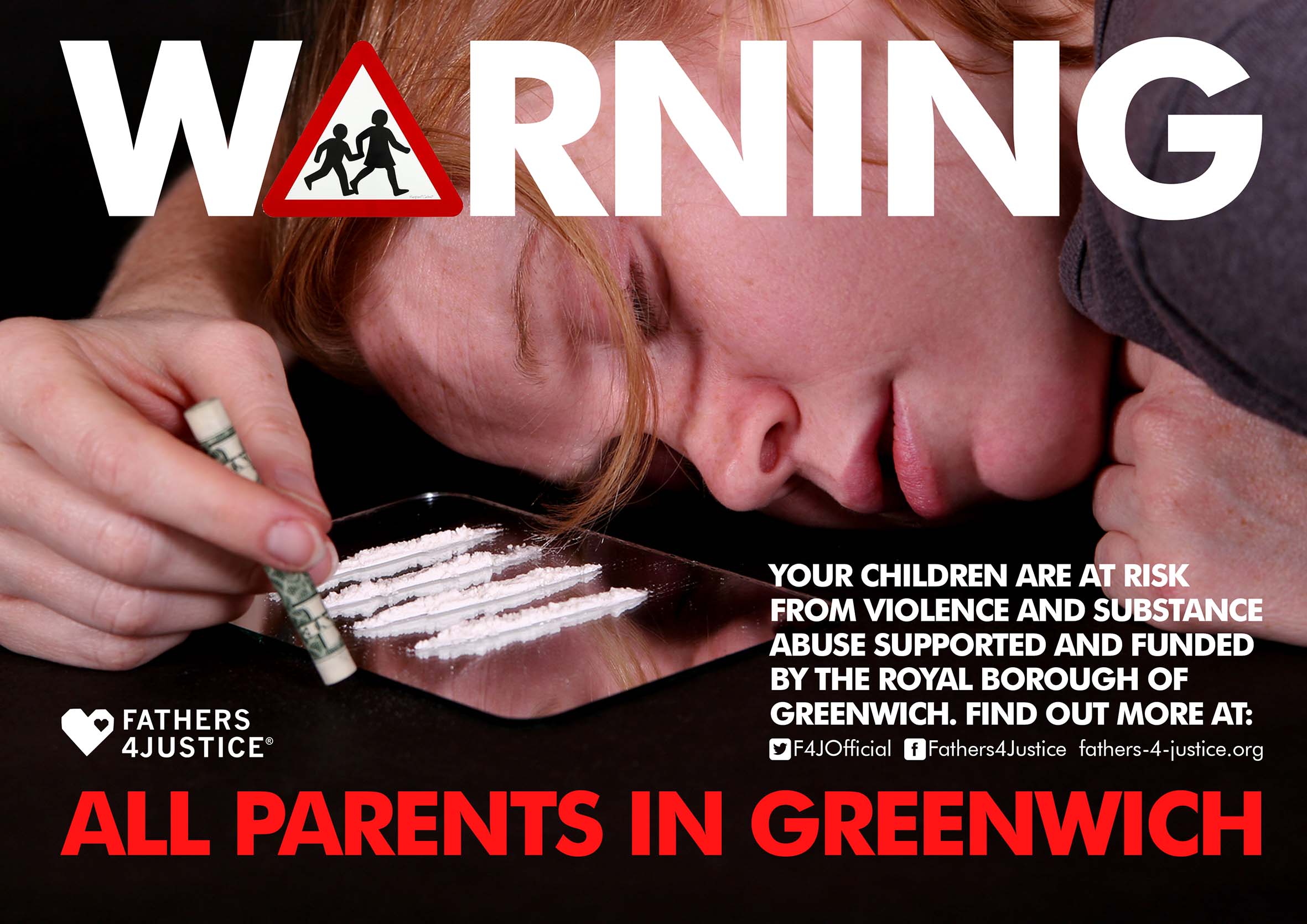 Campaign group Fathers4Justice today announced a new campaign warning parents in Greenwich that their children may be at risk as a result of what they claim is a drugs and violence cover up by the council involving a local charity.
They also claim the council is guilty of institutional discrimination against dads http://www.telegraph.co.uk/men/relationships/fatherhood/11820130/Institutional-discrimination-against-dads-must-end.html
The new posters (see attached) will be posted next week around the borough as part of a guerilla marketing campaign by the group to highlight the risks they say are posed to children by the council's irresponsible actions.
This will be followed by direct action protests in the borough.
The group are also taking legal advice ref making an application to judicially review the council's decision in the High Court.
The poster shows a picture of an unconscious woman with lines of cocaine, and the words, "Warning, parents in Greenwich: your children are at risk from violence and substance abuse supported and funded by the Royal Borough of Greenwich."
The group says Greenwich Council have refused to investigate their claims regarding an incident involving drug taking and violence in the presence of children and have also refused to deny they support and fund the charity concerned, Hope Empowered.
Several councillors sit as trustees of the charity and Hope Empowered works closely with Children's Services in Greenwich.
F4J submitted further evidence of drug taking this week and have said the charity have encouraged the breaking of court orders and engaged in inappropriate relationships with their clients.
For the full story see here: https://www.fathers-4-justice.org/2016/06/greenwich-council-accused-of-funding-drug-taking-at-dv-charity-of-cover-up/
Said Fathers4Justice founder Matt O'Connor, "Children's services across the UK have a dismal record of failing children and institutional discrimination against dads."
"It is inexcusable that Greenwich Council would put children at risk by seeking to cover up violence and endemic drug taking in the borough by one of the charity's they support, who work closely with Children's Services in Greenwich, and whose trustees are local councillors."
"Further, the council have not explained what safeguarding measures, if any, have been taken for the children concerned."
Posted in Assault, Child Abuse, Child Protection, Children's Services, Class A Drugs, Director of Children's Services in Greenwich, Domestic Violence, Drug Taking, Drugs, False Allegations, Fathers, Fathers 4 Justice, Fathers Rights, Fathers4Justice, Greenwich Borough Council, Hope Empowered, Latest News, Royal Borough of Greenwich, Social Services
No Comments
Back to top