Back to Latest News
June 21st, 2017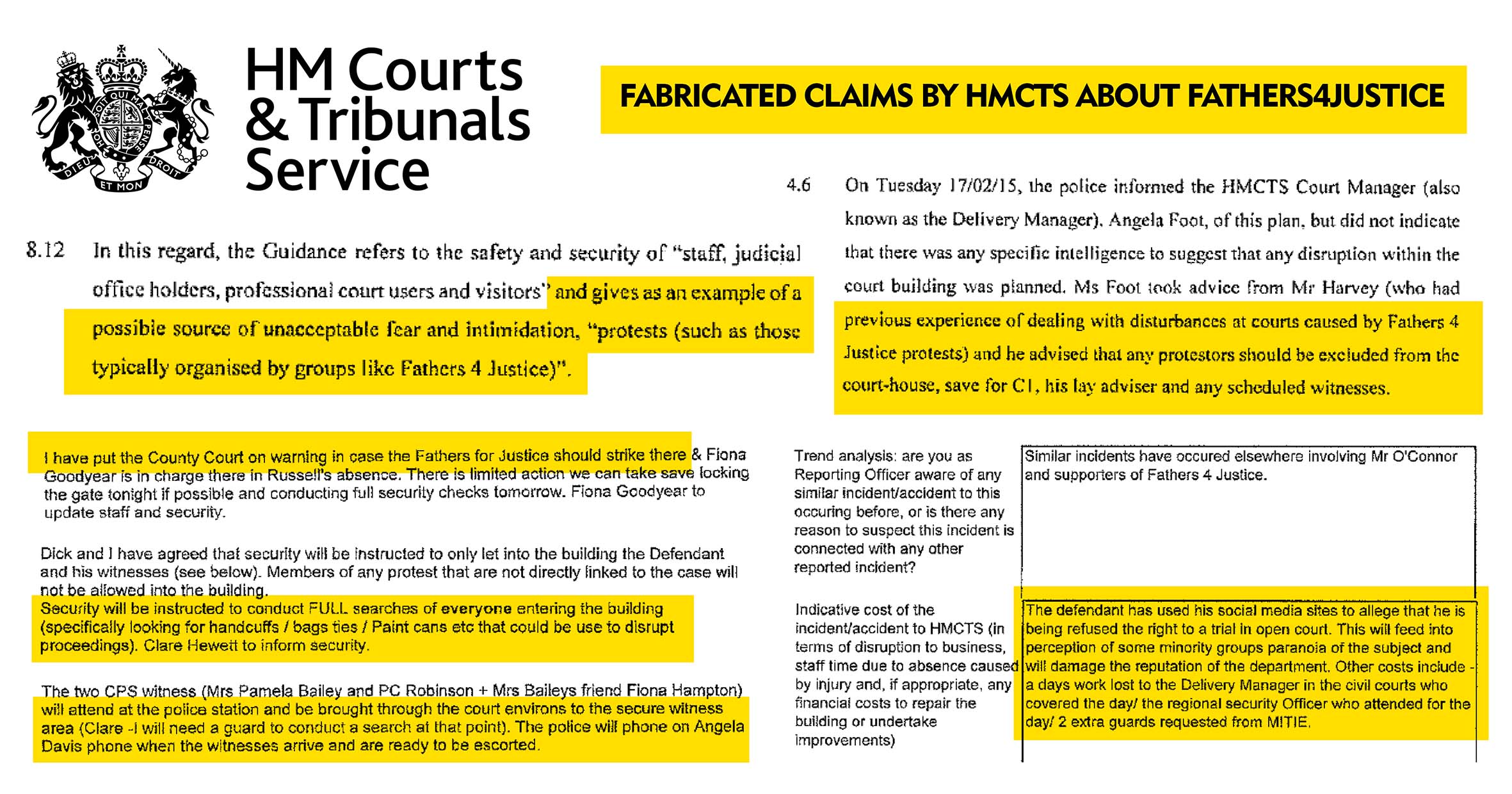 Fathers4Justice today disclosed confidential court documents from Her Majesty's Courts & Tribunals Services (HMCTS) which reveal how the courts have used fabricated claims to smear and discredit the campaign group.
The documents were disclosed as part of a Judicial Review brought by F4J founder Matt O'Connor after Aldershot Magistrates Court excluded the public from his trial on 20/2/15 for a Section 5 Public Order Act offence outside his home.
O'Connor says his arrest and prosecution are malicious and politically motivated, and are estimated to have cost the taxpayer between £100-£200,000. The maximum penalty for the offence is £1,000 fine.
After nearly three years, the case has yet to come to trial. The next trial hearing date is in Salisbury Law Courts on Wednesday 28th June.
The High Court later ruled Aldershot Magistrates Court and HMCTS staff had acted unlawfully (see below).
USE OF FABRICATED CLAIMS BY HMCTS AGAINST FATHERS4JUSTICE
*  Guidance issued to HMCTS staff and submitted as part of the Judicial Review refers to, "the safety and security of staff, judicial office holders, professional court users and visitors' and gives an example of a possible source of unacceptable fear and intimidation, 'protests such as those typically organised by groups like Fathers4Justice."
*  In a statement submitted by HMCTS to the Judicial Review, Mr Richard Harvey, Security & Fire Safety Officer for HMCTS, describes Fathers4Justice as an "agitating group…causing mayhem while supposedly holding peaceful protests…which could cause disruption and put members of HMCTS staff at risk."
*  Donna Beeson, a Court Manager for HMCTS said in evidence submitted to the Judicial Review that prior to O'Connor's original trial date on 20/2/15, "MITIE are trying to procure 2 extra guards for us…there will be FULL searches of everyone entering the building specifically looking for handcuffs / bag ties / paint cans etc that could be used to disrupt proceedings…two CPS witnesses will be brought to the secure witness area and will be escorted…I have put the County Court on warning in case the Fathers for Justice should strike there."
*  Ms Beeson goes onto state, "The defendant has used his social media sites to allege that he is being refused the right to a trial in open court. This will feed into perception of some minority groups paranoia of the subject and damage the reputation of the department….Fathers 4 Justice cannot be prevented from becoming involved in Court proceedings and then using that window of opportunity to gain publicity…the incident being incorporated in the 'red dot' policy in development in the Cluster with a suggestion that a log is kept of known 'high profile' individuals to allow earlier planning."
*  False accusations that Fathers4Justice caused criminal damage to Buckingham Palace and the Royal Courts of Justice.
*  Increasing use of 'Closed hearings' to exclude the public from sensitive hearings relating to public interest and politically related cases.
*  Unlawfully excluding the public from trial hearings involving F4J founder Matt O'Connor.
*  Court staff acting violently to prevent members of the public, including elected officials attending Matt O'Connor's trial.
*  Witness Coaching, Evidence Tampering and many other allegations.
Said F4J founder Matt O'Connor, "These deeply worrying disclosures illustrate how HMCTS management are preoccupied with their public image and the discrediting of F4J, rather than the administration of justice."
"Their hysterical claims and allegations are entirely fabricated, as was proven in the Judicial Review which found no evidence to support them."
"At no time has Fathers4Justice ever threatened court staff or posed a risk to them. This is a deliberate attempt by HMCTS to portray F4J as a quasi-terrorist group."
"This endangers any chance key F4J supporters have of receiving a fair and impartial trial under Article 6 of the Human Rights Act in the event they are prosecuted for an offence."
"These documents prove we have a criminal, bankrupt and dysfunctional judicial system ranged against campaign groups like Fathers4Justice, coupled with institutional prejudice against fathers in secret courts on an Orwellian scale."
RELEVANT LINKS
Read the Judicial Review judgment of 4/11/16 here:
http://www.bailii.org/ew/cases/EWHC/Admin/2016/2792.html
Get Hampshire: Top judges rule Aldershot Magistrates' Court 'acted unlawfully' in Fathers 4 Justice founder's trial:
http://www.gethampshire.co.uk/news/local-news/top-judges-rule-aldershot-magistrates-12146907
Watch the courts stop the public entering Matt O'Connor's trial on 20/2/15:

Watch Matt O'Connor's original arrest on 4/9/14

Read the background to the case here:
https://www.fathers-4-justice.org/2016/11/conspiracy-silence-nearly-3-years-politically-motivated-taxpayer-funded-legal-proceedings-matt-oconnor/
Back to top