Back to Latest News
May 21st, 2018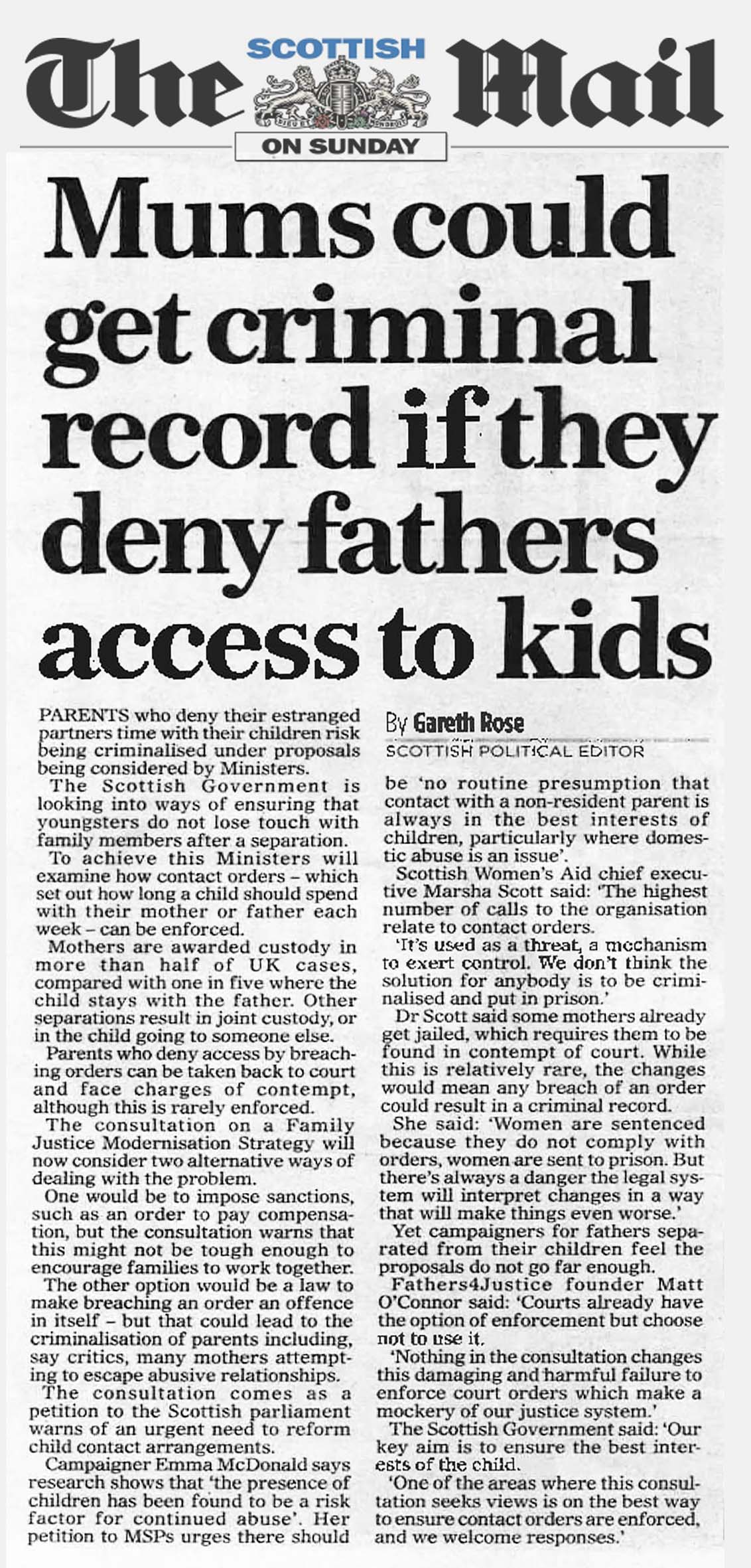 By Gareth Rose, Scottish Political Editor
Parents who deny their estranged partners time with their children risk being criminalised under proposals being considered by Ministers.
The story follows calls by Fathers4Justice in 2017 to jail mums who flout court orders. Read the story here.
The Scottish Government is looking into ways of ensuring that youngsters do not lose touch with family members after a separation.
To achieve this Ministers will examine how contact orders – which set out how long a child should spend with their mother or father each week – can be enforced.
Mothers are awarded custody in more than half of UK cases, compared with one in five where the child stays with the father. Other separations result in joint custody, or the child going to someone else.
Parents who deny access by breaching orders can be taken back to court and face charges of contempt, although this is rarely enforced.
The consultation on a Family Justice Modernisation Strategy will now consider two alternative ways of dealing with the problem.
One would be to impose sanctions, such as an order to pay compensation, but the consultation warns this might not be tough enough to encourage families to work together.
The other option would be a law to make breaching an order an offence in itself – but that could lead to the criminalisation of parents including, say critics, many mothers attempting to escape abusive relationships.
The consultation comes as a petition to the Scottish parliament warns of an urgent need to reform child contact arrangements.
Campaigner Emma McDonald says research shows that 'the presence of the children has been found to be a risk factor for continued abuse'. Her petition to MSPs urges there should be 'no routine presumption that contact with a non-resident parent is always in the best interests of children, particularly where domestic abuse is an issue'.
Scottish Women's Aid chief executive Marsha Scott said: 'The highest number of calls to the organisation relate to contact orders.
'It's used as a threat, a mechanism to exert control. We don't think the solution for anybody is to be criminalised and put in prison.'
Dr Scott said some mother already get jailed, which requires them to be found run contempt of court. While this is relatively rare, the changes would mean breach of an order could result in a criminal record.
She said: 'Women are sentenced because they do not comply with orders, women are sent to prison, But there's always a danger the legal system will interpret changes in a way that will make things even worse.'
Yet campaigners for fathers separated from their children feel the proposals do not go far enough.
Fathers4Justice founder Matt O'Connor said: 'Courts already have the option of enforcement but choose not to use it.
'Nothing in the consultation changes this damaging and harmful failure to enforce court orders which makes a mockery of our justice system.'
The Scottish Government said: 'Our key aim is to ensure the best interests of the child.
'One of the areas where this consultation seeks views is on the best way to ensure contact orders are enforced and we welcome responses.'
STATEMENT BY FATHERS4JUSTICE ON THE SCOTTISH GOVERNMENT'S FAMILY JUSTICE MODERNISATION STRATEGY
Said F4J founder Matt O'Connor in response to the launch of the consultation: 'The Scottish Government's early Father's Day gift to dads is a shockingly irresponsible, anti-father 'consultation', drafted with the help of Women's Aid.
'This was an opportunity for Scotland to demonstrate its progressive, shared parenting credentials. Instead we have been presented with more of the same; Jurassic Judges, Stone Age courts and prehistoric attitudes to fatherhood.'
'The entire premise of this document is prejudiced given it was drafted by Women's Aid – to the exclusion of fathers groups.'
'It fails to recognise the plight of separated dads in Scotland, give them any voice whatsoever, or recognise the devastating impact the cancer of fatherlessness has on our children, families and communities. It contains misinformation, disinformation, and is selective in its use of facts.'
'It fails to recognise the serious emotional harm caused to children by a dysfunctional and abusive Scottish court system, and fails to consider best practice around the world regarding parental alienation and mandatory 50/50 shared parenting.'
'The consultation may even make matters worse as it suggests deeply irresponsible proposals to abdicate responsibility onto the shoulders of young children by encouraging them – not the courts – to make life-changing decisions which can cause those children untold lasting emotional harm.'
'While the Scottish Government lectures society about 50/50 gender equality, it is intent on denying parental equality for Scottish dads. They even place greater consideration of the rights of step parents to automatic parental responsibility (PR), than the rights of fathers to PR.'
'With regard to the enforcement of court orders, Scottish courts refuse to jail mums who break court orders for kids to see their dads, but will send those same mums to jail if they don't send their kids to school.'
'Courts already have the option of enforcement and jailing mums, but chose not to use it. Courts can also transfer residence from the mother to the father, but again chose not to. Nothing in the consultation changes this damaging and harmful failure to enforce court orders which make a mockery of our justice system.'
'Not only will this Father's Day be a day of national tragedy and heartbreak, but if the consultation continues with its insidious form of gender apartheid, another generation of children will be caused untold emotional harm by the cancer of fatherlessness and family breakdown and a court system that is simply not fit for purpose.'
Last years call by F4J to jail mums who flout court orders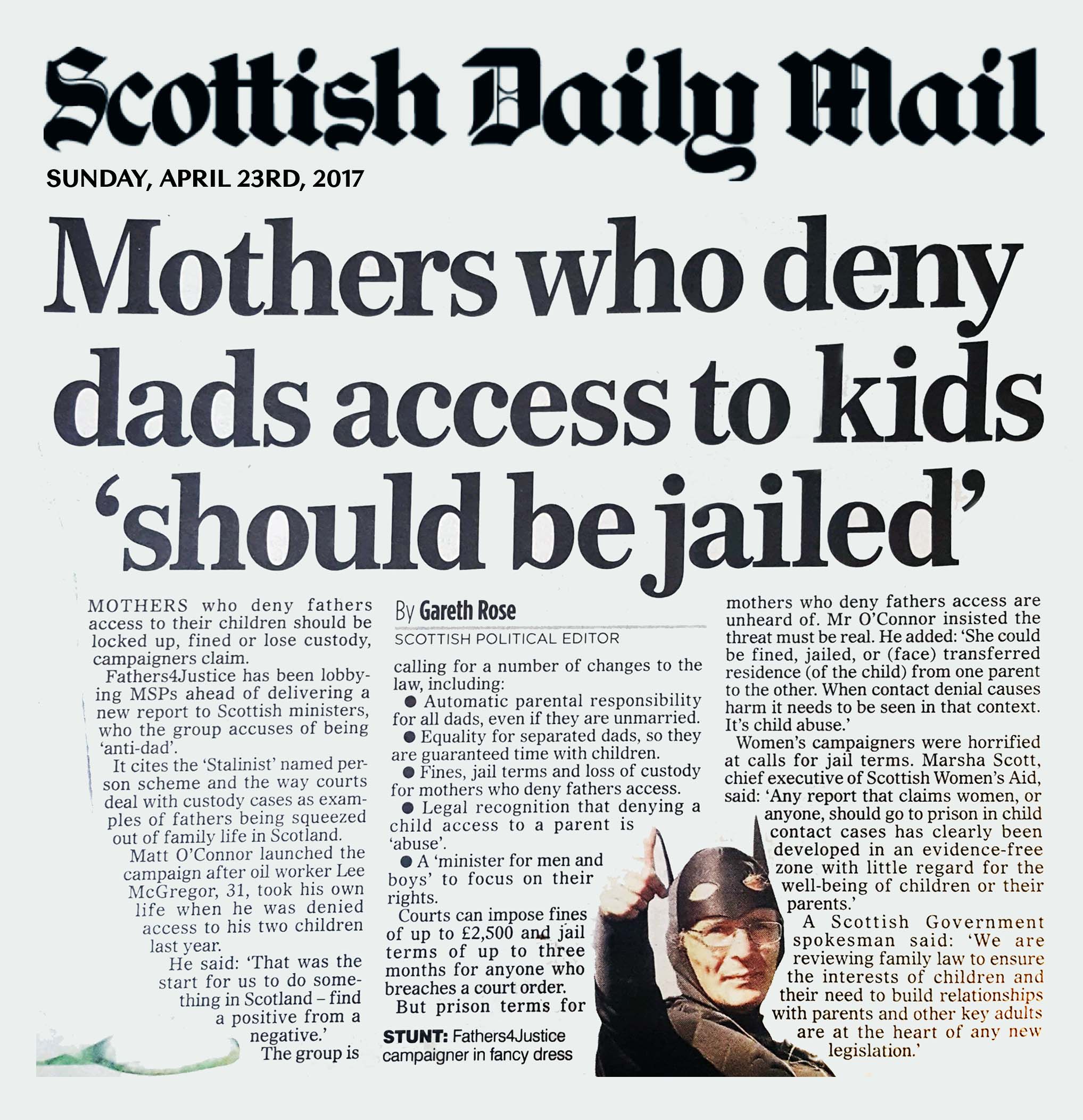 Back to top