Back to Latest News
July 8th, 2018
Troubled television personality Katie Price has threatened to sue campaign group Fathers4Justice (F4J) over claims she is a 'crummy mummy' which her solicitors claim has caused her 'significant distress'.
An email sent to F4J by Mark Bateman at Archerfield Partners LLP on 6th July, complained of two tweets posted on the F4J Twitter account on 3rd July.
The first tweet asked whether Katie Price's kids had been taken away by social services.
The second said it was time to name and shame 'crummy mummies' who deny their kids loving dads. The tweet referenced a number of other celebrity mums who F4J say have denied their children access to their dads including Myleene Klass and Kerry Katona.
Mr Bateman claims the tweets 'have caused my client significant distress' and asked for the tweets to be removed immediately, and an apology published by 4.00pm Friday 6th July. The full email is published below.
Fathers4Justice have refused to comply and say that in the event the matter proceeds to court, they will not only robustly defend their position, but will call a number of witnesses, including Peter Andre and other former partners, and seek full disclosure of all family court proceedings between Ms Price and Mr Andre.
The group say that it is a matter of public record that Peter Andre was forced to begin family proceedings to secure reasonable access to their children, Junior, and Princess and in 2013 was barred from taking his kids to Australia to see his seriously-ill dad Savva. See links below:
** https://www.mirror.co.uk/news/world-news/peter-andre-gutted-after-jordan-1674489
** https://metro.co.uk/2009/05/22/jordan-set-for-custody-battle-134676/
** https://www.marieclaire.co.uk/news/celebrity-news/katie-price-and-peter-andre-get-set-for-custody-battle-222754
** http://www.dailymail.co.uk/tvshowbiz/article-1356759/Katie-Price-Peter-Andre-custody-battle-Police-quiz-child-abuse-allegations.html
It is the third time the campaign group have been threatened with legal action by a celebrity mother.
In 2013 actress Kate Winslet threatened to sue F4J after she made comments attacking shared parenting, and in 2015 Myleene Klass threatened to sue over claims she was denying ex-husband Graham Quinn access to their daughters.
Said Fathers4Justice founder Matt O'Connor; "The conduct of Katie Price is a matter of public interest. She is a role model to millions of young mums."
"Ms Price shamelessly exploits her private life and children every day in the national media for profit."
"She can hardly complain when people offer fair comment and honest opinion about her conduct. Neither can she believe that two insignificant tweets by Fathers4Justice could in any way harm her reputation given recent press coverage."
"Regarding her claims, it is a matter of public record that Peter Andre was forced to begin family proceedings to secure reasonable access to their children, Junior, and Princess."
"It is also a matter of public record that Ms Price faced having her children removed from her care by social services. Speculation that her children had been removed was widespread on social media and forced a denial from Ms Price in The Sun newspaper."
"Indeed, if it were a father accused of drug and alcohol addiction, his children would have long since being removed. It is unclear why Fathers4Justice has been singled out for tweeting about this."
"Our 'crummy mummy' campaign dates back to December 2013 and has exposed a number of celebrity mums who have denied their children access to their dads, including Myleene Klass."
"The abuse of children in this way by celebrity mums is endemic and sets a profoundly harmful and dangerous example to other mothers who may think contact denial is acceptable, when in fact it is child abuse."
"Likewise if children are at risk of harm from their mothers, they should be given to the father, or the authorities should step in to remove the children."
"It is our position that either Katie Price's current difficulties are affecting her judgment, or she is cynically using this misguided legal action in a desperate bid to generate sympathetic publicity for herself."
"Either way we will not be coerced or bullied by powerful and hypocritical celebrities who wish to suffocate public debate surrounding their conduct."
"We hope Ms Price reflects on her actions and withdraws her legal threats. We wish her the best for her recovery, and hopes she focuses on this and gets the help and treatment she needs moving forward."
Read the story in the Irish Mirror here.
WATCH THE VIDEO – Fathers4Justice respond to Katie Price's legal threats
Read the legal letter from Katie Price's lawyers: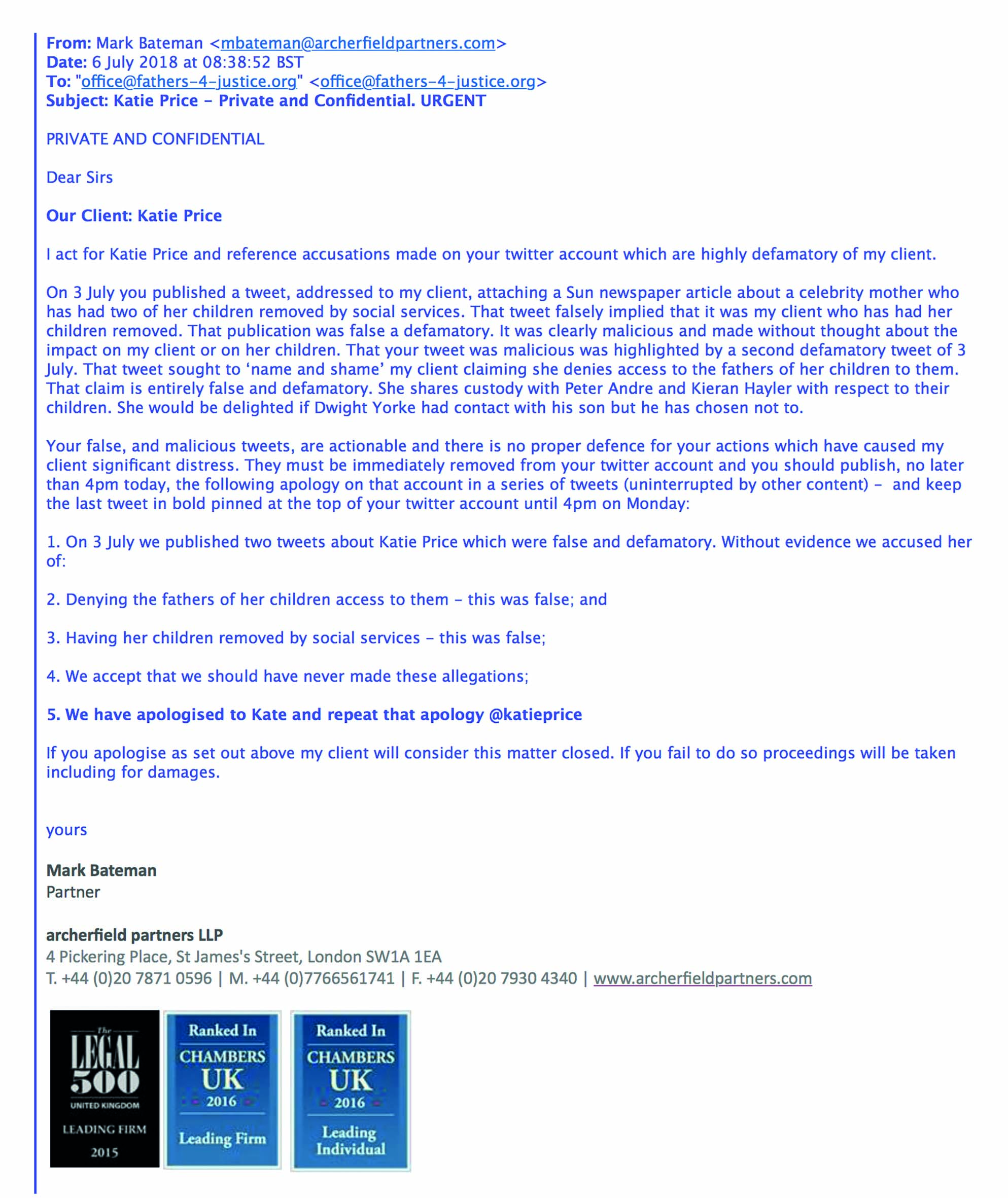 Posted in Children, Contact Denial, Crummy Mummy, Crummy Mummy Campaign, Fathers4Justice, Kate Winslet, Katie Price, Katy Ashworth, Latest News, Myleene Klass, Social Services
No Comments
Back to top