Back to Latest News
November 17th, 2019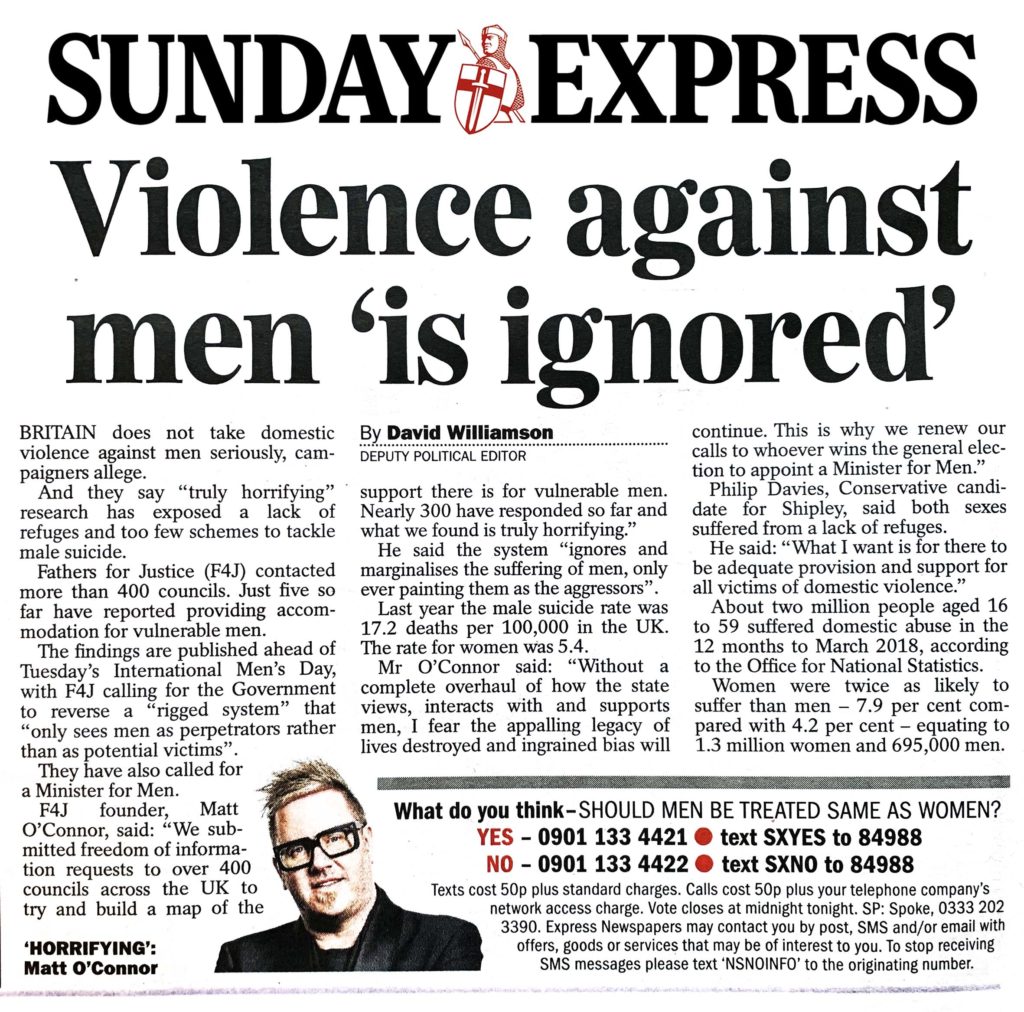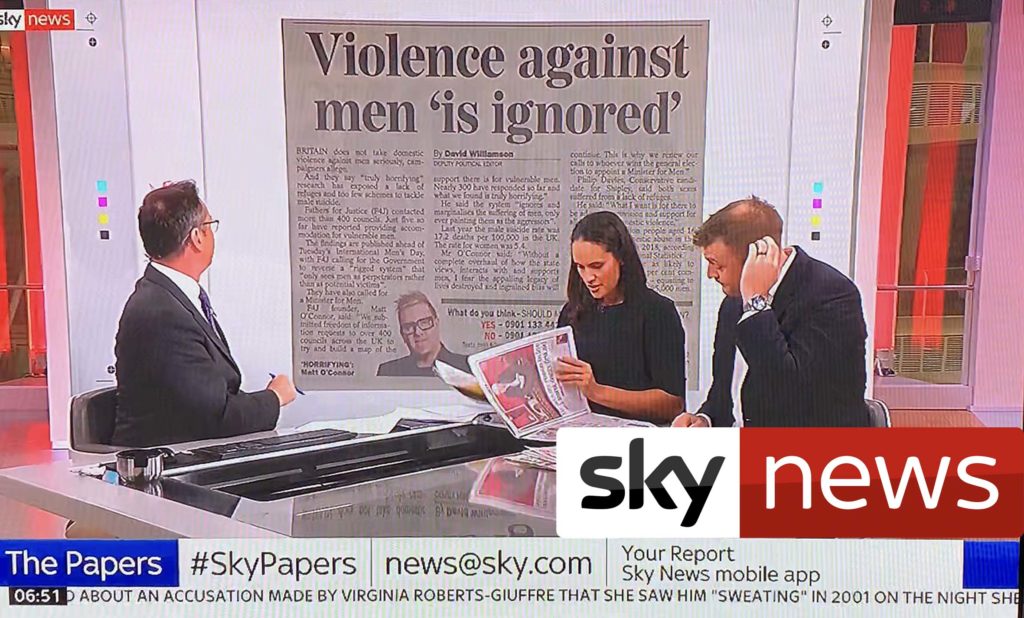 Britain does not take domestic violence against men seriously, campaigners allege.
The story has been featured on Sky News and in the Sunday Express.
Fathers4Justice say "truly horrifying" research has exposed a lack of refuges for men and too few schemes to tackle male suicide.
F4J contacted more than 400 councils. Just five so far have reported providing accommodation for vulnerable men.
The findings are published ahead of Tuesday's International Men's Day, with F4J calling for the Government to reverse a "rigged system" that "only sees men as perpetrators rather than as potential victims".
They have also called for a Minister for Men.
F4J founder, Matt O'Connor, said: "We submitted freedom of information requests to over 400 councils across the UK to try and build a map of the support there is for vulnerable men. Nearly 300 have responded so far and what we found is truly horrifying."
He said the system, "ignores and marginalises the suffering of men, only ever painting them as the aggressors."
Last year the male suicide rate was 17.2 deaths per 100,000 in the UK. The rate for women as 5.4.
Mr O'Connor said, "Without a complete overhaul of how the state views, interacts with and supports men, I fear the appalling legacy of lives destroyed and ingrained bias will continue. This is why we renew our calls to whoever wins the general election to appoint a Minister For Men."
Philip Davies, Conservative candidate for Shipley, said both sexes suffered from a lack of refuges. He said: "What I want is for there to be adequate provision and support for all victims of domestic violence."
About two million people aged 16 to 59 suffered domestic abuse in the 12 months to March 2018, according to the Office for National Statistics.
Women were twice as likely to suffer than men – 7.9 per cent compared with 4.2 per cent – equating to 1.3 million women and 695,000 men.
WATCH SKY NEWS HERE
KEY FINDINGS
* F4J made 400 Freedom Of Information requests to councils across the UK.
* Just three confirmed they provide 'refuge' spaces for male victims of domestic abuse.
* Dozens of councils spend nothing on tackling domestic abuse against men.
* Majority of Councils have no specific programmes to cut male suicide rate.
* Out of 300 Local Authorities just 3 confirmed they had a total of 13 beds for male victims of DV.
* 18 councils spent £21 million of taxpayers money on services for women, but were unable to confirm any spending on men.
* Falkirk District Council spent more than £1 million pounds on domestic violence, with 96% spent on women and just 4% on men.
* Torfaen Council confirmed they spent £1,932,397 on women, but just £10,001.68 on men.
* Newport Council spent £2,405,022 on services for women and just £44,390 on services for men.
KEY MALE DOMESTIC ABUSE FACTS
* 1 in 3 Domestic Abuse victims are men. Crime Survey for England and Wales; year ending March 2018.
* Nearly 2,000 men every day are victims of Domestic Abuse (Every year 700,000 men are victims of Domestic Violence.) Crime Survey for England and Wales; year ending March 2018.
* Just 1 in 20 men report domestic abuse to the Police. Mankind 2018
* Because of social stigma, the way society treats male victims, and the fear of being labelled the perpetrator by Police, most men are too frightened to report DV and the issue is hugely underreported.
FATHERS4JUSTICE FACTS
* F4J have received three-quarters of a million enquiries for help since 2001.
* That equates to an enquiry for help every 15 minutes.
* F4J is the 3rd Highest supported campaign group in the UK after Greenpeace and Amnesty International.
* Over 90,000 families are registered supporters of Fathers4Justice in the UK.
* F4J have been involved in a number of high-profile custody cases including Kate Winslet, Madonna and Guy Ritchie, Katie Price, Myleene Klass and Lena Headey.
* The F4J team have over 60 years family court experience between them.
* Read more about the F4J campaign for a Minister for Men here: https://www.fathers-4-justice.org/2019/06/12044/
Back to top