Back to Latest News
January 7th, 2020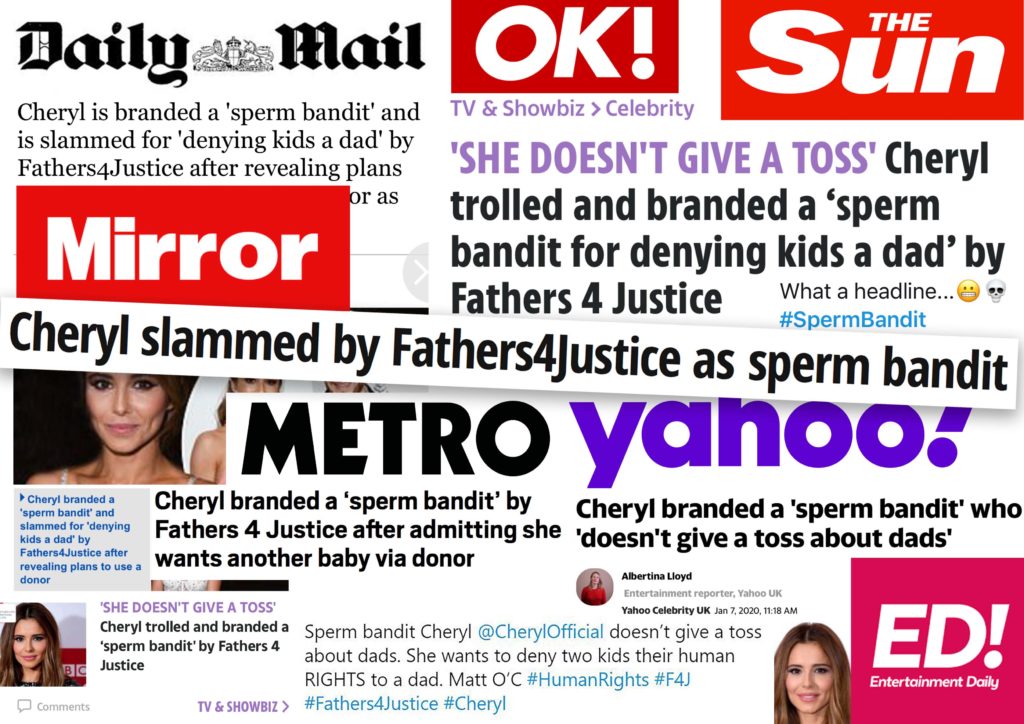 A tweet by Fathers4Justice has caused controversy after the campaign branded singer and TV personality Cheryl a 'sperm bandit' after she announced she wanted two more children using a sperm donor from abroad.
F4J founder Matt O'Connor said in the tweet that Cheryl was denying children their human rights to a father.
The group had previously labelled the singer a domestic abuser who had admitted assaulting then husband Ashley Cole.
Said Matt; "Cheryl is a role model who is setting a dangerous example to young mums by demonstrating that children without fathers is not only ok, but a desirable lifestyle choice that is more important than the child's right to a father."
"This 'mother superior' ideology will further erode fathers and fatherhood as it makes fatherless families the norm, rather than the exception, and encourage more mothers to choose single parenting without dads as a lifestyle choice."
"Imagine if the genders were reversed and dads denied children their right to a mother, there would be outrage."
"The commoditised trade in sperm and children has marginalised fathers and left them as nothing more than cashpoints and sperm banks. It has also left behind a damaged generation of millions of fatherless children, often with devastating emotional and social consequences."
"Hundreds of thousands of fathers are already being excluded from their kids by the family courts and families are being gender-cleansed of dads on a chilling scale as a result of institutional, 'fatherphobic' discrimination. Three million kids now live in fatherless homes."
"Having a father is a human right and protected in the UN Convention of the Rights of the Child. We must defend these rights and ensure every child has a mum and dad wherever possible."
The number of babies born to women using donor sperm, but their own eggs, has leapt almost two-thirds in five years. Latest UK figures show 1,515 babies were born in this way in 2017, up from 934 in 2012.
The European Sperm Bank offers a package worth over £20,000 for 'exclusive access' to sperm provided by a specific donor.
Basic prices are much cheaper, starting at 560 euros (£477) per unit of sperm. In the UK, a donor's sperm can be used only by up to ten families, although rules abroad differ.
READ MORE HERE:
THE SUN: 'SHE DOESN'T GIVE A TOSS' Cheryl trolled and branded a 'sperm bandit for denying kids a dad' by Fathers 4 Justice https://www.thesun.co.uk/tvandshowbiz/10681811/cheryl-trolled-sperm-bandit-fathers-4-justice/
‪THE MIRROR: Cheryl slammed by Fathers4Justice as a 'sperm bandit who doesn't care about dads' https://www.mirror.co.uk/3am/celebrity-news/cheryl-slammed-fathers4justice-sperm-bandit-21226740
‪THE MAIL: Cheryl branded a 'sperm bandit' and is slammed for 'denying kids a dad' by Fathers4Justice https://www.dailymail.co.uk/tvshowbiz/article-7857661/Cheryl-branded-sperm-bandit-revealing-plans-expand-family-donor.html
METRO: Cheryl branded a 'sperm bandit' by Fathers4Justice https://metro.co.uk/2020/01/07/cheryl-branded-sperm-bandit-fathers-4-justice-admitting-wants-another-baby-via-donor-12018682/
YAHOO NEWS: Cheryl branded a 'sperm bandit' who 'doesn't give a toss about dads' https://uk.news.yahoo.com/cheryl-branded-a-sperm-bandit-by-fathers-4-justice-111853298.html 
OK MAGAZINE: https://www.ok.co.uk/celebrity-news/cheryl-sperm-donor-baby-bear-21227205
ENTERTAINMENT DAILY: https://www.entertainmentdaily.co.uk/news/cheryl-branded-a-sperm-bandit-whos-denying-kids-a-dad-as-she-reveals-donor-plans/
GOSSIP ADDICT: https://www.gossip-addict.com/en-us/article/home/fathers4justice-call-cheryl-sperm-bandit-for-donor-ivf-plans/5e1399d2ff905f4bf3662c05
Back to top