Back to Latest News
September 8th, 2022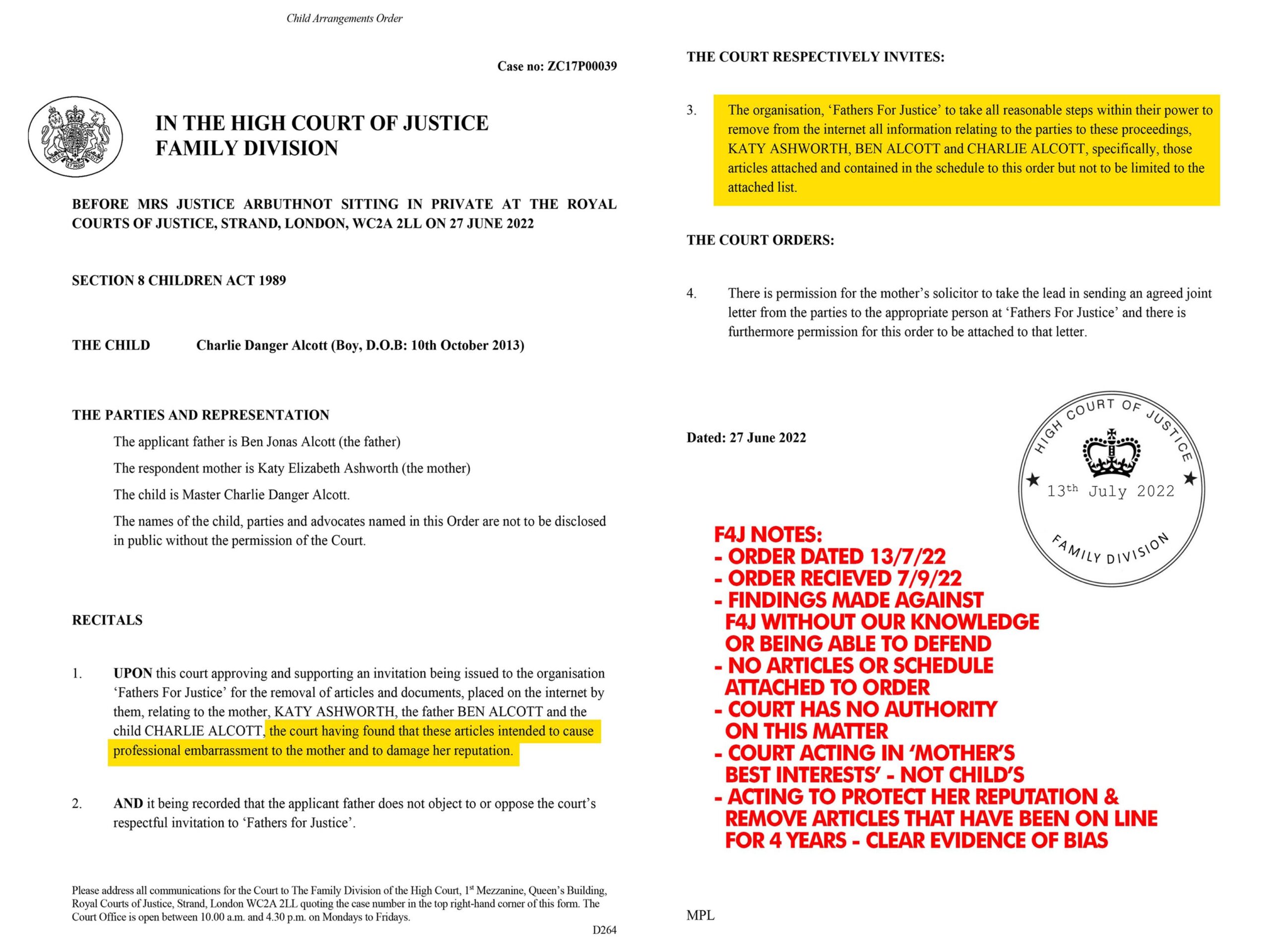 In the latest twist in the Katy Ashworth child abduction scandal, solicitors have sent Fathers4Justice a High Court Order which makes serious findings about the organisation, and asks them to remove four-year-old press articles about the case from their web site.
The High Court Order of 27th June reveals for the first time the court's focus on F4J, and follows a bungled sting operation on the family of F4J founder Matt O'Connor by mothers solicitor, Janet Broadley. Read more here: https://www.fathers-4-justice.org/2022/08/solicitor-in-bungled-sting-operation-on-f4j-founders-family-in-case-of-ex-cbeebies-presenter-katy-ashworth/
F4J have written to solicitors AFG Law (see below) challenging the authority and content of the order, the delay in sending the order, and asking how the court made findings about F4J without their knowledge, or being able to defend these allegations in line with their Article 6 Rights to a fair hearing.
Said F4J Founder Matt O'Connor; "This secret Kangaroo Court has made findings against F4J without our knowledge – or us being able to defend them – in breach of our Article 6 Rights to a fair hearing."
"The court has dispensed with any pretence of objectivity, and is now representing the mother's best interests, not the child's. Since when did Mrs Justice Arbuthnot think family courts are there to defend the reputation of mothers?"
"It is an outrage that she could make the finding F4J 'intended to cause professional embarrassment to the mother and damage her reputation' let alone send an order requesting us to remove four-year-old content from our web site."
"This follows the bungled sting operation on my family by mother's solicitor Janet Broadley."
"On both counts the court has foolishly dragged Fathers4Justice and my family into a case we had not been involved in for over 4 years, until we uncovered this scandal."
"The Katy Ashworth child abduction case is quickly becoming a matter of public interest, demonstrating as it does a shambolic parade of institutional incompetence wading through a cesspit of misconduct and corruption."
"We have a public duty to expose such failings, and the abuse of a poor boy who has been subject to 6 years of legal proceedings. The Katy Ashworth saga is a case study in everything that is rotten in the dirty, secretive backwaters of our so called family justice system.
F4J RESPONSE TO AFG LAW 7/9/22
Dear Sirs,
We acknowledge receipt of your letter and court order of 27th June, received at 6.36pm today, Wednesday 7th September.
Your letter states 'you represent the above-named child…'
However the order is not about Charlie Alcott, but about his mother.
Indeed, the entire focus of the order is about the mothers best interests, not the child's.
As such we are unclear why you have sent this to us, unless you are acting on behalf of Katy Ashworth, in a reputational management capacity.
Further, the order makes serious findings about Fathers4Justice, without our knowledge – findings we have been unable to defend in breach of our Article 6 Rights to a fair hearing.
This outrageous order casts further doubt over the integrity of these proceedings following the misconduct of mother's solicitor, Janet Broadley, something that cannot be a coincidence.
As such we view this matter as a matter of public interest, given Mrs Justice Arbuthnot does not have the authority to make such findings without our knowledge, or make such requests to us, or to involve Fathers4Justice in this case.
This is clearly a serious error of judgment on the part of the court who are self-evidently now acting on behalf of the mother in this case.
For the record, our articles about this case have been online for over four years, during which time Ms Ashworth has made no attempt to remove them.
Further, countless other online articles about Katy Ashworth exist, some accusing her of child abduction. Indeed, her son's image is plastered all over her social media accounts.
As you will know, this matter only arose recently because of Janet Broadley's bungled, moronic, attempt to drag Matt O'Connor and his son Archie into this case – a case where Ms Broadley knew Archie's mother was a witness, and where we now discover from your email, Fathers4Justice was the focus of the courts attention.
It is clear from this shambolic parade of institutional incompetence and corruption, that these proceedings are infected by misconduct, and poisoned by the clear appearance of bias.
You yourselves are so inept, you have not even included the articles and schedule the order says are attached.
By return, please supply the following:
'The articles attached and contained in the schedule to this order'
An explanation why an order made on 27th June was only sent to us on 7th September
A copy of the application to court regarding Fathers4Justice and disclosure of all relevant court documents and legal communications that led to the findings that these articles 'intended to cause professional embarrassment to the mother and damage her reputation'
A transcript of the court hearing on 27th June
A copy of the draft order for the hearing on 27th June
An explanation why Fathers4Justice was not notified of these allegations or was given the opportunity to defend the allegations made against it
We will be raising the conduct of the Judge in this case with the President of the Family Division and making an appropriate application to court in due course.
Fathers4Justice
Please Sign + Share our Petition calling for Archie's Law and help make Parental Alienation + Contact Denial criminal offences https://www.change.org/F4JParentalAlienation
Enquiries: Please allow 3-7 working days for a response to emails. Our office hours are Monday – Friday 10am – 4pm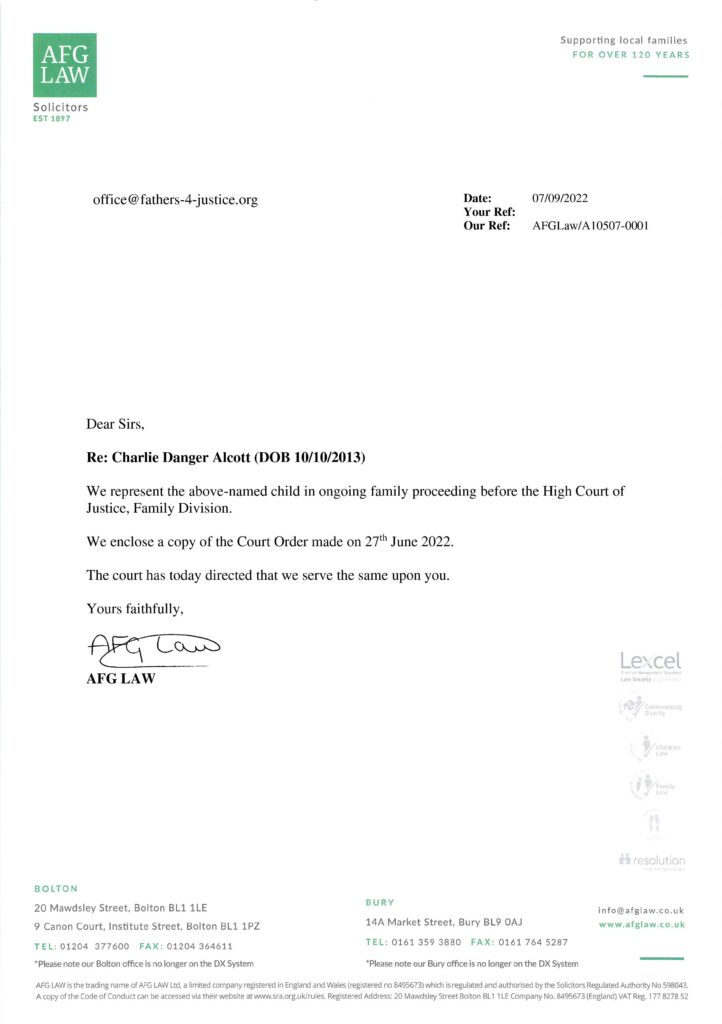 Back to top