Back to Latest News
October 13th, 2015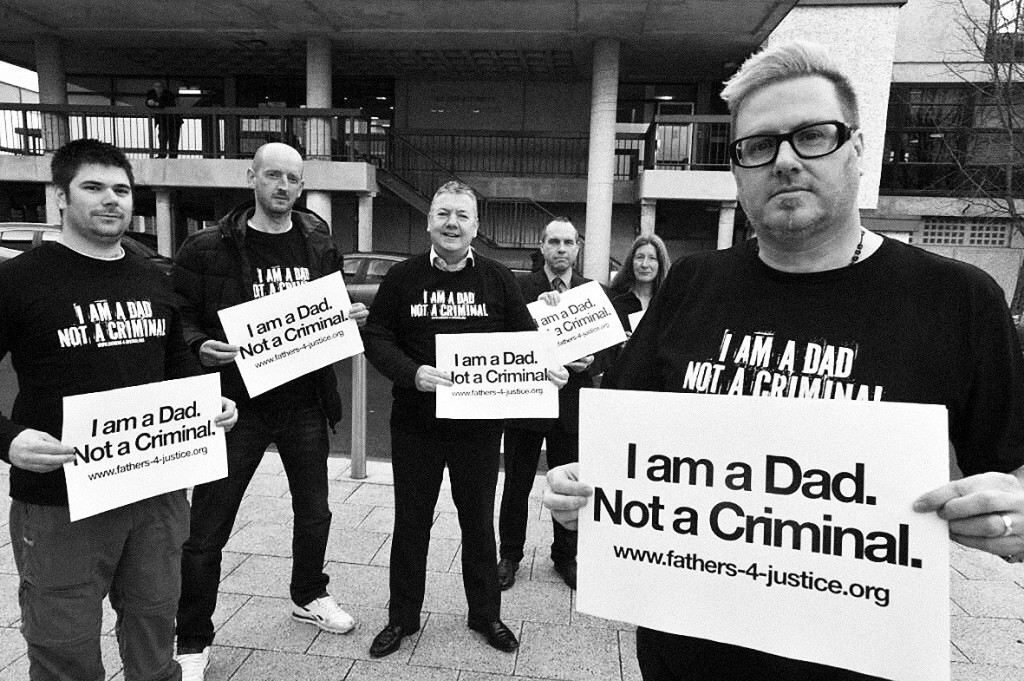 The founder of Fathers4Justice appears in the High Court (Royal Courts of Justice) this Thursday 15th October as he makes an oral application for leave to move for Judicial Review of a decision by Her Majesty's Courts & Tribunal Service to exclude members of the public from his trial for a public order offence on 20th February 2015 at Aldershot Magistrates Court.
The court's decision to hold the trial in secret will be the focus of the hearing.
Matt O'Connor was arrested outside his former home in Stockbridge, Hampshire, on 4th September 2014, for a Section 5 Public Order Act offence, just days after an internal report by Hampshire Police confirmed the involvement of the Conservative MP for Romsey and Southampton North, Caroline Nokes, in a violent attack at his home. The report detailed how she used her position as an MP to influence officers.
O'Connor claims his arrest and trial are "unlawful and politically motivated", citing an initial cover-up by Hampshire Police over the MPs role in the attack, a 6-month campaign of harassment that drove his family from their home, and the court's subsequent attempt to try him in secret in what he says is an attempt to censor reporting of the case.
He claims the MP has used her position to interfere in the trial process, after her solicitors wrote to the court to make false allegations about O'Connor and key witnesses. In addition to this, it is understood that the main prosecution witness works for the MP's constituency chairman.
In February, Judge Gillibrand, sitting in Aldershot Magistrates Court, recused himself from the case because of his relationship with the MPs chairman. A Crown Prosecutor, who was alleged to have been overheard coaching the prosecution witness, also stepped down from the case, which has now lasted for a over year, with four separate hearings to date.
Said O'Connor, "This political charade would make Vladimir Putin blush with embarrassment. A politically motivated arrest, Judges stepping down, attempts to hold the trial in secret and the involvement of a Conservative MP in a violent attack at my home. You couldn't make this up, anyone would think they had something to hide."
Fathers4Justice believe the dispute relates to the groups criticism of Caroline Nokes and Hampshire Chief Constable Andy Marsh over an alleged child abuse cover up at Stanbridge Earls School in 2013/14. In April 2014 Mr Marsh faced an investigation that he leaked details regarding the abuse to the MP.
For further information see here:
https://www.fathers-4-justice.org/2015/08/fathers4justice-founder-renews-leave-application-for-judicial-review-in-case-r-v-aldershot-magistrates-court-ex-parte-oconnor-co12522015/
https://www.fathers-4-justice.org/2015/06/courts-try-to-ban-public-and-f4j-supporters-from-criminal-trials/
https://www.fathers-4-justice.org/2015/02/f4j-founder-matt-oconnors-trial-adjourned-for-judicial-review-after-public-denied-access/
Watch the courts deny members of the public access to Matt O'Connor's trial https://www.youtube.com/watch?v=-v-09zW3ZI0&list=UUCogY82U4O84xrEp845u4nA
Watch Matt O'Connor's arrest here: https://www.youtube.com/watch?list=UUCogY82U4O84xrEp845u4nA&v=tmud6VTNVF0
ENDS
Posted in Assault, Caroline Nokes MP, Chief Constable Andy Marsh, Collyer Bristow, Conservative Party, False Allegations, Fathers 4 Justice, Fathers4Justice, Hampshire, Hampshire and Isle of Wight Constabulary, Hampshire Constabulary, Judicial Review, Kings Somborne, Latest News, Malicious Allegations, Matt O'Connor, Pamela Bailey, Police, Political Policing, Protests, Rhory Robertson, Robin Colenso, Romsey, Romsey & Southampton North, Stockbridge
No Comments
Back to top