Back to Latest News
February 8th, 2023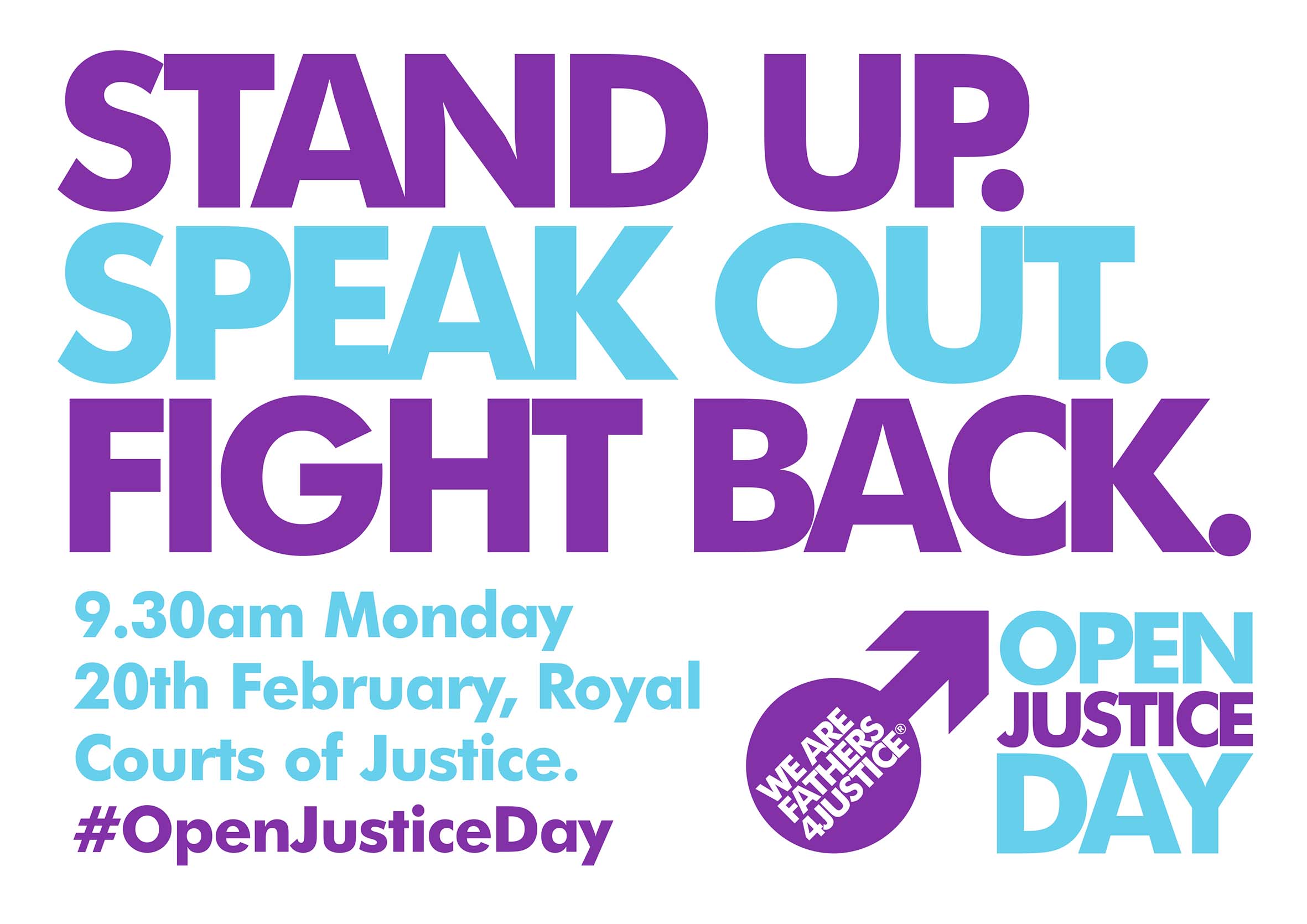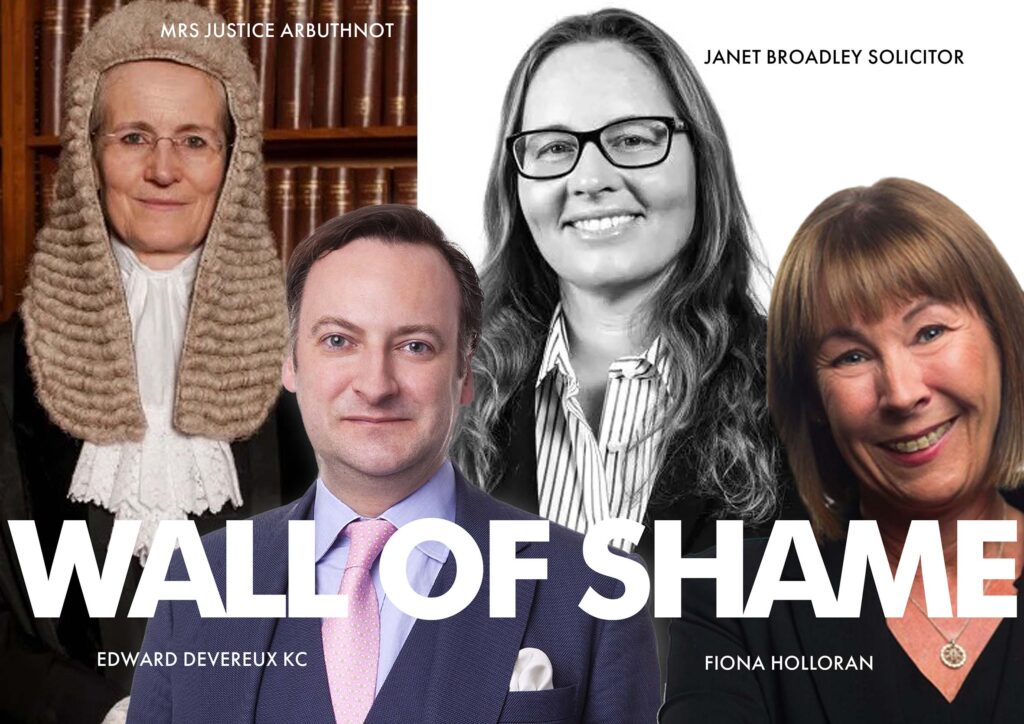 Fathers4Justice – aka "Dad's Army" – have applied to recuse her Ladyship, Mrs Justice Arbuthnot at a High Court Hearing at the Royal Courts of Justice at 10.00am Monday 20th February in the Charlie Alcott abduction and contact case.
The public and Fathers4Justice supporters are invited to meet outside the Royal Courts of Justice from 9.30am, along with a TV documentary crew. Other PR related activity will support the day.
F4J say they will drop a "truth bomb" on the secret family courts on what they have declared "open justice day".
The recusal hearing is expected to take place in open court. F4J say the case is a matter of public interest, and is a direct challenge to the secrecy and corruption of secret family proceedings which take place without public scrutiny, transparency, or accountability.
This results in countless miscarriages of justice where children are systematically and cruelly stolen from their dads in secret courts in breach of their human rights to a father.
In the case of Charlie Alcott – who was abducted from Australia by his mother – ( Read The Sun ) – the proceedings have lasted over seven years as a result of his mother's repeated applications back to court to try and remove Charlie's father from his life. Dad Ben Alcott, travels tens of thousands of miles every year from Australia to see his son.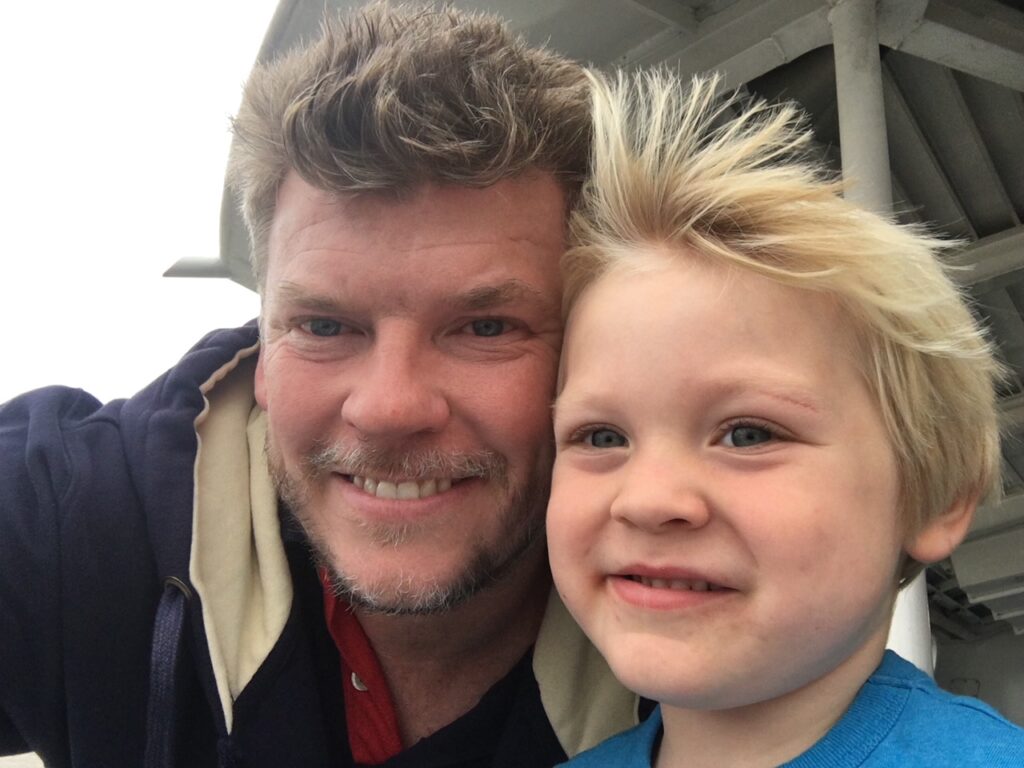 Loving dad Ben Alcott with his son Charlie who was abducted from Australia over 7 years ago by former CBeebies presenter Katy Ashworth
Mrs Justice Arbuthnot made findings at a secret hearing last year that Fathers4Justice had "damaged" the reputation of the mother, former CBeebies presenter Katy Ashworth, with a series of articles in 2018, yet F4J were unaware of this hearing, or the findings, and given no opportunity to challenge them in breach of their Common Law and Article 6 Rights to a fair hearing.
Arbuthnot J has taken the secret corruption of the Family Court/Division to a new level by turning it into a libel court for the protection of mothers' reputations, conveniently dispensing with the stringent requirements of due process that would apply in the libel courts.
This followed Katy Ashworth's solicitor, Janet Broadley of Goodman Ray, using subterfuge to obtain information from F4J founder Matt O'Connor and his son Archie, about former F4J campaign director Nadine Taylor (Archie's mum) who was a witness in the case – the gross misconduct of a solicitor which the Judge simply brushed under the carpet rather than removing mother's solicitor from the case.
In a further chilling act of censorship, in a position statement sent to Fathers4Justice on 8/2/23 on behalf of Charlie's Guardian, Fiona Hollaran argues that "all references to Ms Taylor, Mr O'Connor and F4J should be excised from the judgment", as well as arguing for the publication of selective findings made about the father Ben Alcott, but not the mother.
It is notable the Court Orders all censor the details of the legal representatives which indicates that KC Edward Devereux of Harcourt Chambers (for Katy Ashworth), Fiona Holloran and Anna White of 18 St John Street Chambers (on behalf of the Guardian) seek to keep their role in the case anonymised.
This follows a payout of £1,750 to Miss Taylor from the Treasury Solicitor for HMCTS after the Judge disclosed her confidential details to the other parties. The Treasury Solicitor wrote: "It is not the level of service that HMCTS strives to provide our customers with."
Said Fathers4Justice founder Matt O'Connor; "This fatherphobic judge is supposed to be acting in the child's best interests, not the mother's. We had no involvement in this case for over 4 years until the Judge and mother's solicitors dragged myself and my son into this matter, and made secret findings about Fathers4Justice."
"The dirty secrets of this case need to be exposed to the disinfectant of sunlight, so the corrupt and scandalous conduct of this judge in her kangaroo court are held accountable in the court of public opinion."
"This is the beginning of a new war on woke family courts. I will not rest until myself and my son are given a public apology by the court for the subterfuge used on my child, and the judge recuses herself."
"We must send a message to Sir Andrew McFarlane (President of the Family Division) that we will no longer tolerate the tyranny of secret, anti-democratic courts, of which the Katy Ashworth case is a paradigm example. McFarlane's transparency programme will remain a useless sop to open justice so long as the fetish of anonymity is kept.""Ben Alcott is a first-class father who has selflessly travelled round the world from Australia on countless occasions as he tries to maintain contact with his son Charlie. He has been humiliated, bullied, and abused by this court, as has his son. This case is one of the worst I have witnessed in over 20 years of campaigning."
"Arbuthnot's court makes those in Putin's Russia look open and progressive."
"Only the full publication of all papers in this case can restore any form of confidence in this court. Any publication of selective findings would be a cynical and despicable attempt to blacken the fathers name using propaganda, which this Judge has done in other cases. It would be foolish in the extreme for the court to test our resolve in this matter and our commitment to open justice."
As Lord Hewart, the then Lord Chief Justice of England said in the case of Rex V. Sessex Justices (1924) "Justice must not only be done, but must also be seen to be done."
A new broadcast documentary about Fathers4Justice will begin filming on the day, and dads are invited to take part and share their stories with the film crew outside the Royal Courts of Justice from 9.30am on the morning of Monday 20th February.
Read more about the Treasury Solicitor Payout here: https://www.fathers-4-justice.org/2022/12/former-f4j-campaign-director-receives-apology-and-compensation-in-katy-ashworth-child-abduction-case/
Read More about the case here: https://www.fathers-4-justice.org/2022/09/high-court-judge-targets-fathers4justice-in-katy-ashworth-child-abduction-scandal/
Read more about bent solicitor Janet Broadley here: https://www.fathers-4-justice.org/2022/08/solicitor-in-bungled-sting-operation-on-f4j-founders-family-in-case-of-ex-cbeebies-presenter-katy-ashworth/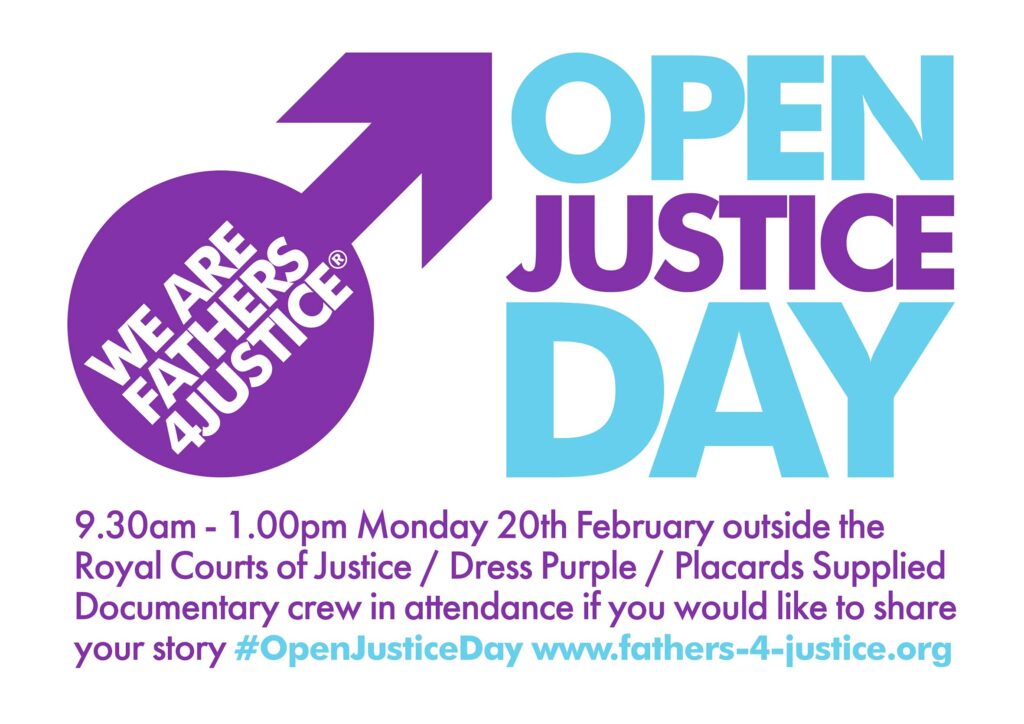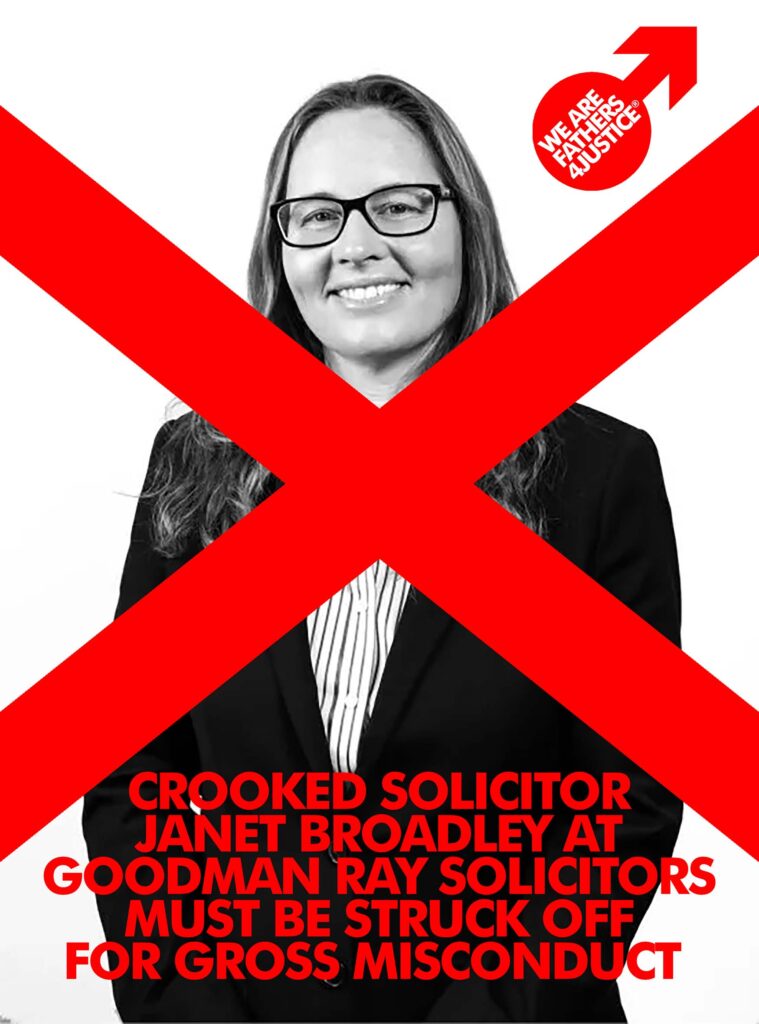 Back to top